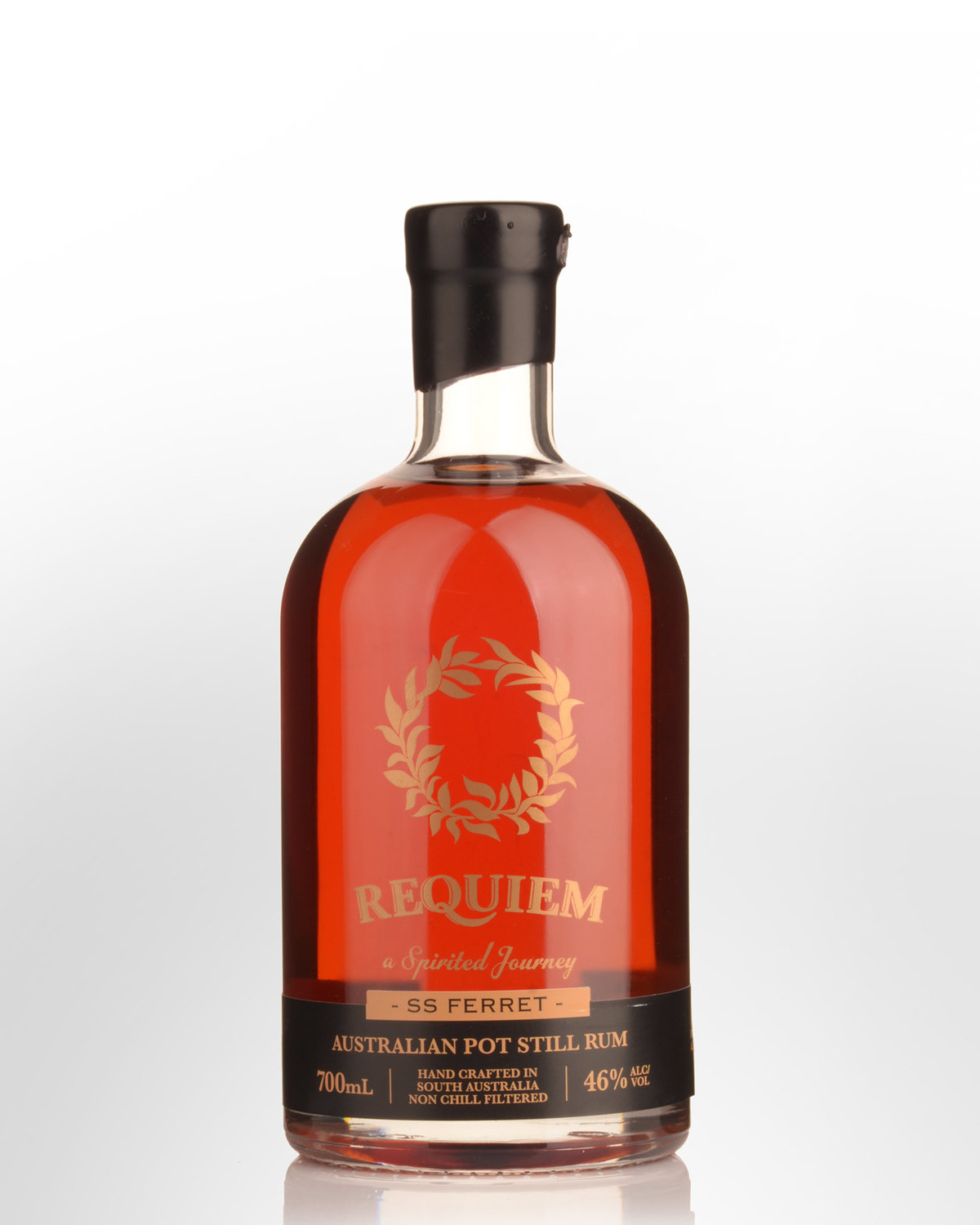 Tin Shed Distilling Co. Requiem SS Ferret 6 Year Old Australian Pot Still Rum (700ml)
Welland, South Australia,
AUSTRALIA
WINNER: Tasting Australia 2020 Rum Trophy.
A requiem is a final mass or tribute. In this case, we have a series of rums tributed to ships and to the seafarers who sailed in them. The first Requiem bottling is named after the 'SS FERRET'. An odd title for a ship, it was built of iron in 1871 in Glasgow and owned by the Highland Railway Co. In 1880 the ship was stolen as part of a conspiracy in which it disappeared from its home in Scotland and mysteriously reappeared several months later in Australia under the new name of "India".
Constable James Davidson, who had recently arrived from Scotland, was at his post on the pier at Queenscliff as the India steamed past. At the time, he happened to be reading a copy of The Scotsman newspaper which included an article taken from the Glasgow Evening Citizen and which described the mysterious disappearance of the Ferret from the Clyde". The thieves were arrested, convicted and imprisoned. The Ferret remained in Australia for the remainder of its working life owned and operated by the Adelaide Steamship Company, engaged in the Gulf trade in SA waters. Almost 100 years ago, the Ferret was wrecked on 14 November 1920 after running onto a beach during a storm at Reef Head near Cape Spencer on the south coast of Yorke Peninsula.
This is described as a rum for grown-ups. The sickly sweetness so common in many mass-produced commercial examples is missing. So too is the presence of added spices and other ingredients. Distilled from a molasses base then matured in American oak x Port casks, at just six years of age it's already garnered significant acclaim. 2020 Taste Australia Show Judge, Graham Wright summed it up as,
"A superbly put together spirit, such balance between the spirit, the right amount of oak and the clean, serious and yet intriguing taste of molasses. This rum is just impeccable".
Already sold out at the distillery, we have a tiny volume available. Comes non chill filtered and bottled at 46% ABV.
Official notes read, "Seville orange with matcha Japanese green tea bitterness and chocolate. This is a rum for grown-ups. The sickly sweetness so common in commercial rums is missing, so too the presence of added spices. It is smart, graceful and sophisticated".
Other reviews... Nose: Salted caramel, figs, banana, and a hint of ginger candy. Big hit of oak and tawny next to allspice and Christmas cake. Palate: Leather, demerara, dark chocolate and then lots of oak. Burnt sugar, tar and a slight hint of BBQ smoke. Luscious. Finish: Long. Tawny and oak lingering. Comments: I've always been a huge fan of the old Southern Coast Distilling rums. Very similar in structure and character here, but the cask influence is a bit more pronounced in this new Tin Shed bottling. Tasty stuff, already looking forward to next year's. 87 points - ozwhiskyreview.com.au
...Sipping Requiem Rum SS Ferret Australian Pot Still Rum, is a very pleasant, easy going experience. The notes of orange and chocolate, on the nose come through on the initial sip. It's quite easy going and very, very easy to drink. It has a lovely hit of orange and dark chocolate. Please note this is a million miles away, however from the nonsense that is Pyrat! The sweet chocolate and orange notes on the initial sip, gently move into a mid palate which has more of slightly bitter notes of tea and a very gentle slightly smoky note of tobacco and leather arm chairs. Requiem SS Ferret Australian Pot Still Rum review by the fat rum pirateAlthough this has been aged in ex-Port Casks it is not as sweet as some other Port Cask rums I have tried. Their is definitely an influence from the cask but this rum is not a typical example of a Port Cask finished rum. It's different and unusual but very good... The finish is light and easy going with notes of orange, chocolate and a touch of molasses. It's light but at the same time has a complexity to it. The best thing about this rum is its balance. It's not overly boozy and has no off notes to it. At the right price this would be a wonderful every day sipper in the ilk of the the likes of Appleton 8 and Doorly's XO. Does Australia have better rum than Bundy out there? Well this was real bonzer... 4.5 Stars - thefatrumpirate.com