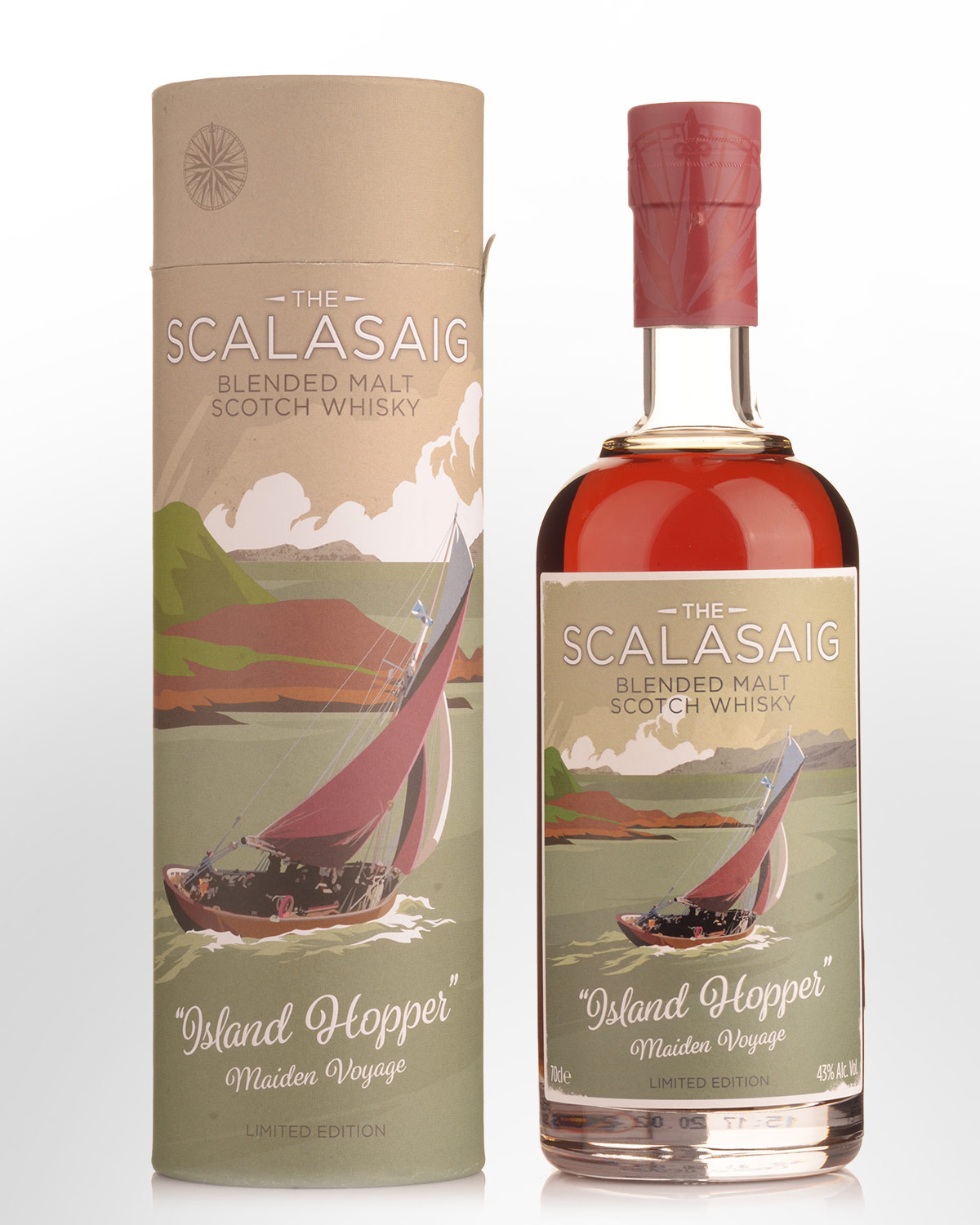 The Scalasaig "Island Hopper" Maiden Voyage Blended Malt Scotch Whisky (700ml)
SCOTLAND
A limited edition blended malt bottled by Colonsay Drinks' owned 'Scalasaig' as part of the Island Hopper series. The group is based on the tiny port village of Scalasaig on Colonsay island, 16 kilometres North-West of Islay. The presentation portrays a voyage around the Hebridean islands off of Scotland's West, sailing coast to coast procuring exquisite single malts along the way (certainly, at least the latter half is true!) The inaugural release 'Maiden Voyage' is a vatting of ten casks sourced from coastal and island distilleries spanning the distance from Orkney to Islay, re-racked into first-fill European oak. From a 30ml sample, peat is evident on the nose and palate, but it also feels like some decent sherry casks have been involved, the malt influenced by dried fruits on the nose; the palate is full and nuanced, with fig and walnut cake, cocoa and a nutty, pith / peel character with a tangy, lingering finish. A very tasty and characterful assemblage. 3000 bottles available. 43% Alc.Vol.
Other reviews... A new blended malt from the folk behind the Whisky Illuminati bottlings, designed to showcase west coast and island style malts. Married together in first fill Spanish oak sherry casks. Colour: amber. Nose: the sherry strikes first with these rather nice notes of mixed nuts, leather and chocolate. Rather christmassy in fact; ideal for January. This quickly shifts towards more vigorous salty and slightly peaty tones though. Typically meaty, leafy and sooty in this modern sherried fashion. Mouth: gun flints, damp leaves, cellar earth, café latte and a rather herbal and earthy peat, which does indeed allude to some more traditional Orcadian flavours I think. Gets nicely chocolatey with salted caramel and a rather chewy texture. Quite figgy as well. Finish: medium and still on lots of chocolate, roasted nuts, earth and very light sooty peat. Comments: A good surprise this. The sherry isn't always totally integrated, but it's fresh and makes space for the more peaty and coastal aspects in a rather pleasing way. One for healthy sized tumblers on winter nights. And I think the 43% actually works well here. 85 points - whiskyfun.com
Notes from the bottlers... Nose: Smoked sweet teriyaki cured meats with a hint of spice and dried cake fruits. Palate: Rich and robust. Warming hints of exotic spice, dried fruits and dark liquorice. Enveloping it all is the bold burning embers of a peat fire. Finish: Salty sea breeze, sweet and warming with waves of maritime smoke.