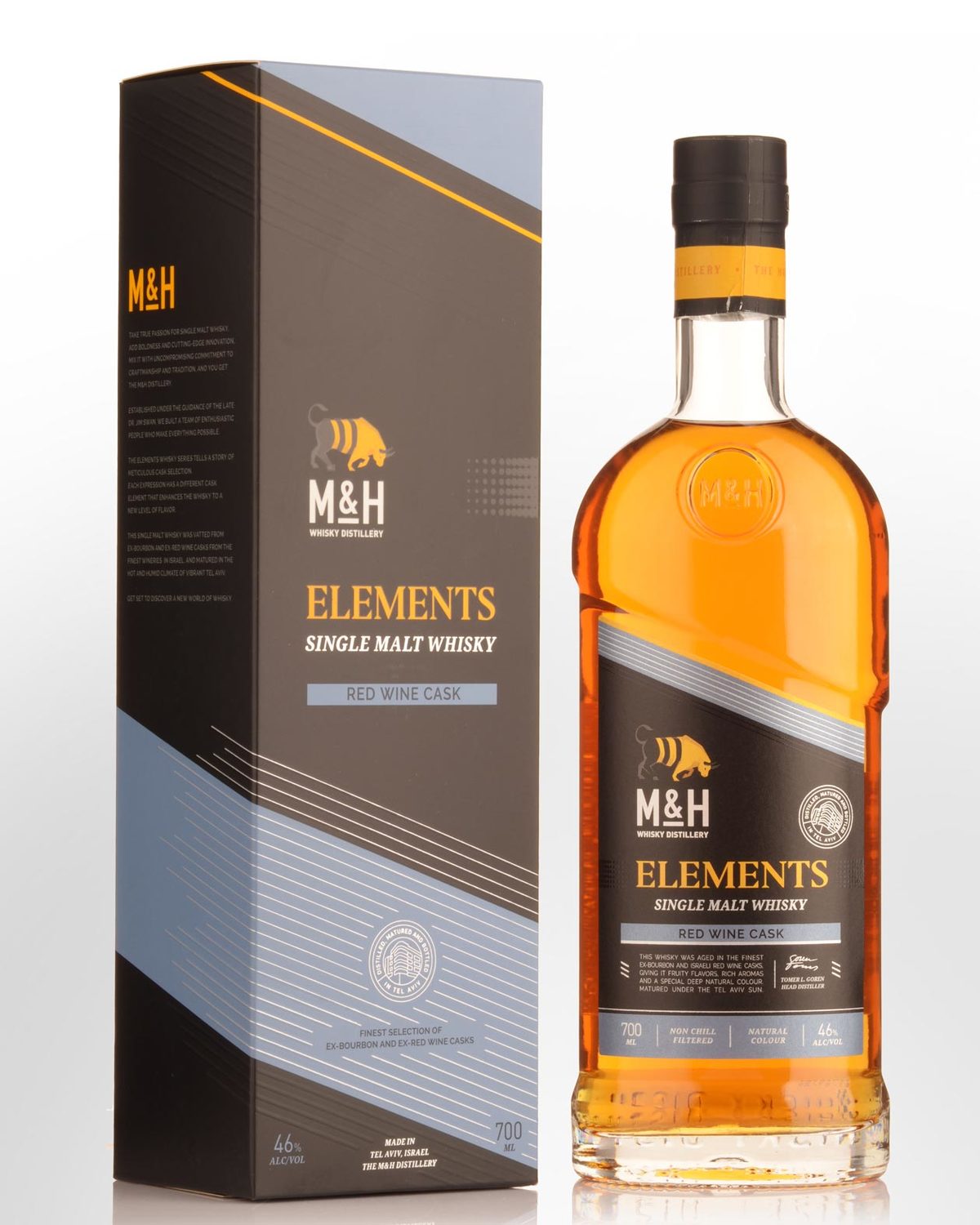 The Milk & Honey Distillery Elements Red Wine Cask Single Malt Israeli Whisky (700ml)
ISRAEL
Ex-red wine barrels that were sourced from Israel's finest wineries were picked for this edition in M & H's 'Elements' trilogy. A ginger-like keynote gives definite warmth to the opening sniffs, leading into a dryish, malty nose with vanilla and fruit sweetness developing. It's more winey in the mouth, where a gentle astringency adds a grippy tactile dimension in tandem with the spices. A malty - red berry thread surfaces, giving a juicy dried berry-like character to the finish. There's hints of dried coconut too, followed by lingering wood spices. Non Chill Filtered. Kosher. 46% Alc./Vol.
Other reviews... Whichever red wine they used, you get the distinct feeling it was pretty full bodied and dry.... A malt which handsomely repays time and perseverance as the Murray Method certainly unlocks far more complexity than at first seems apparent... complex and superbly well-weighted. 92.5 points - Jim Murray's Whisky Bible 2021

Does it make any sense to use some Israeli wine casks to mature an Israeli malt whisky? You decide… (I have to say I'm glad they don't make much wine in Scotland). Colour: deep gold. Nose: bready and 'world'. Guinness, cakes, bachelor's jam, cherry liqueur, some earthy pepper. Certainly better 'focused' than a Welsh whisky we tried the other day, on the other hand I'm not finding any watercress. Mouth: bites you a wee bit, with some pepper and leaves, while I'm not finding much fruitiness. Not quite a fan of this, while I'm quite a fan of M&H's more 'traditional' expressions, especially their very good 'Founder's Edition' from last year. Finish: a little bitter and dry. Comments: not totally for me, as expected, and perhaps a waste of excellent malt whisky if you ask me. BTW I'm sure the wine was good too, but both mixed together? I'm really not 100% sure, these combos being pretty tricky everywhere around the globe, in my opinion… 78 points - whiskyfun.com
Notes from the producers... Aroma: Red dried fruits, ginger, oak, and delicate coconut bouquet lead a gentle mineral perfume. Palate: Light bodied. Wine flavours coat the mouth, accompanied by subtle oak and vanilla notes, followed by gentle floral blossoms. Finish: Medium. The dried fruits and wine linger, finishing with a touch of dark raisins.