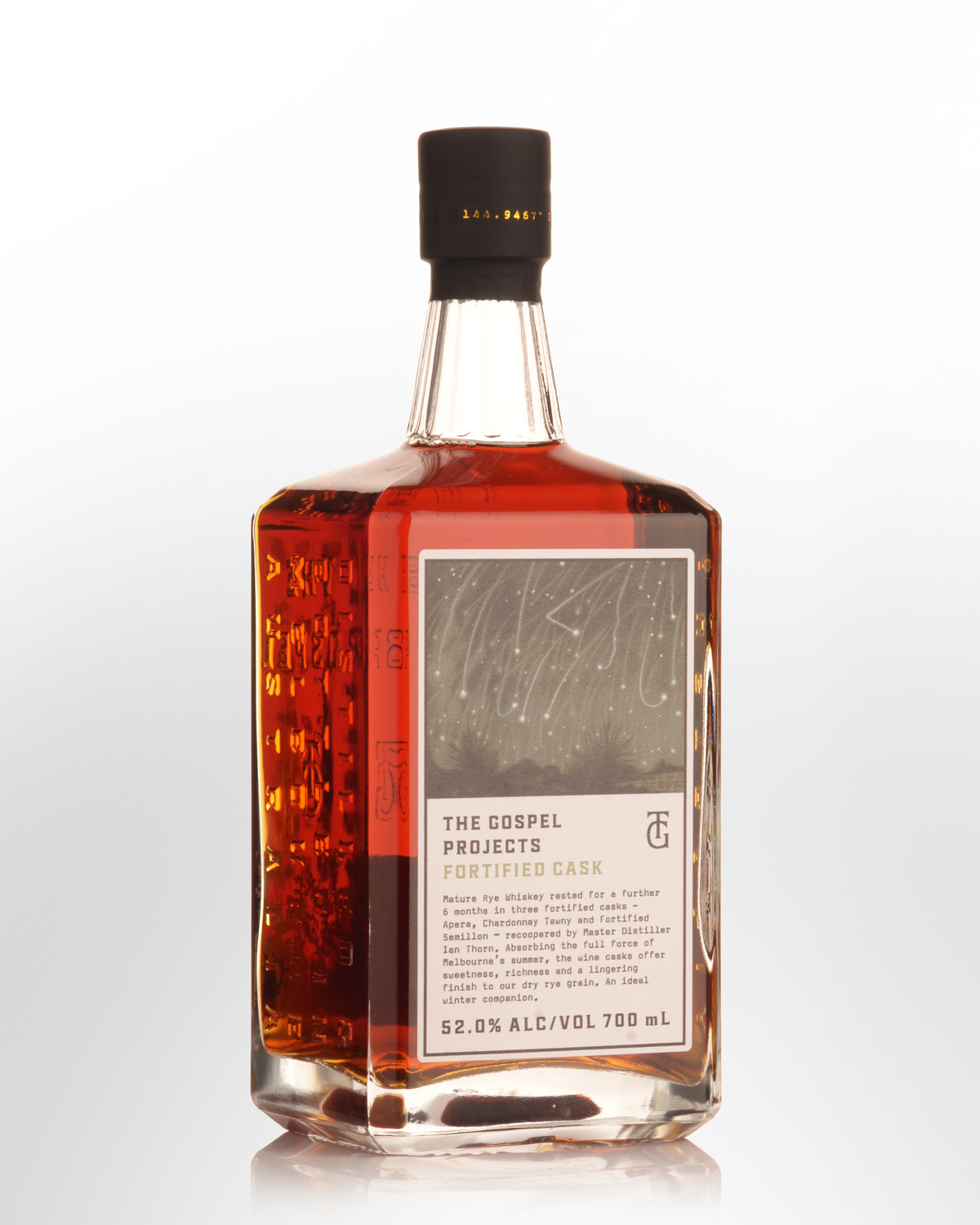 The Gospel Projects Fortified Cask Straight Rye Whiskey (700ml)
Melbourne, Victoria,
AUSTRALIA
An avant-garde Melbourne masterpiece.
The Gospel's first edition was a watershed release for Australia. Two years later, they've come good on a promise to offer more daring, more exuberant, higher strength expressions. Sparsely allocated to retailers in Victoria, 'The Projects Fortified Cask' is matured in three Australian wine barrels – Apera (sherry), Chardonnay Tawny and Fortified Semillon. The goal was to balance the distillery's signature dry rye note with a richer and sweeter finish. The casks were re-coopered on site by Master Distiller, Ian Thorn then filled with mature Straight Rye whiskey and matured at the top of their Brunswick warehouse, absorbing the full force of Melbourne's summer for a further six months.
Call it progressive, but then, The Gospel never aimed to make a rye quite like the Americans do, and it shows in this release. The nose opens sweetly woody, developing hints of orange spice cake and an unexpected fruitiness, the whole juxtaposed by a delicate choc-peppermint note that comes with the dryness of the grain. Where it really takes off is the palate. Length is the keynote here, which is what the Gospel have nailed repeatedly; especially through the middle as it fans out with a surge of fruit cake, mixed peel and bitter dark chocolate. Rye spices take over the finish, pushing it further as those notes mingle and dissipate in a flurry of baked fruits, mint chocolate, clove, peppercorns and even hints of juniper. Oily rye and salted chocolate complete the aftertaste. An avant-garde Melbourne masterpiece, you have to admire the way this unfolds in stages and succeeds in taking the genre where it's never been before. This offer represents the final stocks. 52% Alc./Vol.
Notes from the producers... Roasted walnut, maple syrup, clove, nutmeg, leather and fig on the nose. Unctuous texture with orange marmalade, fruitcake and bitter caramel on the palate.
Set in the backstreets of Melbourne's eclectic Brunswick neighbourhood, The Gospel features a six-metre-high continuous column still, designed and built in-house, as well as a bespoke Copper Pot still. The wider team are an experienced group of industry experts, all of whom have a fierce love for deliciously unpretentious rye whiskey.