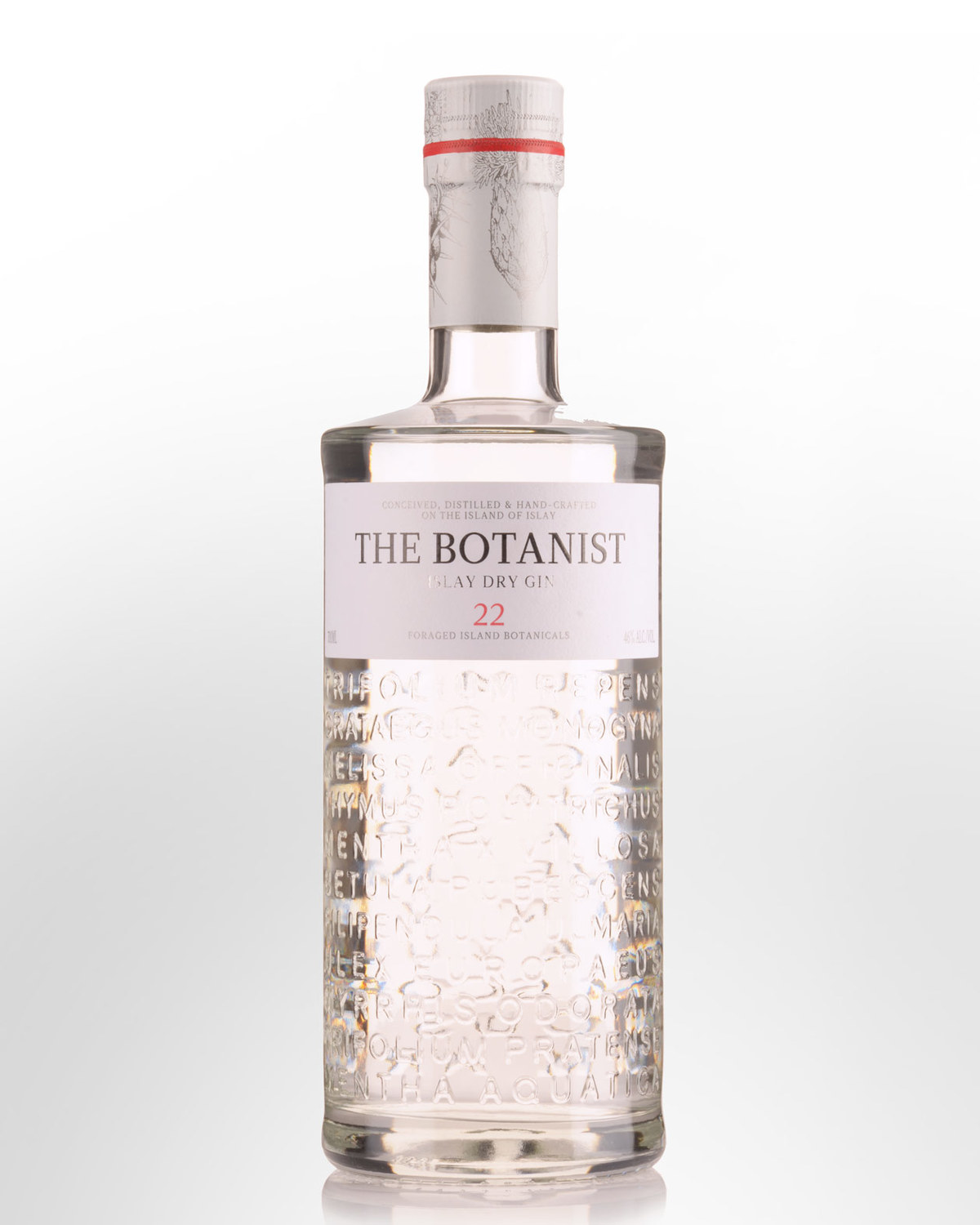 The Botanist Gin (700ml)
The once mothballed Bruichladdich Distillery on Islay is better known for its idiosyncratic and eclectic range of single malts. Now they're making a gin that's the talk of the town.
Mark Reynier, one of the key instigators in this distillery's recent revival, explains, "Botanist gin came about because we are curious about distilling. For us it is not a question of merely pushing buttons, we like to test our distilling skills, we are intrigued. With Trestaraig and X4 we have explored triple and quadruple distillation, so with a Lomond still that we had liberated from Inverleven in 2003, we were wondering how to use it. It was an experimental still, the first of its kind and now the last".
The resulting gin uses nine of the classic gin aromatics – orris root, cassia bark, coriander seed, etc – and augments these with a heady harvest of 22 wild, native island botanicals, hand-picked by Bruichladdich's expert foraging team from the windswept hills, peat bogs and atlantic shores of this Hebridean island of Islay. These include wild Islay Juniper, Elderflower, Bog Myrtle, Tansy, Hawthorn Flower, Birch Leaves, White Clover, Sweet Cicely and Lady's Bedstraw, amongst others.
This truly seasonal and exotic cocktail is then slow "simmer" distilled in the lomond pot-still, nicknamed "ugly betty". Head distiller, Jim McEwan explains, "Betty prefers to work at low-pressure and won't be rushed. So our precious botanicals are slowly and gently coaxed into releasing their complex, signature aromatics. Jim says he had to "learn a new dance" with Betty, and none of us knew what to expect from that first, achingly-slow 17 hour distillation.
The result: a highly distinctive, complex, floral gin with outstanding finish and impeccable provenance. In an age of re-badged industrial gins, the Botanist stands out as a truly artisanal, small-batch, hand-crafted labour of love and distiller's art. A breath of botanical Islay in every glass.
Tasting note: [30ml sample] Crystal clear, slightly viscous appearance. Powerful bouquet opens with fresh juniper and thyme followed by orange peel, coriander and pine. Excellent complexity and purity. Medium dry, concentrated profile delivers a creamy-yet-peppery mouthfeel with a nice balance between citrus peel and juniper. Orange peel on the finish leads into a subtle, persistent peppermint / eucalypt aftertaste. Great stuff - and if you're mixing, it lends a lovely creaminess to G&T's. 46% Alc./Vol.
Other reviews... a superbly clean and juniper led gin; while it features "22 native botanicals", The Botanist is distinctly London Dry in style. 5 Stars - diffordsguide.com
"With all of the botanicals used, it can take a while to move from nosing to tasting as there is a lot to discover. The key things that will stick with you are a fresh, lemony aroma coupled with spring flowers and a touch of mint. As you taste, the gin is clean and not too oily with more of the lemon floral notes sticking out. The juniper certainly falls to a background player here, but this gin, even with the dozens of botanicals used, doesn't get muddied. This is a gin that would work wonders in a sour or Collins preparation." 92 points - distiller.com