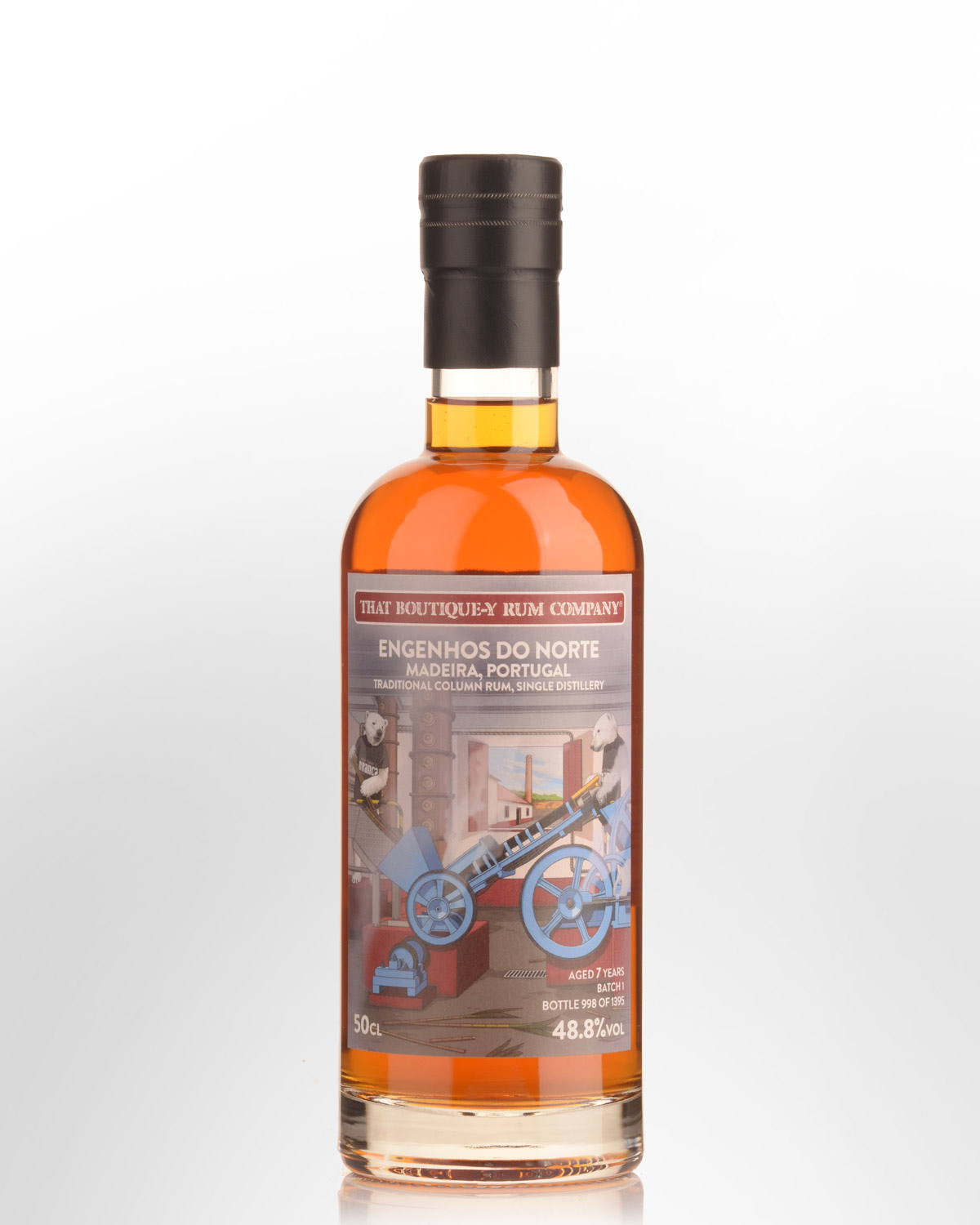 That Boutique-y Rum Company Engenhos Do Norte 7 Year Old Batch 1 Cask Strength Rum (500ml)
That Boutique-y Company is showing a flair for sourcing rums from places you wouldn't expect - like Portugal - this one distilled at Engenhos do Norte on the island of Madeira who otherwise produce brands like 'Rum North', 'Branca' and 'Zarco'. Incidentally, Madeira is one of the few places outside the French islands that can use the term agricole legally. Produced from sugar cane juice, milled by steam engines (hence the label), and distilled through column stills, Batch 1 is an outturn of 1395 bottles at 48.8%. Expect a fruity rum with lots of freshness on the nose and more vanilla on the palate, finishing with a hint of salinity and mixed spices (pepper).
Other reviews... It's initially dry and peppery, but also crisp, tasting of marshmallows, and tart white fruits like guavas, Thai mangoes, unripe pears, soursop, papaya, watermelon and pineapple. There's a nice thread of lemon underneath it all, cumin, vanilla, and a nice touch of brine and olives. This all leads to a conclusion that is short and easy, redolent mostly of sweet watery fruit with a last musky brine taste, and some more lemon zest.
In a peculiar way, it reminds me less of a French Island agricole than of a grogue from Cabo Verde. There's a sort of easy crispness to the experience, with the herbal notes evident but not as strong and clear and focused as a Martinique rhum is. For centuries Madeirans drank their rhums unaged and white — of late they have begun to try and develop an aged rum industry and expand beyond the local market which thus far has consumed everything the small distilleries produce. The development of real blending and ageing skill is still some years in the future, and thus far it's only the small IBs like Boutique-y that have brought their rums to our attention. But I think that we should keep an eye out for the rhums from Madeira, all of them. Based on the few I've tried, these guys know what they're doing, know how to make a good rhum, and will be going places in the years to come. - thelonecaner.com