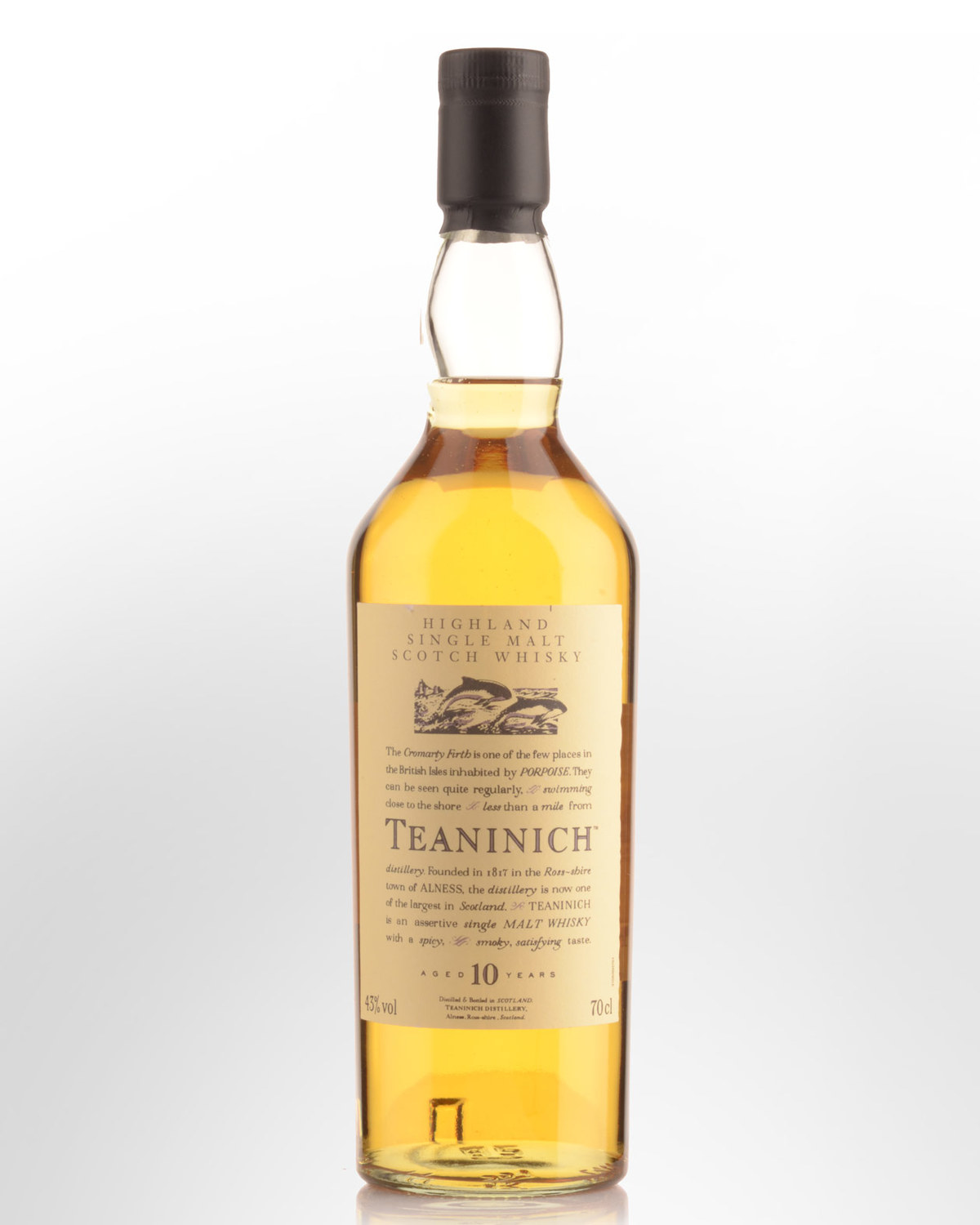 Teaninich Flora & Fauna 10 Year Old Single Malt Scotch Whisky (700ml)
"Very textured/oily, which I hadn't expected." - whiskyfun.com
Given that in April 2013, Diageo announced a new renovation of Teaninich as well as the building of a new distillery with 16 new stills right next to it (but with a different name and production schedule) this could well be the last Teaninich you'll secure from the original era at a reasonable price. Teaninich's focus is producing malts for blending (it's used in Johnnie Walker Red Label). Besides Diageo's Special Releases, there are almost no official bottlings, with indies offering the most. 43% Alc./Vol.
Other reviews... Colour: straw. Nose: very bready! I would believe it's some Austrian malt just distilled in Tyrol and matured in small alpine oak casks for a few months. Quite. So bread, sour dough, plenty of porridge, and a curious smokiness. Charcoal smoke? Some hay as well. Mouth: full-bodied, very malty indeed, with notes of spicy bread, croissants, cereals, then rather lemon cake. A dryness in the background, around tea. Finish: medium, a tad sweeter, and always very bready. Comments: there's something honest in this malty baby, for lack of a better term. Very textured/oily, which I hadn't expected. 82 points - whiskyfun.com
One story (and there are a few) tells that the Diageo Flora and Fauna releases were born from a rather embarrassing situation. Increased awareness of the breadth of Scottish single malts (largely via the offerings of the independent bottlers) resulted in a surge of distillery tourism in the early to mid-nineties. Devotees - particularly of the more obscure malts - would travel to their favourite distillery, enjoy the warmth and hospitality on offer, get an education and at the end of the tour find the staff had nothing to offer in the way of a dram.
So the Flora and Fauna series of limited bottlings was gradually introduced to showcase the arts of the lesser known distilleries, those that had been bulldozed, mothballed or otherwise accessed by blenders only.
Flora and Fauna was not originally an official title, but a name coined by Michael Jackson, as every distillery bottling had its own animal or plant assigned to each respective label. The first tranche was released between 1991 and 1994, followed by a smattering of cask strength releases (discontinued and ultra rare) up until 1998 and four expressions in September 2001.
Initially the series was available only at the malt's distillery of origin. Gradually the collection made its way out of the distilleries and onto the shelves of top whisky purveyors. For the second time in four years, we've been able to source more of these malt classics for Australian whisky lovers.