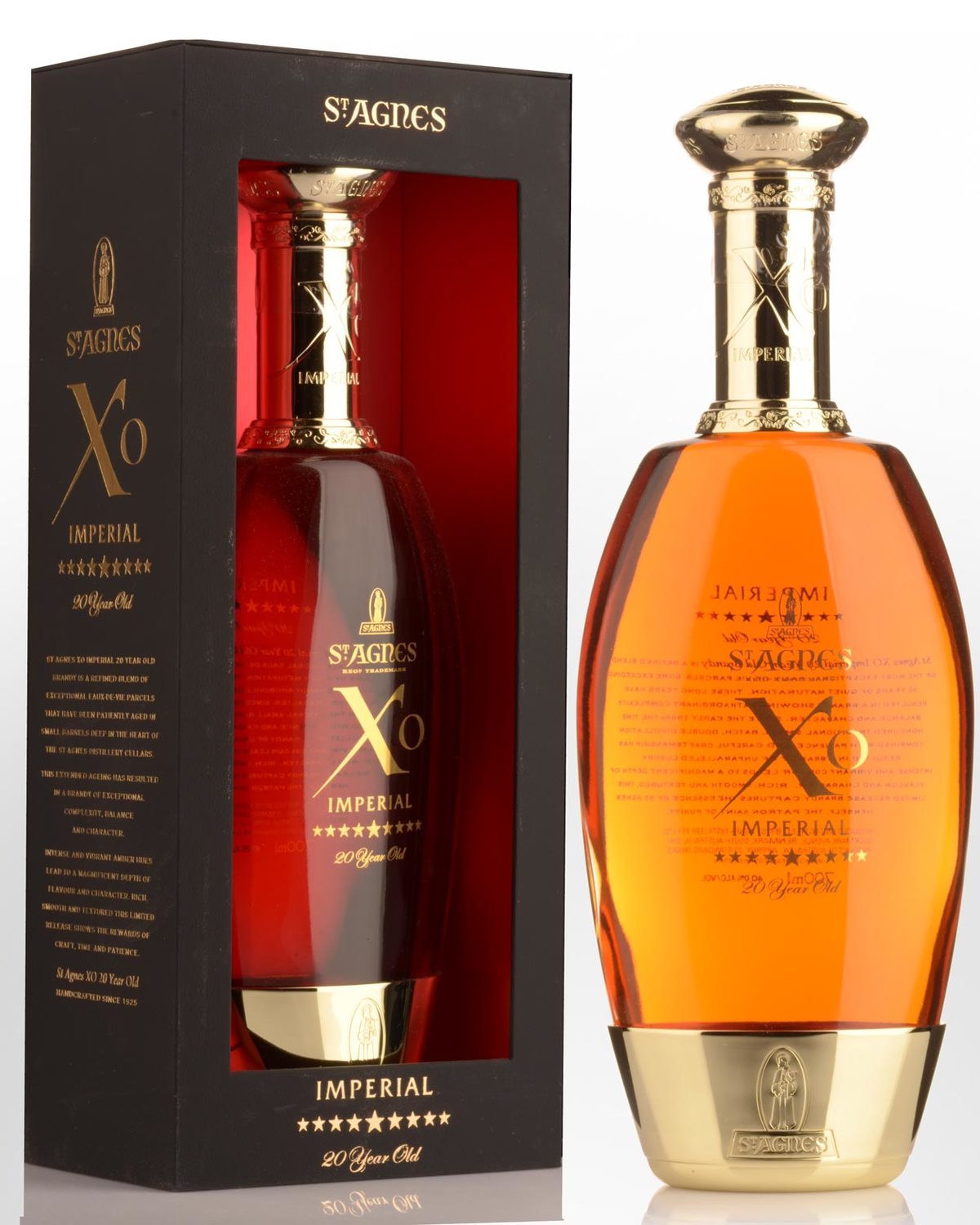 St. Agnes XO Imperial 20 Year Old Brandy (700ml)
Renmark, South Australia,
AUSTRALIA
St Agnes Distillery has released two inimitable expressions of XO to join the widely popular XO 15 Year Old and celebrate the 90th Anniversary of the St Agnes Distillery and brand. "They represent a uniquely Australian take on the timeless luxury and prestige of XO, and we can't wait to show them off to Australia and the rest of the world," Richard Angove stated. The quality of the new release XOs has already been recognised, with the XO Grand Reserve 40 Year Old and the XO Imperial 20 Year Old both awarded Double Gold at the 2015 Melbourne International Spirits Competition. (The St Agnes XO 15 Year Old was awarded the only Gold medal at the same show). Present day St.Agnes is twice distilled in copper pot stills made by H. Jennings of Adelaide before its extended maturion in oak casks. Producing spirit at not more than 83% is a critical aspect of production as compared to cheaper spirits that are stripped of grape character by distilling to a much higher 95%. Brandy by definition must have at least 25% of the end product distilled at not more than 83% alc/vol but with St Agnes it is 100% distilled at not more than 83% alc/vol. resulting in a much more complex spirit. Tasting note: The minimum age of this brandy is 20 years with the oldest component distilled in 1970. Flawless polished copper colour. Plush and softly scented with enticing notes of walnut slice, dried apricot, prune and later sweeter hints of dates, raisin cake, vanilla and rancio; in some ways akin to ultra aged tawny or muscat. Light and vibrant on entry. Mid palate is medium dry, well rounded with pepper, dried apricot and more raisin cake emphasised at the finish. Ends dessert-like with prune, sweet spices (vanilla / clove) followed by raisin cake in the aftertaste. Reminiscent of top-notch Armagnac. The persistence of flavour is truly outstanding. 43% Alc./Vol.