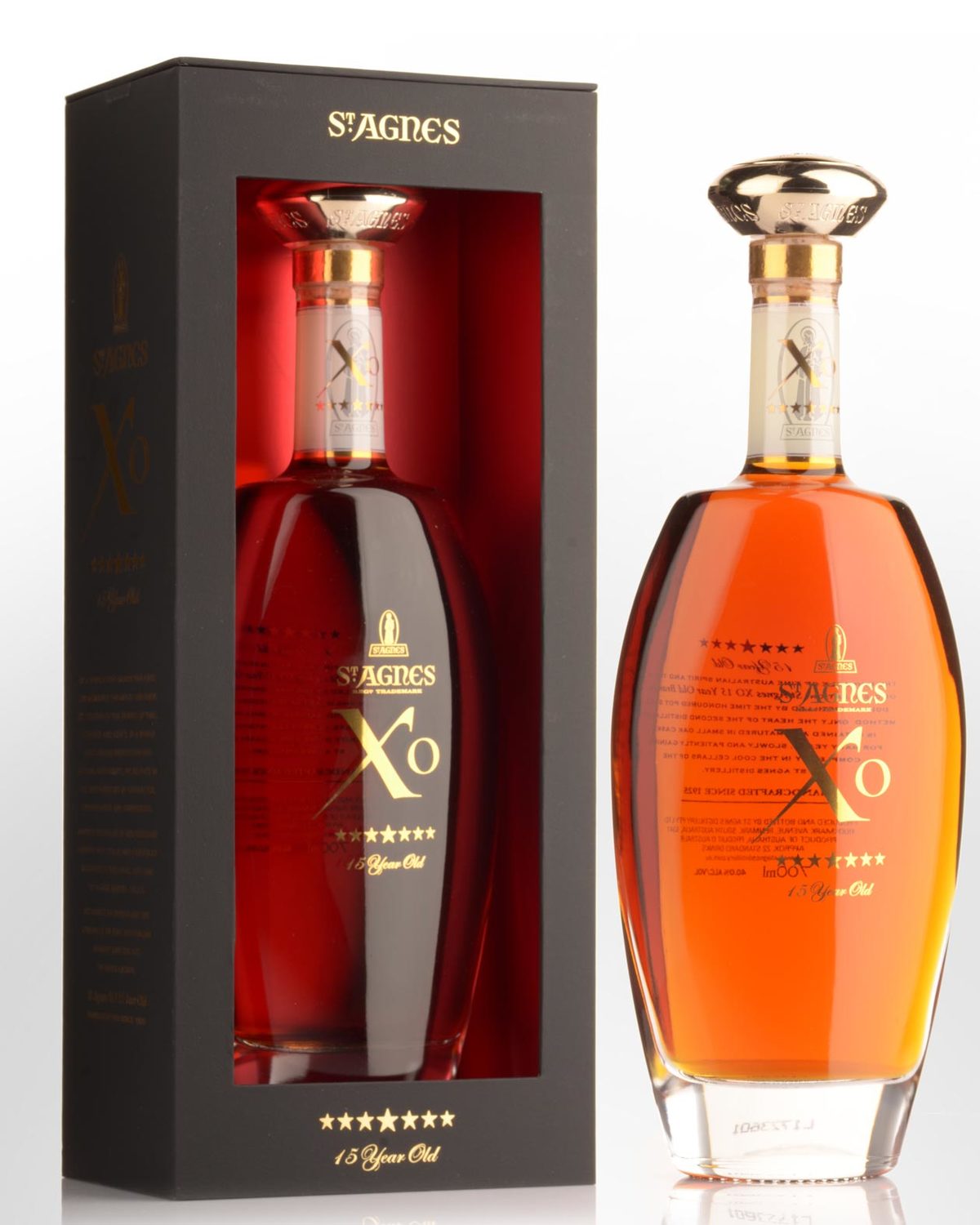 St. Agnes XO 15 Year Old Brandy (700ml)
Renmark, South Australia,
AUSTRALIA
From Cornwall in the early 1880's came Dr. W.T.Angove with his young family to settle at Tea Tree Gully in South Australia. He established a practise as a country doctor and planted vines as a recreation. That venture into viticulture grew into wine making and then into distilling. It was in 1910 when that young enterprise extended to Renmark in the Murray River Valley where the sun and soil grow grapes particularly suited to making fine brandy. St.Agnes X.O. is twice distilled by the time honoured pot still method and then matured in oak wood casks. The blend of spirits is no older than its youngest part and by Australian law, for a brandy to be designated "Very Old" that youngest part must have been matured in oak wood casks for at least 10 years. By this rule, St.Agnes X.O. is more than 20 years old: in the blend some portion is up to 50 years old. The age is revealed in St.Agnes's deep amber colour, sweet vanillin nose and its rich, complex, liqueur-like palate. Australia's answer to Cognac!
Tasting note: Slightly glycerous, deep brassy / burnished copper appearance. The aromatics are heavy, sweet and sensuous revealing a superb amalgam of vanilla, honey, creme caramel with some fresh orange / raisin fruit cake notes underlying. Entry is soft and silky with a plush, semi sweet profile that includes dates, dark chocolate and cinnamon. Very gently warming spirit. Super fine, dusty tannins dry the mid palate; finishes fresh with a persistent orange cake, caramel and cocoa fade that returns late and with surprising intensity. 40% Alc./Vol.
Further notes from the producers: St. Agnes XO Brandy is a deeply coloured, full-bodied and extremely complex spirit. The extended marriage of spirit, wood and time has produced an aromatic brandy with subtle rancio aromas evident. The palate is smooth, dry and long with a nutty oak aftertaste. It is a brandy that because of its complexity, finesse and elegance has become the benchmark of Australian aged brandies. A prodigious winner of medals and trophies at local and Euopean Wine Shows, St. Agnes 7 Star XO Very Old Brandy is Australia's most highly awarded premium brandy. It has on two occasions won a World Championship Trophy .