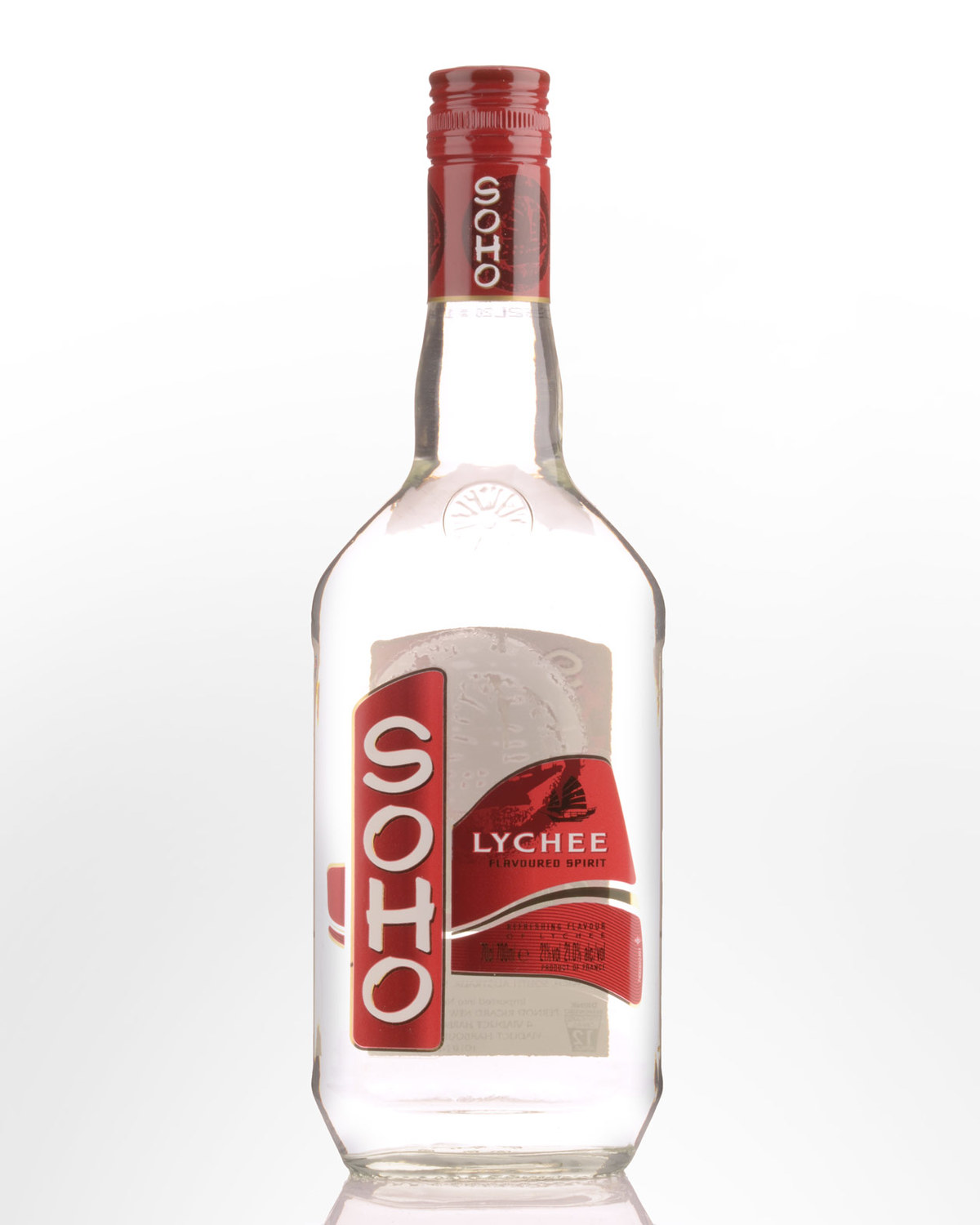 Soho Lychee Liqueur (700ml)
FRANCE
The lychee is a rare sub tropical fruit originating in Southern China where the lychee is famed as 'the King of Fruits'. The lychee grows to approximately 3-4 centimetres in size, oval to rounded-heart shaped with a bumpy skin that is red in color. Once the skin is peeled, the crisp juicy flesh is white or pinkish, translucent and glossy like the consistency of a grape. Lychees have a sub-acid sweetness with a wonderful freshness. The fruit is also high in the antioxidant Vitamin C and the essential mineral Potassium.
Soho Lychee liqueur, the pure essence of fresh lychee fruit captured in a light, refreshing, natural tasting liqueur, can be served at room temperature, or slightly chilled with lime & soda, cola, fruit juices or tonic water. This versatile liqueur is becoming increasingly popular in a wide variety of cocktails and after dinner drinks.

Tasting note: The highly perfumed aroma features good smells of lychee with additional layers of fragrances of parchment, palm oil, flowers and sealing wax. The palate entry is gently sweet and properly fruity; the midpalate displays a textured sweetness/ripeness that is delicious and light-to-medium weighted. Wraps up sweet, succulent, and genuinely tasty.  21% Alc./Vol. Rating: 90-95 points.
- www.wineenthusiast.com

Cocktail: Soh 07
Toast the Chinese New Year with two new liqueur cocktails featuring Soho Lychee Liqueur.
Pre-marinate oranges in simple sugar
0.5 part Soho Lychee Liqueur
2 parts VSOP Cognac
1 part pomegranate juice
1 part orange juice
Spoonful of sugar
Method:
Serve over ice in a rocks glass filled with marinated orange pieces.
Cocktail: Lychee Kiss

Toast the Chinese New Year with two new liqueur cocktails featuring Soho Lychee Liqueur.
2 parts Soho Lychee Liqueur
2 parts Premium Vodka
Splash of grapefruit juice
2 parts Sparkling Wine
Method:
Serve in a martini glass with a lemon twist garnish.
- notes partially sourced from www.cocktailatlas.com
 Click here to learn more about Liqueurs.

 Click here for Classic Cocktails.