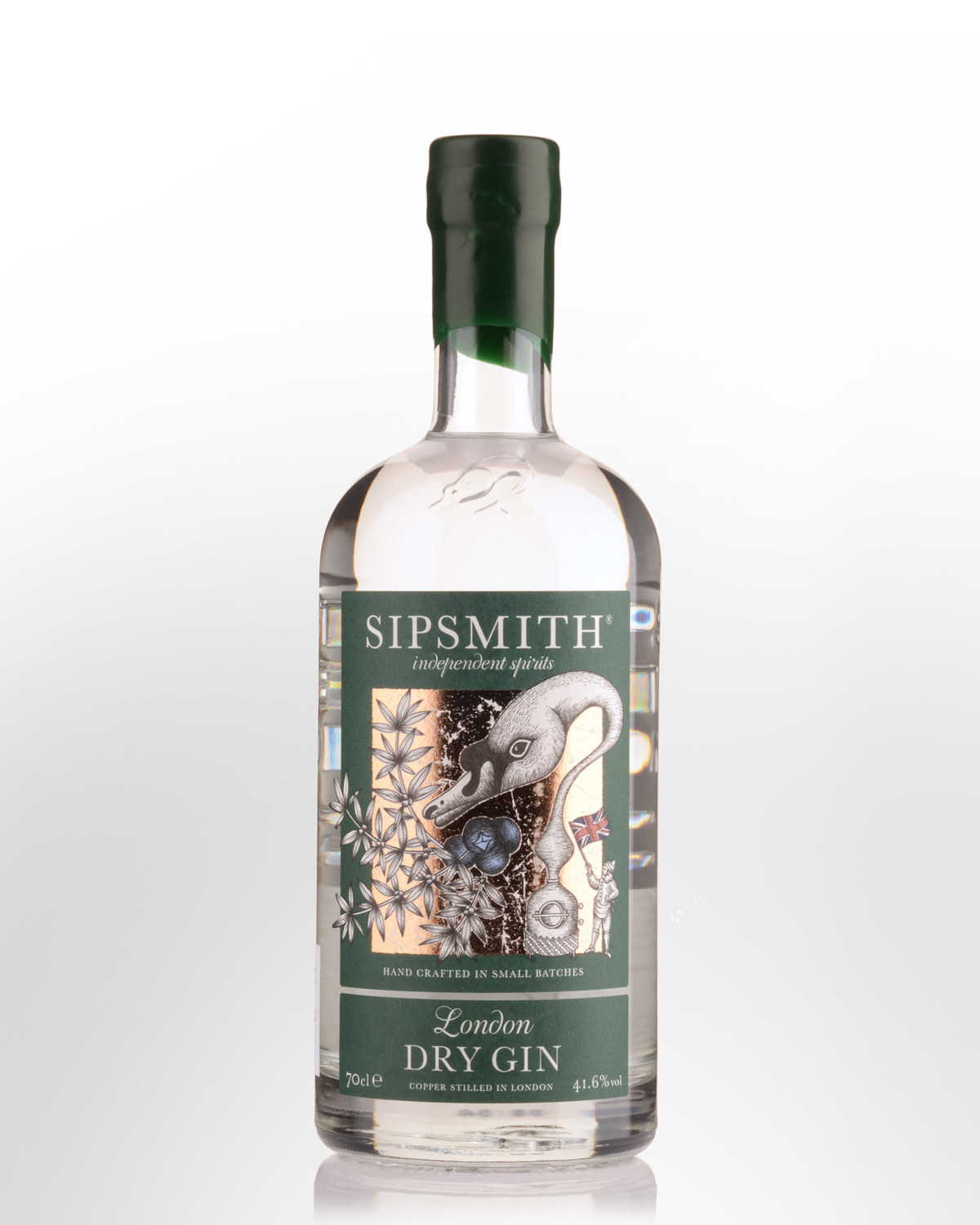 Sipsmith Gin (700ml)
Sipsmith was established in London in 2009. The first copper-pot based distillery to start up in London in 189 years, it is one of only four gin distilleries located within the city limits. Situated on a residential street in West London on the site of a former microbrewery, it's also the site which later became the office of famous beer hunter and whisky writer, Michael Jackson.
Sipsmith's first two spirits are a Barley Vodka and a London Dry Gin (a Sloe Gin is expected soon). These are produced in small batches of fewer than 300 bottles from an English Barley mash that is created off-site. The company employs a German swan-necked copper-pot still. Referred to as 'Prudence' by the proprietors, she's caricatured on the brand's labels as a stylized pot-still with a swan's neck and head.
Sipsmith's London Dry Gin is made using 10 botanicals from around the globe: Macedonian juniper berries, Bulgarian coriander seed, French angelica root, Spanish liquorice root, Italian orris root, Spanish ground almond, Chinese cassia bark, Madagascan cinnamon, Sevillian orange peel and Spanish lemon peel. If the botanicals seem rather commonplace by contemporary Gin standards, the company vouches for their freshness, which, as we've been told by the producers of Australia's successful West Winds brand, is an often underestimated factor in Gin production. Quite simply, the fresher the ingredients, the more potent the flavour infusion will be. Companies producing Gin on a grand scale, such as Beefeater or Gordon's simply can't secure the quantities of botanicals required in fresh form for year round production. Water purity is also considered key.
Geraldine Coates, who has written books about gin and runs the website 'Gintime', also considers the size and flexibility of new micro-distilleries like Sipsmith to be their real point of interest."It means they are producing the equivalent to caviar as opposed to tuna fish," she explains. "Small batch runs mean they can make many different varieties. They could even, theoretically, take on commissions for certain flavours. And bartenders in the UK love new types of spirit to play with."
Tasting note: Pours crystal clear with a slight viscosity evident. The nose offers a restrained elegance - fresh juniper is the initial focus followed by hints of citrus peel, lavender and rosemary. A soft entry leads into a light to medium bodied mid palate that's gently spicy, almost creamy in texture and building in concentration with flavours of juniper and citrus lozenge. Perfect balance. Finishes pristine, persistent and refreshingly dry. An understated and stylish gin straight up that also adds a creaminess to G&Ts. 41.6% Alc./Vol.