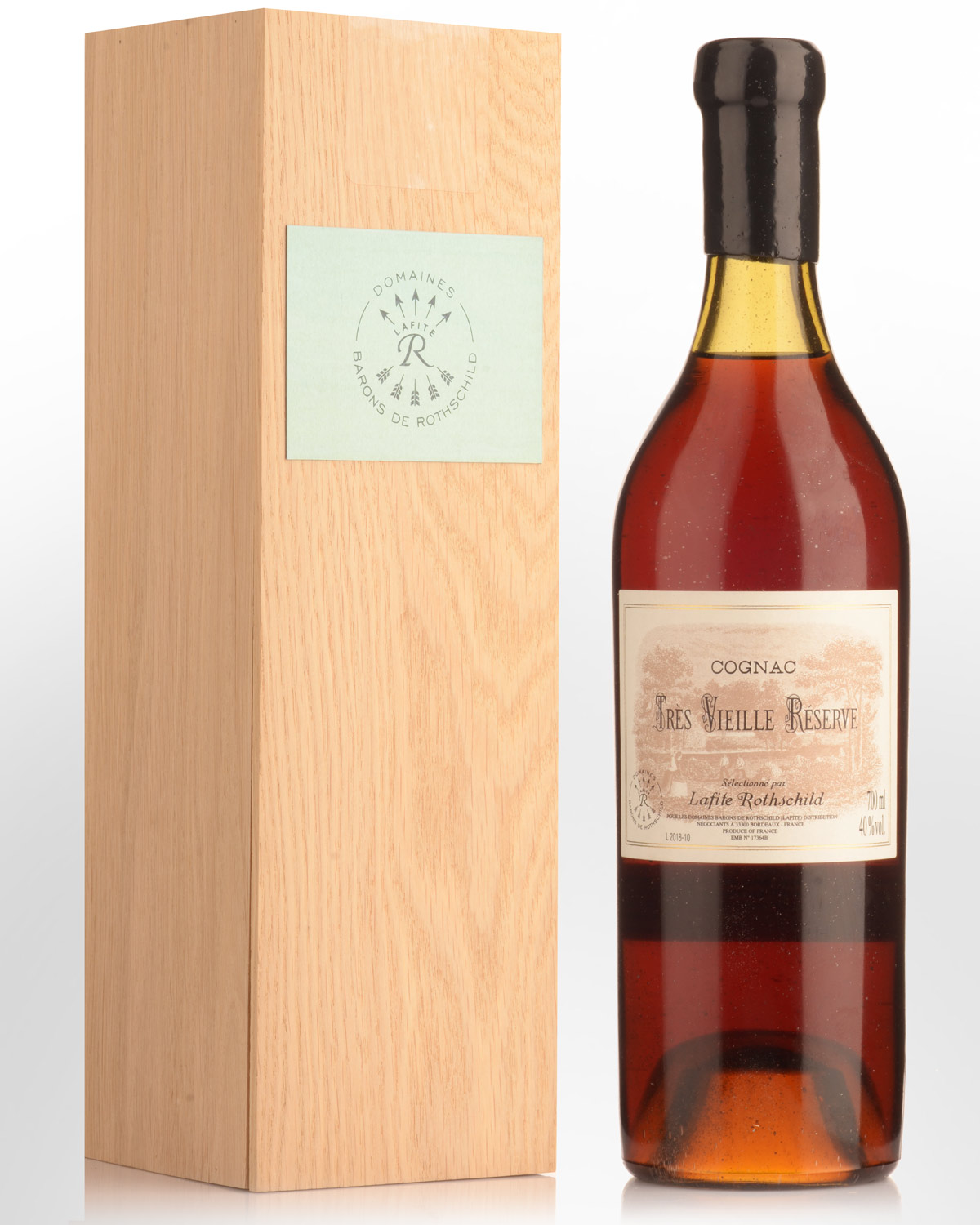 Selectionne par Lafite Rothschild Tres Vieille Reserve Cognac (700ml)
Taking the Lafite-Rothschild experience one step further are an exclusive selection of wood-aged spirits.
For many years, the Rothschilds accumulated 'private reserves' of old cognacs for no other reason besides a belief that "Nothing can replace the pleasure of an exceptional cognac after a meal where the finest and rarest wines have been served". Such treats were kept for esteemed guests and friends, but all good things must come to an end (nothing seems to disappear faster than one's favourite reserves of wines or spirits!) This was the case at Château Lafite Rothschild. Something had to be done. Luckily, the vignerons of Cognac and some of their negociants' friends have maintained a tradition of saving a percentage of production each year. For them, there is no better "nest-egg" even if only to have the pleasure of consuming these spirits in the eve of their lives. Such investment barrels are the source of Lafite's current offering.
While these family reserves were never intended to be marketed, guests often requested a second helping, then a third. Anticipating an even broader demand, Lafite began to release small volumes annually. We have been fortunate enough to get our hands on a miniscule allocation. The chance to own a bottle of a unicorn spirit like this is equivalent to an invitation into one of the world's most exclusive clubs. If you consider yourself a 'big-game hunter' of any persuasion, it will be one of the more enviable trophies on your mantle piece.
The extraordinary Très Vieille Réserve is created from 90% Ugni Blanc, 5% Folle blanche and 5% Colombard sourced from Grande Champagne (70%) and Borderies (30%) and selected from lots aged at least 50 years. In this case it is the culmination of a thirty year partnership between Lafite-Rothschild and the Cognac house, Maxime Trijol. Since the Trijol family originally settled as growers and distillers in St Martial Sur Né, in the heart of the Cognac region they have built on their expertise as growers and distillers, becoming full time distillers in 1962. An independent family firm supplying many of the region's most famous names, in recent times the company has concentrated on releasing more of its own cognacs which have been building a great reputation for quality.
Lafite's Tres Vieille Reserve comes replete with a wax-sealed antique style bottle (probably hand-blown) housed in an oak presentation box. Very limited stocks.
Notes from Lafite Rothschild... Colour: Amber colour, almost mahogany. Nose: Very complex, combining wooden, vanilla, old Porto, dry fruits, nuts to floral notes (dry rose), but also spicy (clove and pepper), cigar wooden box. Palate: Light and elegant structure, rich and wooden notes. Perfectly well-balanced and with tremendous length, it shows a complexity, suppleness and exceptional aromatic persistence which make it ideal to enjoy as a digestive at the end of a meal. 40% Alc./Vol.