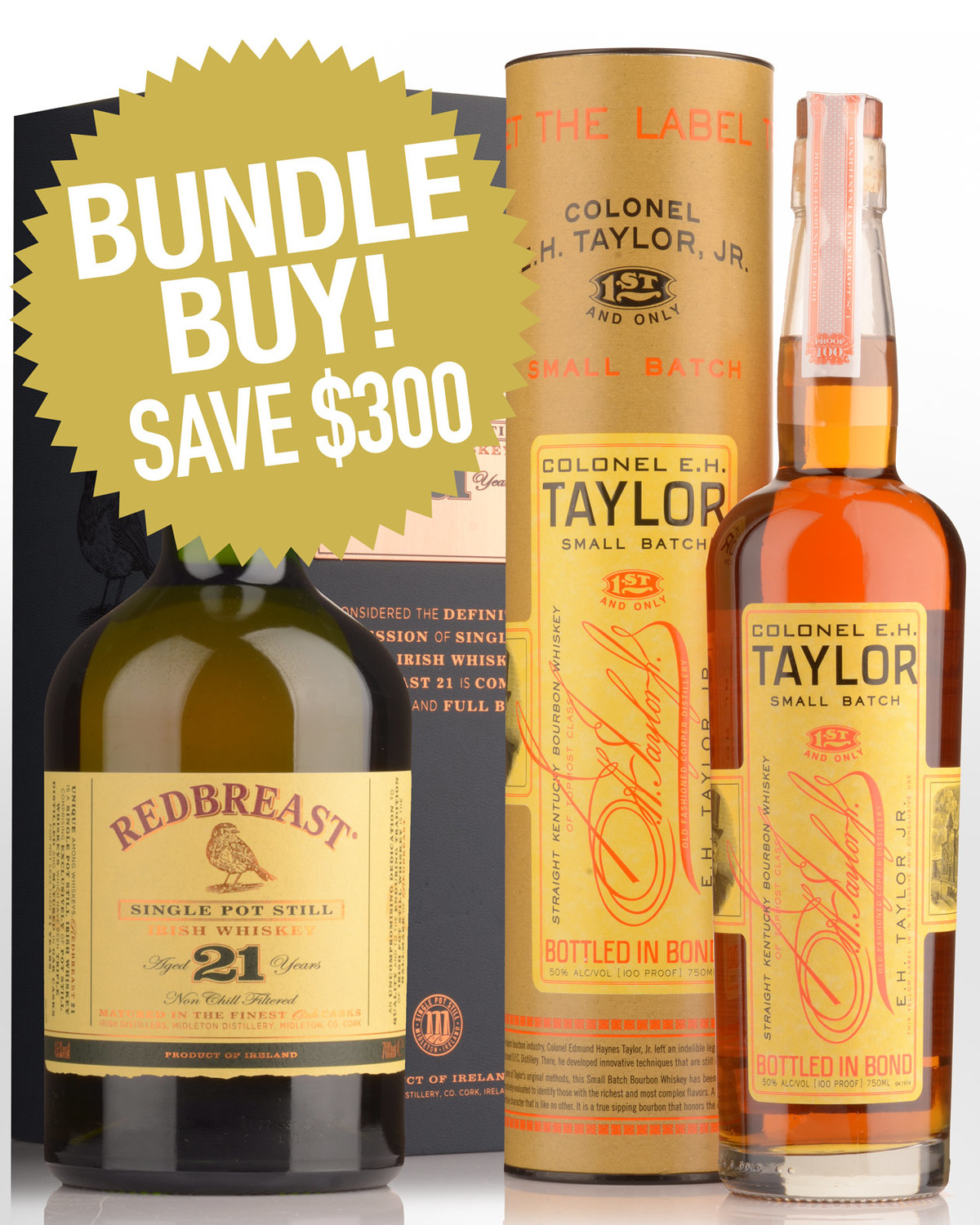 Redbreast 21 Year Old Single Pot Still Irish & Colonel E.H. Taylor 100 Proof Small Batch Bourbon Whiskey Bundle Buy (1x700ml & 1x750ml)
Get Redbreast 21 YO normally $399 PLUS Colonel E.H. Taylor 100 Proof Small Batch Bourbon, normally $299, together and pay only $399!
An offer too good to be true and the perfect time to kick start your Christmas shopping (yes, we recommend being extra early this year!) The savings are unbelievable. Redbreast 21YO which is described as one of the world's greatest whiskeys typically retails for $399. Colonel Taylor's Bottled in Bond Bourbon rarely sells below $300 in Australia. Both represent top notch examples in their respective categories (full reviews below). Do your homework and you'll find the deal is real. But be quick. We have one parcel only and the offer will never be repeated.

Notes on Redbreast 21 Year Old:
With the entire Redbreast portfolio gleaning rapturous acclaim world wide, it's hard to imagine how they'd be able to improve on perfection. Reports have it that the 21 year old achieves just that. A quintessential expression of the Pure Pot Still style. Irish whiskey rarely gets better than this.
Other reviews... Wow! After the wonderful 12 year old cask strength, Redbreast does it again. This is a different beast altogether, but it is a stunner. This is Roger Waters doing The Wall: over the top, unsubtle, and totally entertaining. There's lots going on: fermenting apples, juicy oils, spice, and dark cherry and berry fruits zip and fizz over the palate, the wood influence is sublime. I'm comfortably numb. 96 points
- whiskyadvocate.com, (Winter 2013) Reviewed by: Dominic Roskrow
"...amongst the world's truly great whiskeys and a near blue print for the perfect Pot Still Irish Whiskey."
97 points - Jim Murray's Whisky Bible 2020
...A bottling I usually adore on the occasions I've tried it in the past, although this is the first time I've written proper notes. Colour: gold. Nose: golden syrup drizzled over passion fruit with ripe pineapple, melon, caramelised brown sugar and some sultanas stewed in old calvados. Simple and totally beautiful with these rather luscious and precise fruits. A touch of white pepper as well. Mouth: preserved lemons, lime oil, more brown sugar, fruit syrups, oatmeal flapjack and a little flinty minerality. Some green tea, hessian and then moving more towards white fruits such as lychee. Finish: Long, slightly earthy with a more nervous, citrus led fruitiness. Lots of lemon peel, olive oil, a touch of soot and some barley water. Comments: It's really one of the benchmark Irish whiskeys in my book. Beautiful fruitiness.
89 points - Serge Valentin, whiskyfun.com
Tasting note for Colonel E.H. Taylor: These BIB releases are what Australian Bourbon lovers really miss out on. Even if you can find them, the prices are often prohibitive. Score one as good as this and the deal gets sweeter. From a fresh bottle, it's a little prickly and smells like varnish, leather and hazelnuts, but later goes deeply caramelly, nutty, dried fruit and Bounty Bar-like after additional exposure. Spirity and warm, though not without a serious injection of sugars; by mid palate it turns buttery, maple-like, rounded, even soft. The finish offers toasted tea biscuits, bitter chocolate, crushed mint and a gentle, oaky astringency. The reined-in spirit is nicely harmonised and the quality of the wood really shines. We loved the evolving character of this ballsy, compelling, and at moments, luscious Bourbon that demands patience to show its very best. 50% Alc./Vol. No mash bill stated.
"Just balances out so beautifully." - Jim Murray's Whisky Bible 2021.

F. Paul Pacult's Spirit Journal rating: 5 stars/Highest Recommendation.
...The mouthfeel is nicely balanced and more floral than I expected based on the nose. Overall fantastic in terms of being not too heavy, not too light, just the perfect balance that allows you to hold it in your mouth and really chew on it. It's not overly complex, but that doesn't make it any less enjoyable... E.H. Taylor Small Batch is really a contrasting bourbon. On one hand you have a really full-flavored bourbon that can almost go head to head with it's bigger brother E.H. Taylor Single Barrel and holds it's own. On the other hand you're paying slightly more for the presentation of the packaging for the bourbon it contains. While I wish this sold for [a little] less, there's no denying that it's a really solid bourbon that most individuals will enjoy. The palate is delectable and sans the heavy alcohol upfront, the overall flavor profile is enjoyable. If you haven't had a chance to experience this yet make sure to seek it out, as it truly is a good introduction into the E.H. Taylor line of whiskeys. - breakingbourbon.com
2013 Double Gold Medal - San Francisco World Spirits Competition
2013 Chairman's Trophy Finalist - Ultimate Spirits Challenge
2013 Extraordinary/Ultimate Recommendation – Ultimate Spirits Challenge