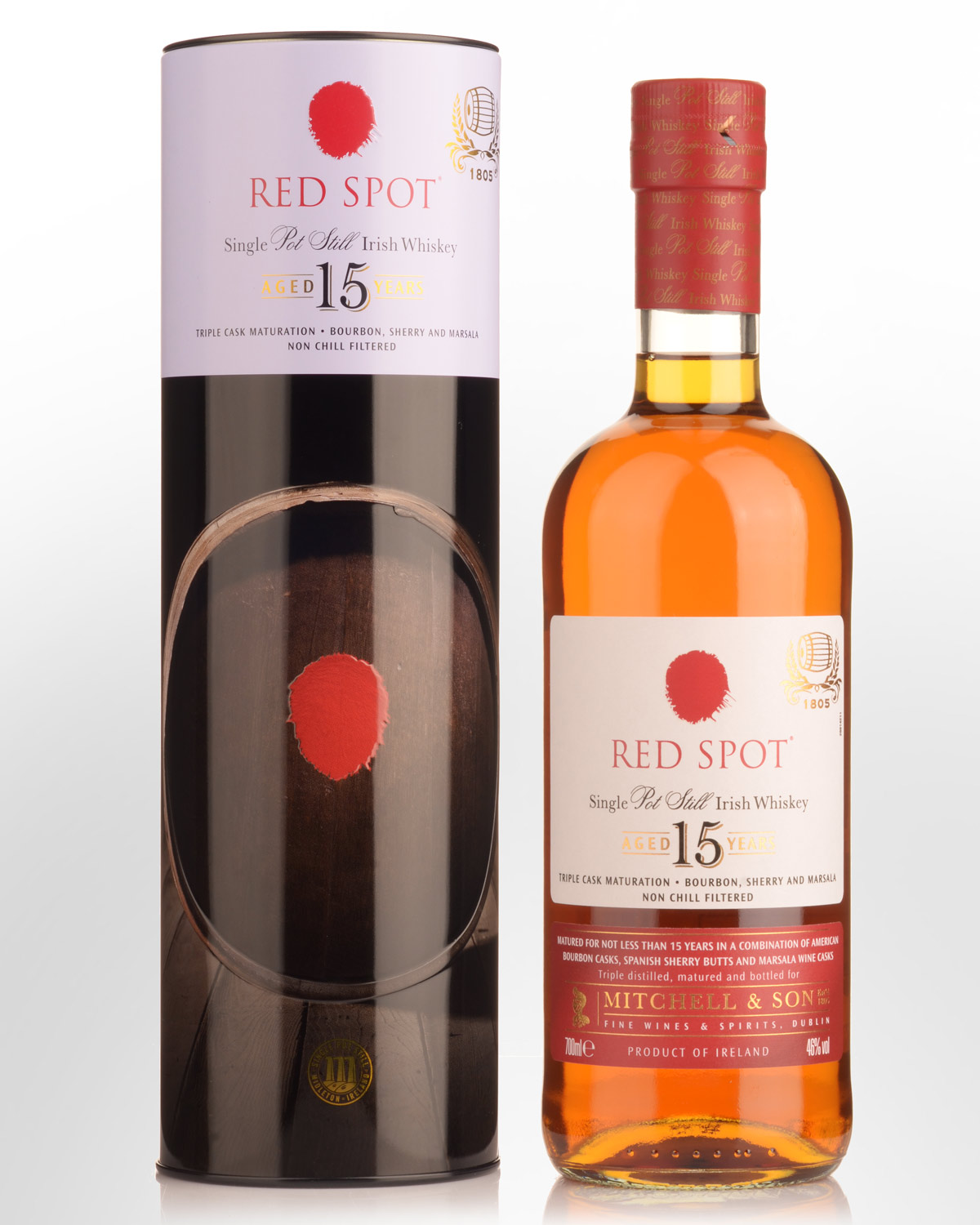 Nick's Import

Limit One per customer
Red Spot 15 Year Old Single Pot Still Irish Whiskey (700ml)
IRELAND
Extraordinary, Ultimate Recommendation 95 points - Ultimate Spirits Challenge 2021
It's been a long wait, but Red Spot is back on the market for the first time since the mid 1960s. After a 50 year hiatus, the launch was a big deal for followers of the brand, already acquainted with the high quality offered by the legendary 'Green Spot'.
Those in the know will recall the colour-coded system behind this series first introduced by Mitchell & Son at the turn of the 20th century. Better known as Dublin wine merchants during the 1800s, in 1887 the company branched into whiskey, sourcing and maturing stocks from the nearby Jameson distillery. Back in their cellars, dots of coloured paint were used to indicate the anticipated ageing potential of casks. Blue spots signified seven years, green spots 10, yellow spots 12, and red spots 15 - the latter considered the pinnacle.
With the brand now part of drinks giant, Pernod Ricard, it's re-assuring to know that the Mitchells were hands-on during the 're-launch' process, referencing old family recipes and records to recreate what the original may have tasted like. Kevin O'Gorman, Master of Maturation at Midleton Distillery commented "It has been a pleasure and a privilege to work with the Mitchell family on the re-imagination of Red Spot and bring a piece of Dublin's rich whiskey history back to life". Though according to Carol Quinn, archivist at Midleton, it is "...not a replica, but inspired by Red Spot of old, it's a whiskey for the future".
Officially re-launched in 2018, the new Red Spot is composed of three different whiskeys aged separately then blended: One is matured in Oloroso sherry casks, one is aged in bourbon casks, and the other initially aged in bourbon casks before being finished in Marsala wine casks. O'Gorman describes the result as "a bold whiskey that packs a punch, has incredibly rich flavours and an extra-long infusion of fruits and spices on the finish that provides a truly unique and colourful ending." Only one spot is left to complete the series - Blue Spot, and rumours suggest it's in the pipeline. In the meantime, get this much anticipated Irish release while you can.
Other reviews... A heart of pot still spices, but this has oodles of complexity and depth with concentrated autumnal flavors of apple and blackberry cooked with brown sugar, then morello cherry, hazelnut, allspice, aged tobacco leaf, and worn leather. Mellow dark-toffee sweetness and cooked fruits carry the cinnamon and peppercorn, oak, and leather into a tongue-pounding finish. A slap in the chops—just what you want from a pot still whiskey. 91 points - whiskyadvocate.com, reviewed by: Jonny McCormick, 2019
...Fans of sherry cask aging will rejoice at this 15 year old edition which is brimming with rich dried fruit and balanced wood flavors presented with the refined texture of pot-stilled Irish whiskey. It finishes smooth, but not sweet, on an earthy, malty note. 95 points - Extraordinary, Ultimate Recommendation - Ultimate Spirits Challenge 2021
...Oh what I'd give for the days when you could taste the actual magic of the Pot Still itself, such as in the original Green Spot, rather than some lumbering fruit casks, and some slightly sulphured ones at that. 83 points - Jim Murray's Whisky Bible 2022
...Red Spot one of the tastiest Irish whiskeys I've ever enjoyed. Rounded and soft, civilized and refined, it's a dram you could pour for your boss or your mom with equal confidence. If you're looking for an urbane, gentle whiskey with an easygoing nature and polished attitude, Red Spot hits the spot. 5 stars - thewhiskywash.com
...Amber color. Aromas and flavors of leather, sherry, marcona almonds, dark chocolate, and dried cherries with a satiny, vibrant, dryish medium-to-full body and a tingling, intricate, long finish that exhibits elements of ground cinnamon, allspice, ginger cakes, mint, and clove. A complex and brooding Irish Single Pot Still Whiskey that explodes on the palate with a symphony of spices. 92 points / Gold Medal, Exceptional - tastings.com