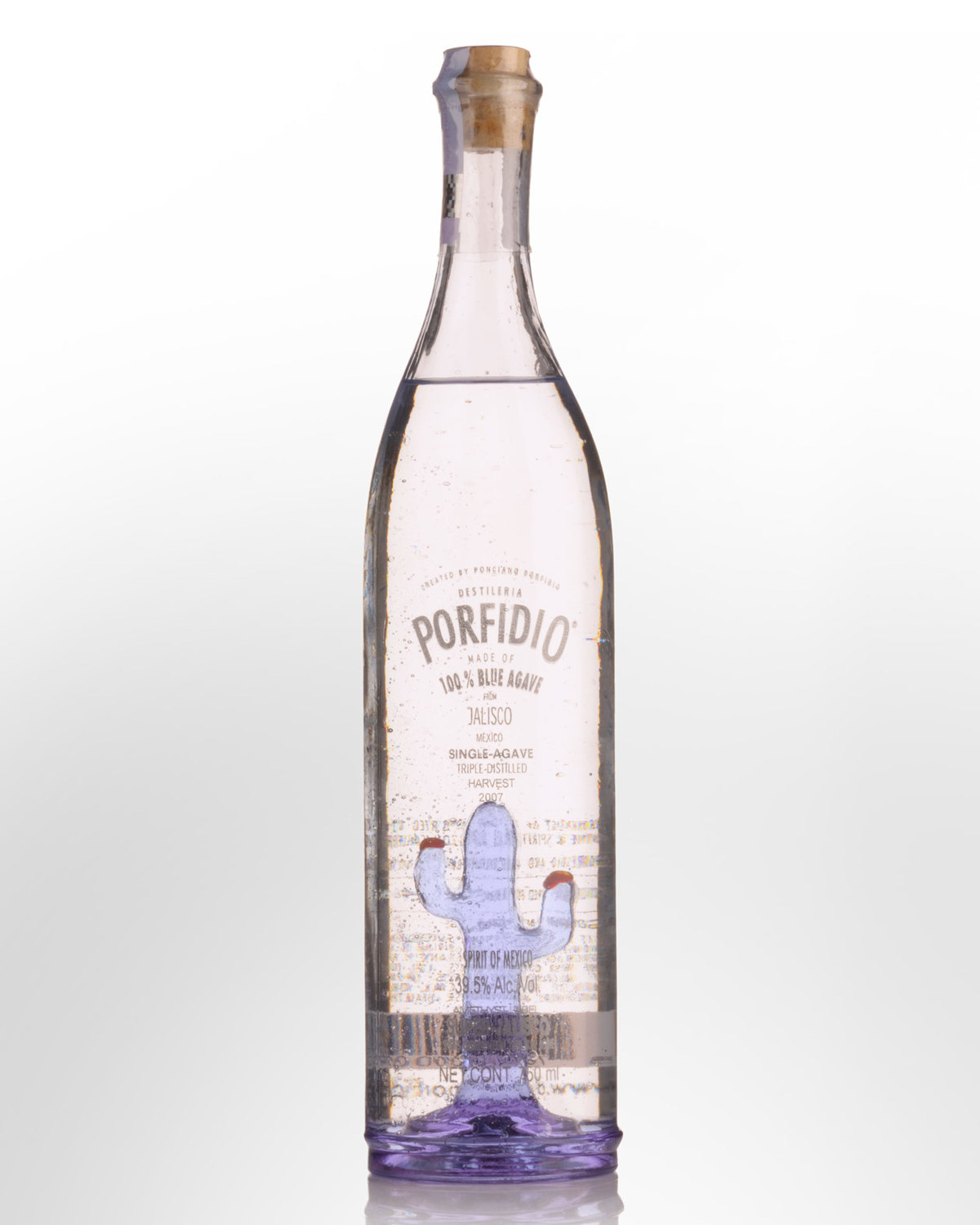 Porfidio 100% Agave Plata Silver Tequila (750ml)
Anticipating the expanding export market for 100% agave tequilas, the Porfidio Tequila company was created by Austrian entrepreneur Martin Grassl. Aiming at the super-premium market, Grassl employed techniques learned from his experience in the apple-brandy industry to create a world class tequila experience. The brand has become famous for its hand-blown bottle which actually contains a small glass cactus. Although the cactus plant has nothing to do with the production of tequila, the bottle has received numerous awards for it's beautiful and innovative design. Grassl himself, has adopted the pen name of "Don Ponciano Porfidio" to give his product a Mexican character, as well as to poke fun at the snobbery of some tequila makers. Regardless of the animosity in the industry over Grassl's methods, Porfidio has drawn considerable attention to tequila and its presence has helped the sales and promotion of other super-premium brands.
Porfidio don't make their own tequila: they buy what they consider the best from other manufacturers. Grassl rents five distilleries from several weeks to a few months every year, replacing its employees with his own crew to make his product. It may be difficult for consumers who want to know which distillery is producing their favorite Porfidio at any given time, with the tequilas having been produced by the distilleries who make El Viejito, Arette, Tres Alegres Compadres, Regional, and J. R. Reyes tequilas. Porfidio's success has upset many producers who feel the brand gets inappropriate attention, despite coming from unnamed sources. Nevertheless, 60% of Porfidio's sales are in Mexico. The company remains one of a handful to offer a single-barrel añejo, rather than a blend (the other is Cuervo's Reserva) which has also become the most successful product in the Porfidio portfolio.
Porfidio 100% agave is triple-distilled and was rated the top Silver to try by Bon Appetit Magazine 39.5% Alc./Vol. Very Limited Stocks. No tasting notes available.

 Click here to learn more about Tequila