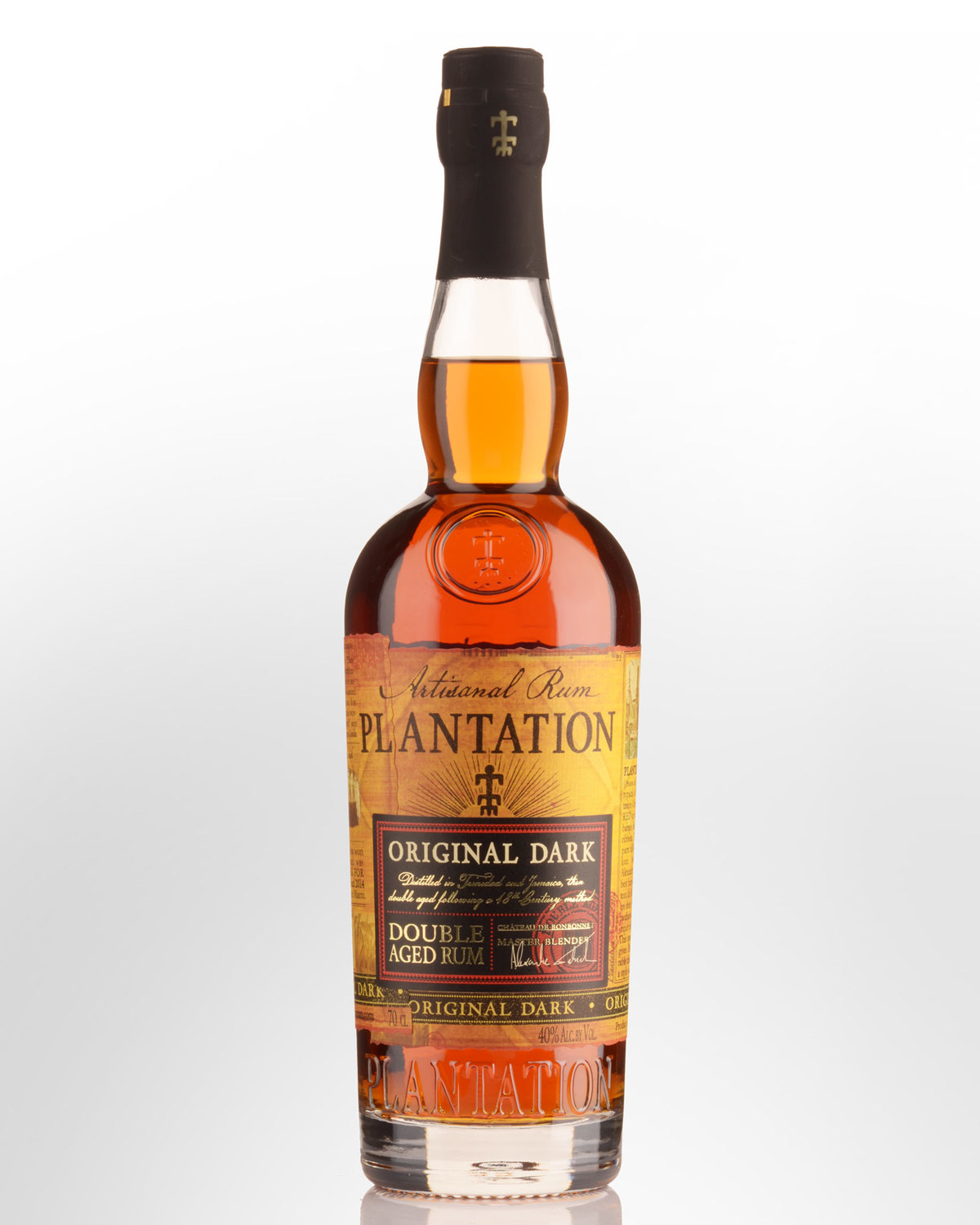 Plantation Original Dark Double Aged Rum (700ml)
Cognac meets the Caribbean.

The Caribbean is undeniably the epicenter of world Rum production, a fact celebrated by seven artisanal vintage rums and three blends marketed under the 'Plantation' label, a new venture from highly commended 'Cognac Ferrand', makers of 'Pierre Ferrand Cognac', 'Citadelle Gin' and several other high quality spirits.

The Pierre Ferrand company has had relationships with a number of the Caribbean's top rum producers for many years via the supply of x-Cognac casks. These are prized by certain distillers for the maturation of their best rums and generally reserved to 'give style' to blended rums. Presented with the opportunity to taste the fruits of his trade, Ferrand's owner/director, Alexandre Gabriel, visited the Caribbean and was blown away. The experience ignited a love affair with Rum and he immediately commenced negotiations to secure his own stocks, launching the Plantation labels around 2005.

The driving concept behind these rums is essentially one of 'terroir' - each aims to express 'the characteristics and flavour of its place of origin'. One might argue that if there are definite regional differences that contribute to rum styles in the Caribbean, these are largely obscured by the fact that there are virtually no regulations with regard to the production of rum. Instead, a myriad of production variations ensue, making Ferrand's claim a difficult marketing line to maintain. We recently tasted the Plantation collection for ourselves. While there is indeed a remarkable diversity to be found, there's also a common house style. Most of the Plantation Rums possess in varying degrees, a remarkable mid palate opulence and buttery texture, balanced by a tannic dryness - a combination that results in flavour profiles one would usually associate with fine wines or brandies.
Ignoring the marketing speels, one cannot ignore the fact that these rums demonstrate that carefully selected estate or single-island rums can offer a range of aromas and flavours that compete with the depth and complexity of great Cognac or Whisky.

No doubt one of the key influences is Ferrand's unique finishing process. When their maturation period in the Caribbean is deemed complete, the rums are transported at natural strength to Chateau du Bonbonnet, the historic Ferrand estate in France and then 'finished' for several more months in small French x-Ferrand Cognac barrels. This process was used extensively in the 18th and 19th centuries.
Gabriel explains, 'Ninety-nine percent of rums are aged in barrels that once held bourbon. We found that adding an aging process in a French oak cask that once held Cognac adds extra complexity to the rum. This is a practice that was done more commonly in the past but has almost disappeared now. We thought who better than Ferrand, with our knowhow and exceptional casks, to resurrect this ancient technique. It is a very difficult thing to get right, but when done well, it's paradise.' Gabriel concludes, 'In the Caribbean, Plantation Rums are rare treasures. At Ferrand they become jewels.'

As of 2015, a relaunch of Plantation Original Dark Rum has taken place with a new recipe, blending rums from both Trinidad and Jamaica.
Tasting note: (Trinidad bottling) A blend of Trinidad dark rums originally matured in x-Bourbon casks.
Gold with pale gold hue. Praline, toffee and clove aromas. A soft palate entry leads into a powerful, off dry and rather broad flavour profile of dried tropical fruits, confectionary and spice. Drying tannin. Gentle spirit tingle. Relatively short and understated aftertaste of passionfruit and vanillan oak.
A good entry level rum. One for cocktails.40% Alc./Vol.