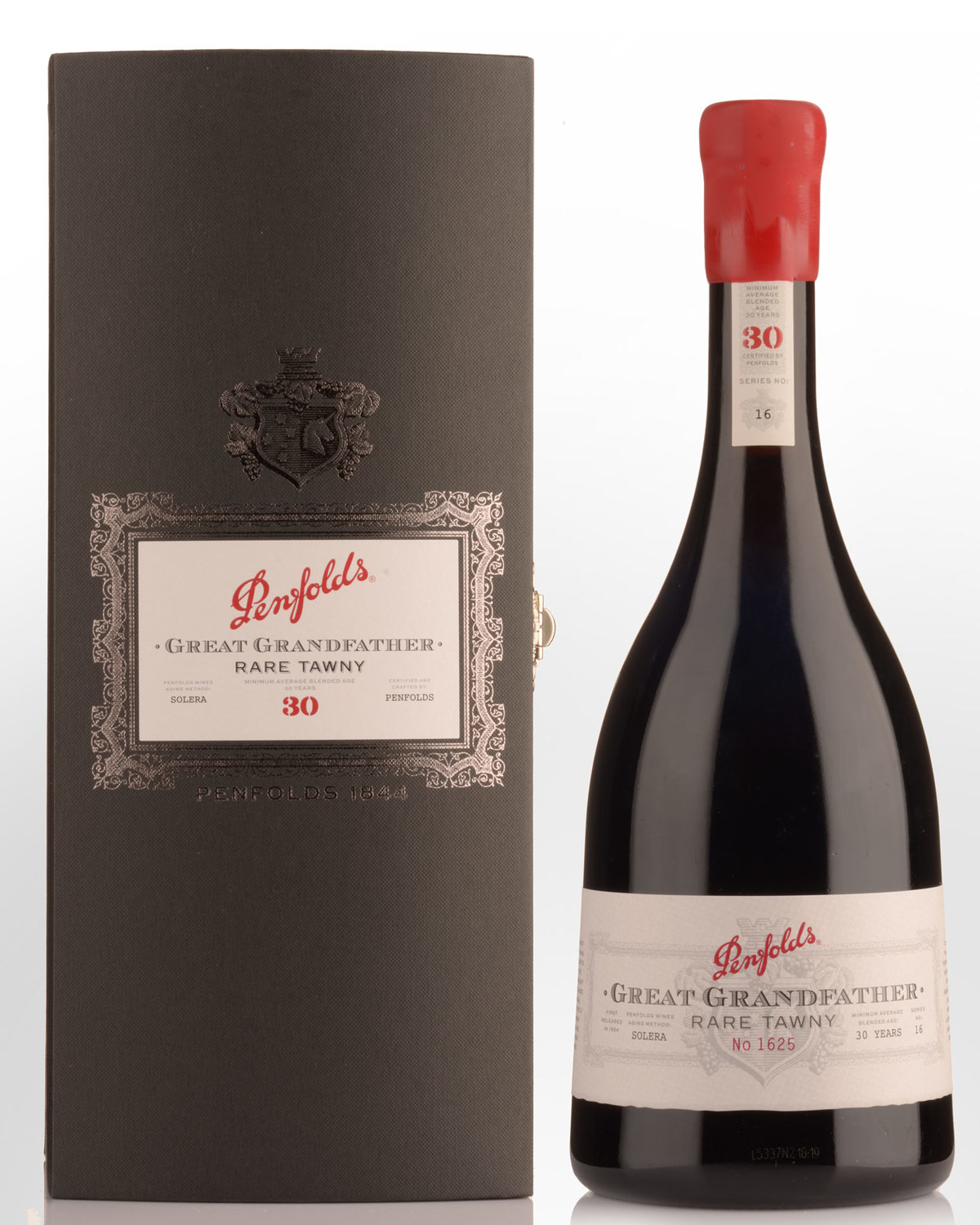 Penfolds Great Grandfather Rare Tawny Port
Barossa Valley, South Australia,
AUSTRALIA
Notes sourced from Southcorp.
In 1844 Christopher Rawson Penfold planted vines on the slopes of Magill toproduce fortified wines. Now the historic bluestone cellars are home to atradition of fortified winemaking dating back over 150 years.In 1994, to commemorate 150 years of winemaking by Penfolds, a specialblend of the finest and oldest components of Grandfather Tawny wascreated. Befitting its great age and quality, the blend was named "Great Grandfather."This multi vintage blend produced from Mourvedre, Shiraz (Syrah) & Grenache grapes, represents a selection of the very finest and oldest barrels in the Penfolds cellars. Placed into a solero system, each year a strictly limited amount is released as Great Grandfather Grand Old Liqueur Tawny.
Tasting Notes: Extremely dark mahogany brown with an intense olive green tinge. The nose is extremely intense and complex with raisinedfruit, toffee and malt aromas long since integrated with nutty aged rancio, vanillin oak and subtle spirit. The palate clearly demonstrates its great age and qualitywith incredible intensity of flavour, viscosity and length matched to elegance and finesse. The wine has a perfect harmony of rich developed fruit flavours, aged rancio complexity and a slightly drying spirit finish. A truly outstanding liqueur tawny that deserves to be recognised as the equal of any fortified wine ever made in Australia.
Drink now.(2003)
Alc/Vol: 19.0% Tasting notes by James Godfrey, Southcorp fortified winemaker. Tasted 18th December 2002.size>
Other Reviews…
Even more perfumed and compelling than the Grandfather is the profound Great Grandfather Tawny Liqueur. From a much older Solera, it undeniably ratchets up the level of quality. This brilliant fortified is remarkably light on its feet given its massive richness. Thank good winemaking, great natural extract, and zesty acidity for keeping this wine fresh in spite of its huge residual sweetness and power.
96 points
Robert Parker - Wine Advocate #167 (Oct 2006)