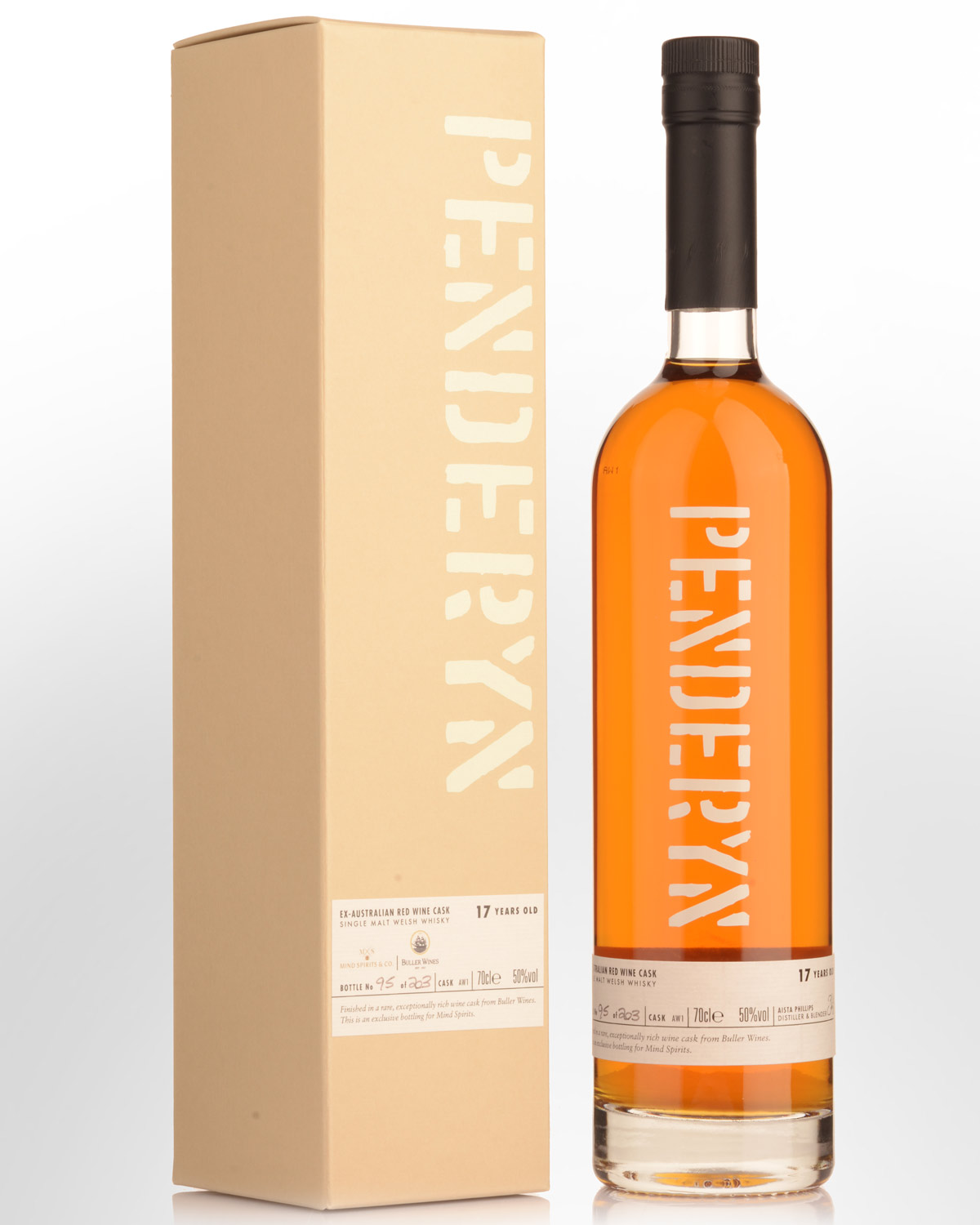 Penderyn 17 Year Old Red Wine Cask Finish Single Cask Single Malt Welsh Whisky (700ml) - Australian Exclusive
WALES
One cask of the oldest Penderyn ever bottled. 203 bottles for Australia only.
Sometimes reminiscent of young cognac, occasionally middle-aged Bourbon or even the most delicate Irish Pot Still, Penderyn's style shows astonishing dexterity. The fact that it melts into a variety of woods so effortlessly explains why it's one of the most consistently praised malts in Jim Murray's Whisky Bible. It rarely rates below 90 points and frequently breaches the 95 point barrier. Follow Whisky Advocate and the recent tastings show a similar pattern.
Young, bourbon cask matured and bottled at around 46%, the spirit is alive with floral and tropical fruit notes like kiwi, papaya and mango. This expression aims to show another side of Penderyn. x-Bourbon cask matured from June 2004 until 2009 then filled into an x-Rutherglen wine barrel that previously contained Buller's premium 'Calliope Shiraz', the lengthy finishing and overall age ups the mouthfeel, spice and fruit. Master blender, Aista Phillips describes it as "full bodied, with a lot influence from the wine cask" - which is no understatement. Firstly, the aromatics are exceptional. Rarely will you find a wood-aged spirit so expressive as this from the very first pour. The wine cask is evident on the nose in a dried berry / cherry-chocolate overlay, beneath which lie those indelible Penderyn fruits and florals; Grapes, nectarine and elderflower mingle with poached pear and spice, laid over a canvas of vanilla and crisp barley. Secondly, this is Penderyn amplified: mouth-filling and pulsing with energy. If the wine barrel seems to have tempered some of the sugars, particularly on entry where a gentle bittersweetness is evident, the pleasure is heightened at the finish where the flavours soar. A burst of juicy barley trails off with hints of dried orange peel, elderflower, vanilla, dried coconut and chilli chocolate. A sweet thread of fruitiness lingers and the persistence is deceptively long. Uncut, it's a beast by Penderyn standards, however it doesn't take much water to temper, so experiment carefully. Drawn from Cask #AW1 with an outturn of 203 bottles, it's worth noting that we only had access to a small sample and suspect that with longer exposure this would be even better again. One of the rarest and the oldest whisky Penderyn have offered to date, the uniquely Australian contribution should make it all the more significant for collectors and drinkers. 50% Alc./Vol. Non chill filtered.
Notes from the producers... Nose: Raspberrries, redcurrants, cherries, strawberries with a hint of walnut and a warm vanilla spice. Palate: Smooth with soft spices, red apples. Finish: Almonds with roasted coffee beans.