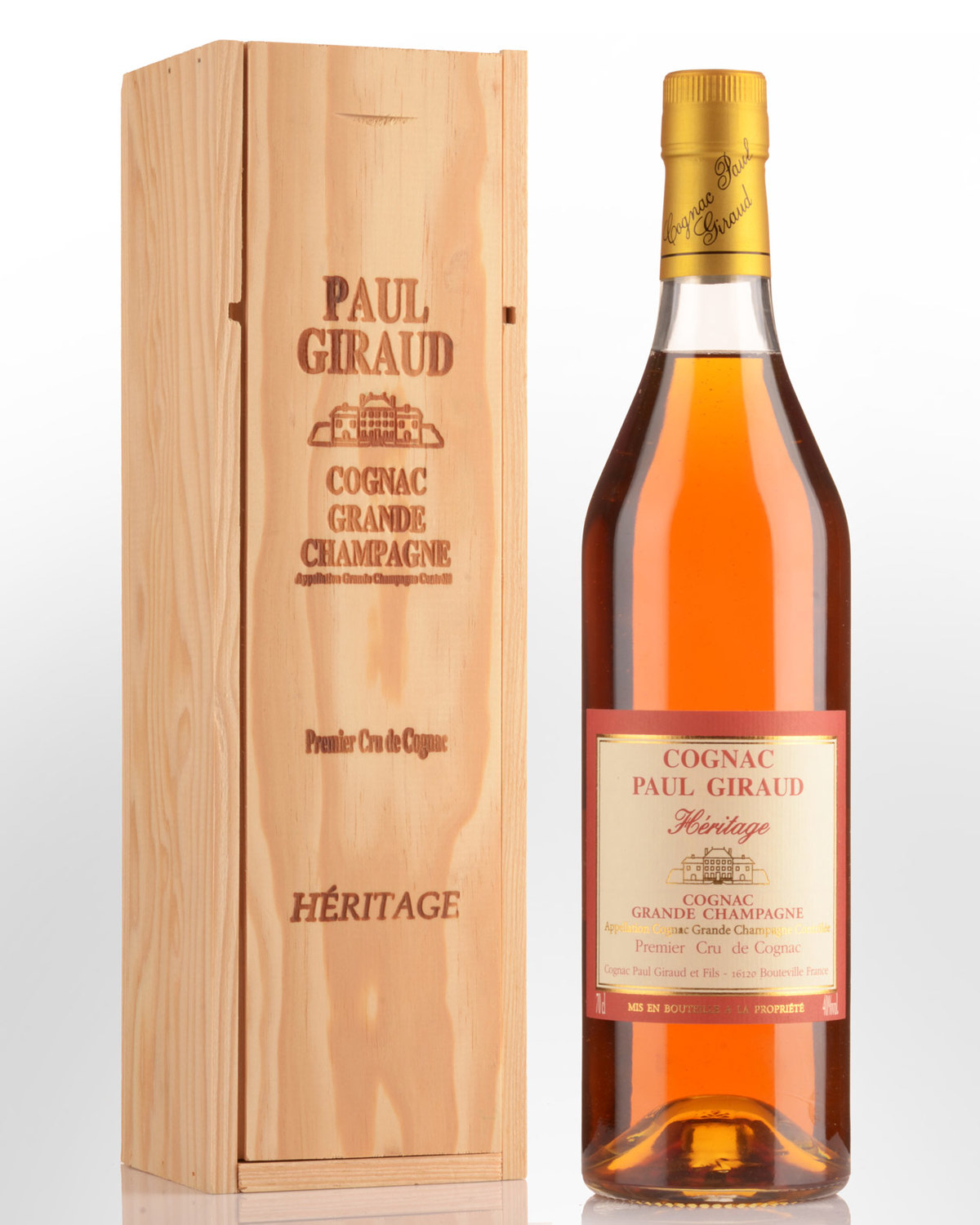 Paul Giraud Heritage Cognac (700ml)
Cognac is a huge earner for France, with exports frequently representing over 90% of total cognac production. Well over 100 million bottles are sent to key markets such as Asia and the U.S. each year. At the same time, more than half of the cognac market continues to be controlled by three major houses: Hennessy, Martell and Remy Martin. In marginal markets like Australia, this has meant the availability of artisan products has been over shadowed by the promotional power of the 'big three'. Unfortunately, big name brand V.S. and V.S.O.P. bottlings, while generally offering pleasant enough drinking, of late have delivered nothing to get particularly enthused by.
The Giraud family have been growing grapes around France since 1650, yet only decided to produce Cognac under their own name in the 1980s. A long time associate of Giraud informed us 'Giraud became frustrated selling his thirty-five year old cognacs to Remy-Martin. His cognac became a part of the blend, Louis XV [currently selling for around A$2000.] This was a very brave move during such times - he was one of the first to do so, but we are thankful he did, he paved the way for many more to come.'
Paul Giraud Heritage has been maturing quietly in the family cellars for over fifty five years. Presumably this material was destined to be sold off to Remy-Martin, Giraud's vision and bravery allows us the opportunity to taste this extraordinary spirit, bottled directly from the cask, without the taint of caramel or other younger Cognacs.
Deeply satisfying. Among the very finest spirits on the shelves at Nicks Wine Merchants.
Tasting Notes:
Pale gold colour with water like hue. An astonishing nose. Pristinely clean perfumed aromas of spice, marmalade, cedar, peach, almond and a hint of talc leap from the glass. As the Cognac warms, the array of aromas changes dramatically, continuing unprecedented levels of aromatic pleasure. The palate entry is plush, warm and velvety - almost seductive - offering wave upon wave of strong spicy plum pudding, stone fruit, exotic spices, vanilla, with a vibrant, fresh background. The finish is exceptional, much like this tasting note it just keeps going and going and going. Perfect balance. Extraordinarily long peach, apricot and spice aftertaste. Among the very finest spirits on the shelves at Nicks Wine Merchants, and (relatively speaking of course) a bargain - we recommend pouring this at least twenty minutes prior to tasting to allow this spirit to blossom. 40.0% Alc./Vol.
 Click here to read more about Cognac