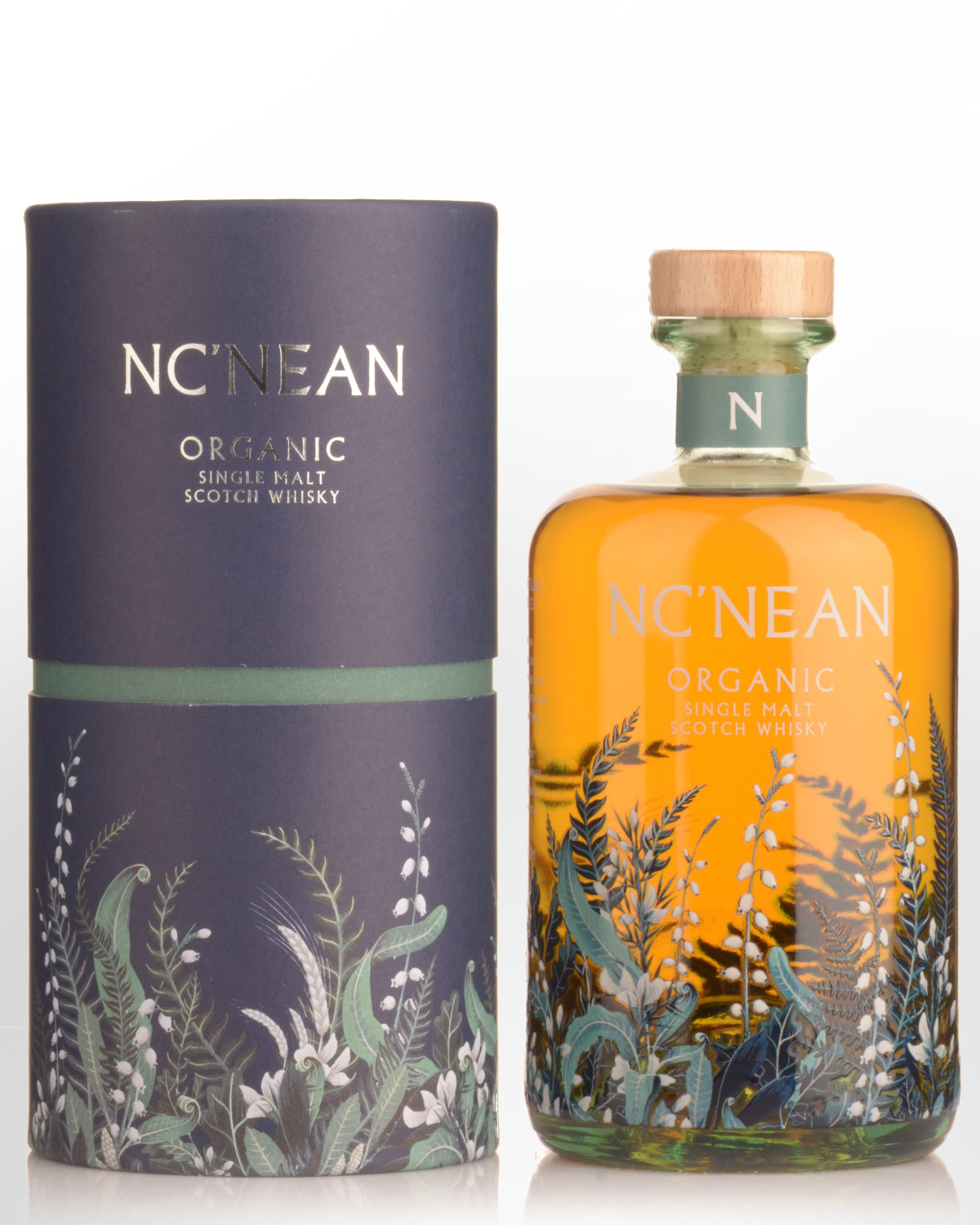 Nc'nean Organic Single Malt Scotch Whisky (700ml) - Batch .05
Despite a reputation for producing many of Scotland's most characterful distillates, west coast mainland malts remain few and far between. Until 2014, north of the Isle of Mull, Ardnamurchan was the most recent and notable addition. Nc'Nean (pronounced nook-knee-anne) is another. Of course, it's too early to know exactly what kind of 'westerly' accent either will develop. Those curious enough can take advantage of a small consignment of Nc'Nean's Batch 5 (their sixth ever single malt release. At the time of writing Batch 12 is current in the UK). Made from unpeated, organically grown Scottish barley, Batch 5 was matured in a combination of ex-bourbon barrels and ex-red wine STR (shave, toast and re-char) casks. Limited to fourteen casks equating to 5000 bottles, it follows what began as 'Ainnir', the inaugural release which sold out immediately in the UK in late 2020. They've since moved on to subsequent batches but the production and cask regime remains the same.
Founded in 2017 by Annabel Thomas, Nc'nean is located within the Drimnin Estate on a remote west Highland peninsula with spectacular views over Mull and Tobermory. The name is an abbreviation of 'Neachneohain', which translates as 'Queen of Spirits' from Gaelic. Like Ardnamurchan, an innovative and eco-friendly approach is at the heart of the distillery and its team. 2021 may well be one of the most significant in its early history: It was the year Nc'nean became the UK's first distillery to gain Net Zero status with carbon dioxide emissions as close to zero as possible - twenty years ahead of the Scotch industry target. They're certified organic, powered by 100% renewable energy and recycle 99.97% of their waste. The whisky is also bottled in 100% recycled glass and is vegan friendly. Batches are all bottled at 46% and are both non chill-filtered and of natural colour.
Other reviews... [Batch No.7 tasted] By 'the quiet rebels'. Good, very contemporary positioning if I may, a little 'San Francisco' but they have used STR red wine wood (2/3). It's organic and once empty, you could even use the bottle as a small aquarium without having to spend any monies on water plants. Colour: light gold. Nose: crushed barley and apples, then peaches and whiffs of dandelions very early in the morning.. Then focaccia dough and softer honey. Very gentle yet pretty firm, solid, with good barleyness. Mouth: the oak feels a bit, sawdust, flour… Then some nougat, sunflower oil, pears… The youth feels but the oak pushes it up. A little yoghurt, then the expected butterscotch. Finish: medium, with some sawdust again, a little oversteeped tea, coffee dregs and more flour or grist. Comments: I think the very natural distillate is pretty fine, pretty fat, which is good. The casks may have been a little too dominant, though and reduction may have 'tea-ised' it a wee bit. Otherwise pretty much to my liking. 80 points.
"A fruity whisky with a maturity beyond its years and attractive fruity cereal notes..." - diffordsguide.com
"Deliciously balanced, supple dram with notes of pear tarte tatin, pineapple and lemongrass, creamy Horlicks and then a dry finish with peppery ginger and spicy bracken" - Alice Lascelles, Drinks Writer and Presenter