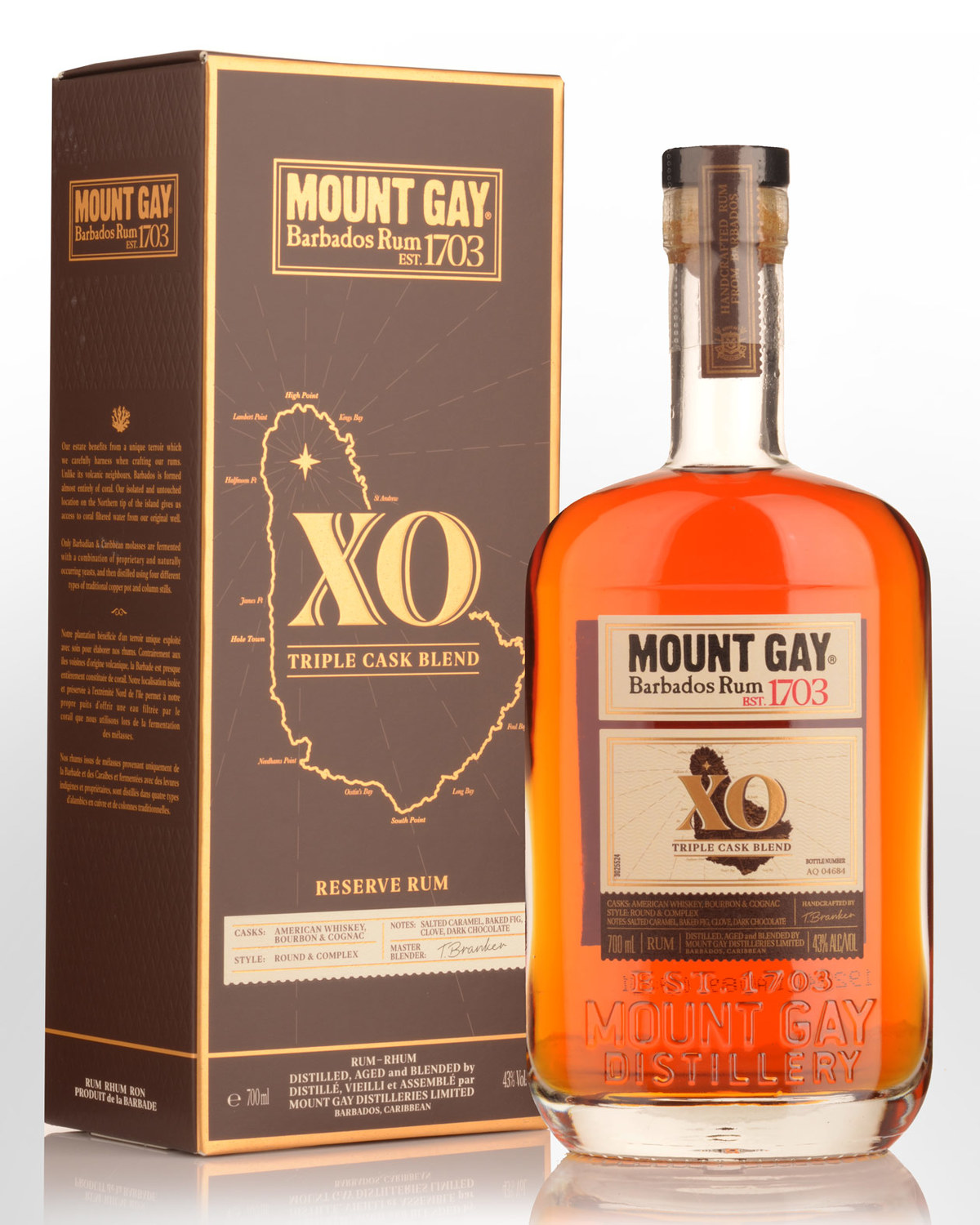 Mount Gay XO Rum (700ml)
Dating back to 1660, Mount Gay is one of the oldest estates in the Caribbean and certainly one of the oldest in Barbados. It was established by Dr. William Gay, thought to be a cousin of John Gay who wrote 'The Beggars Opera'. Originally called 'Mount Gilboa', the estate is located in the northern parish of Saint Lucy and was renamed in 1801. There is evidence that there was distilling equipment in the region in 1663, so rum has probably been in production at Mt. Gay since. A tattered little deed confirms that rum production on the estate was well underway in 1703.
Mount Gay's Extra Old Rum is the pride of the estates Master Blender. Using oak aged single distilled rum and special double distilled rum from the centuries old copper pot still, the rums are blended in order to maximise complexity and length. The recipient of several Gold and Grand Gold awards, Mount Gay Very Old is more refined, lighter and more elegant than its traditional 'heavy' Caribbean counterparts. Enjoy neat or with a splash of soda.
Other reviews... Deep amber hue. Toasty caramel and banana nut fudge aromas are deep and flavorful. A supple round entry leads to a medium to full-bodied palate of roasted nuts, bananas and orange peel, dark caramel, brown spice, and mocha. Finishes with a long, multidimensional fade. A beautifully balanced and deeply flavored benchmark aged Caribbean rum. 43%alc.vol.
International Review of Spirits Award: Gold Medal
94 points (Exceptional) - tastings.com
Other reviews...
The initial aroma includes scents of treacle, spice and flower garden; further aeration brings out aromas of black pepper, cola nut, dried red fruit, and molasses. The palate entry is long and toffee-like; at midpalate honeyed, apple butter-like, and creamy flavors add zesty spice to the aftertaste.
90-95
- wineenthusiast.com