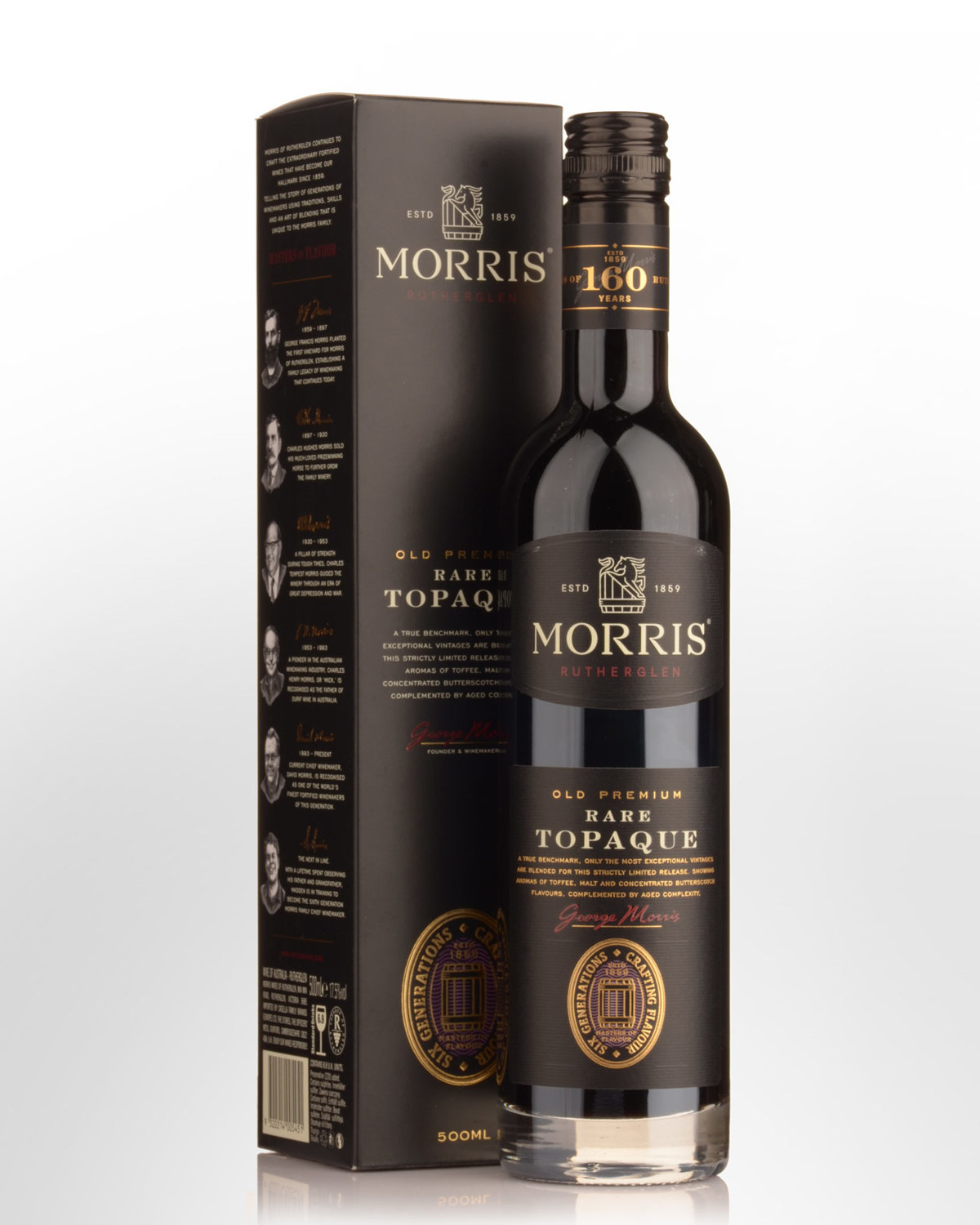 99

96

98
Morris of Rutherglen Old Premium Rare Liqueur Topaque (500ml)
Rutherglen, Victoria,
AUSTRALIA
Established in 1859, Morris Wines of Rutherglen is the continuing story of 5 generations of family winemakers. Over these 158 years, the Morris family have earned their esteemed position as one of the most prominent winemaking families in Australia. Today, David Morris continues their winemaking history combining tradition with contemporary techniques, ensuring that the Morris name remains one of the Australia's most iconic and respected wine family dynasties.
Despite the waning interest in fortifieds over the last decade these amazing wines are unique to Australia and internationally renowned treasures that should not be lost to future generations. A warming glass of Muscat or Tokay is indispensable during the winter months. Totally opaque sienna brown black colour with a deep walnut brown olive green hue. Such is its viscosity that it clings to the side of the glass like paint. Knockout aromatics of toffee, honey and raisins are laced with perfectly integrated spirit. Nuances of marmalade, Christmas cake and spice are also apparent in this very complex sniff. Prodigiously rich with a syrupy like texture, so thick that you could almost eat it with a spoon, the palate is completely saturated with a concentrate of raisin, honey, toffee and maple syrup flavours over traces of marmalade, well integrated spirit and spice. Exceptionally long conclusion of honey, raisins, toffee, marmalade, finely integrated spirit, maple syrup and spice. Pure decadence in a bottle.
Alc 17.3%
Other reviews....
Mahogany, with an olive rim; aromas of Christmas cake and tea; incredibly viscous and rich, with layer upon layer of flavours ranging through ginger snap, burnt butterscotch, and every imaginable spice, the length and depth of the palate as extraordinary as is that of the aftertaste. Released in tiny quantities each year which maintain the extreme average age of each release. 500 ml.
96 points
James Halliday – Australian Wine Companion

Almost incomprehensible concentration here. This has a deeply aged, toasty and dark nutty edge on the nose. Roasted honey, dark chocolate, coffee and roasted malt, too. The palate has implausibly concentrated flavors that follow the same threads shown on the nose, all swooningly sweet and rich. Yet, somehow it extrudes and balances to the point of lightness, leaving a trail of long, dark and toasted flavors of almonds. Extremely impressive and complex. Drink now. Screw cap.
98 points
JamesSuckling.com