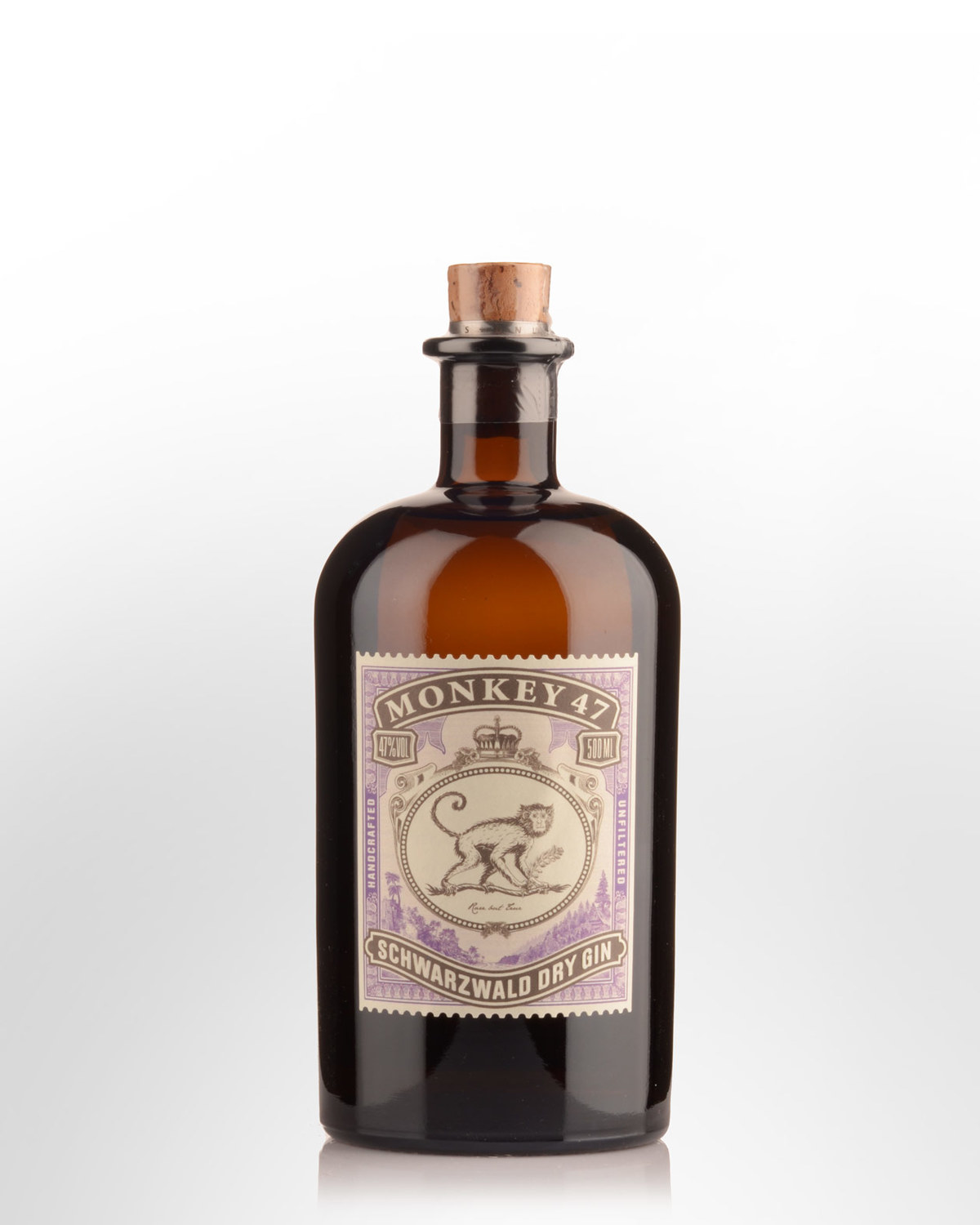 Monkey 47 Schwarzwald Gin (500ml)
This is the Gin that had world famous U.S. wine critic, Robert Parker, spellbound [see his review below]. Much to his consternation it was almost impossible to obtain a bottle in the States. The only way to get it in Australia is to source it yourself. So we did!
Monkey 47 is definitely on a short list of hard to find but worth-the-wait gins. Produced in the Black Forest in Germany from no less than 47 botanicals (mostly from the region). Unusual ingredients include blackberry leaves, sloes, honeysuckle, pine shoots, cranberries and lingonberries. Following distillation and maceration, the gin is stored for 100 days in earthenware 'casks'. We've just imported a tiny quantity. Beautifully packaged in an old world apothecary bottle. 47% Alc./Vol.
Tasting note: [Batch 16 tasted] Crystal clear / slightly viscous. Fabulous aromatics with juniper and lemon sherbet in the opening phase; aeration accents pine needle, potpourri and pepper. Intense but beautifully poised with pine needle, peppery juniper, dried herb and grapefruit flavours unfolding in a slow release surge. Possibly better all round balance in this latest effort? Concludes fresh, pure and super long. First rate. 47% Alc./Vol.
First tasted 2011...
Clear with a silvery, glycerous appearance. The initial perfumed burst is of sweet berry / juniper and assorted fresh citrus peel; further aeration releases pine needle, lavender and clove-like scents. Distinctive and somewhat unconventional, some tasters found the aromatics a little cologne like. On the palate, this begins soft and glycerous, gradually building intensity, climaxing in an explosion of peppers; Mid palate is off dry and oily with juniper, lavender, pine needle and spice flavours persisting into the long, very dry after taste. Bracing stuff!
94 points
47% Alc./vol.
Other reviews…. Clear. Bold aromas of pine blossoms, exotic peppercorns, candied lemon and orange peels, sage, and sweet bbq rub with a supple, dry-yet-fruity medium-full body and a zesty lavender candy, pepper, powdered sugar, and tangerine sorbet finish. An excellent and unique combination of vibrant citrus, floral, and herbal dimensions. Will be outstanding in cocktails.
International Review of Spirits Award: Gold Medal
RATING: 93 points (Exceptional) - www.tastings.com
"...something I am trying to track down for my personal use, an absolutely extraordinary perfumed, intense, silky gin called Monkey 47, which is made in Germany's Black Forest. Packaged in a small 500 mls bottle, it is not that expensive (approximately $100), but it was a remarkable gin. In Europe it is apparently available at top liquor shops, so if you can find it, it is an astonishing gin."

Robert Parker - Wine Advocate #206 April 2013
 Click here to learn more about Gin.