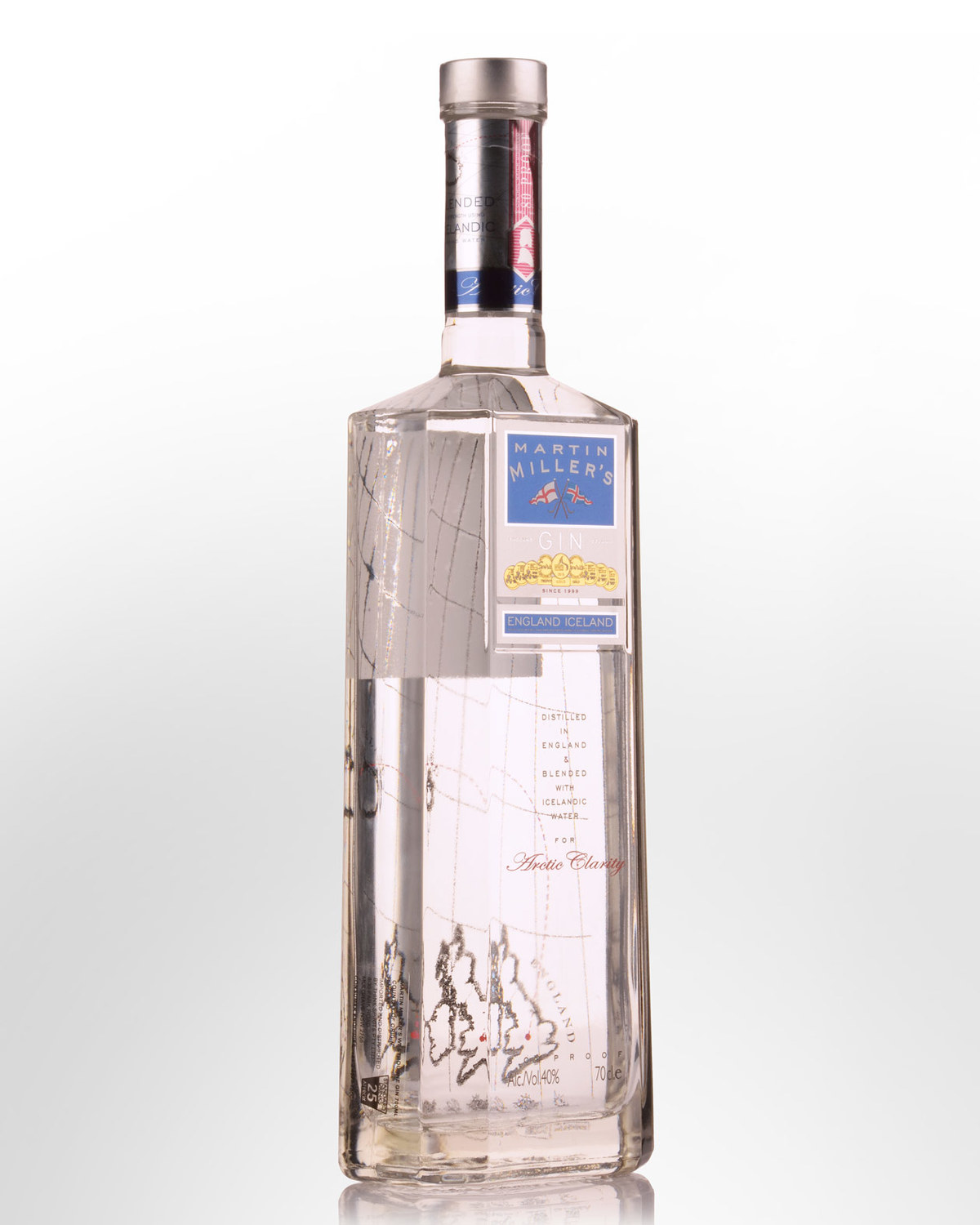 Martin Miller's Gin (700ml)
Martin Miller's Gin is London distilled using over eight botanicals and aromatics including selected Tuscan juniper, cassia bark, angelica, Florentine orris, liquorice root, coriander, finest Seville citrus peel, ground nutmeg, and cinnamon bark. The botanicals are steeped overnight in the spirit to allow a greater infusion of flavour. Millers gin is distilled in the traditional way via pot still. This is a time consuming process, but for gin production it is unrivalled. It keeps the 'body' of the spirit high and because of a lower distilling strength the congeners (flavours) are kept within the final product. Millers use a one hundred year old copper still manufactured by John Dore & Co. in 1903.
Following distillation, most London dry gins are blended with British spring waters. Miller's, however, is transported by ship to Iceland where it is blended with glacial lava filtered waters, supposedly the purest in the world. In the small village of Borganes on Iceland's remote west coast, a final 'mystery' ingredient, unknown even to the master distiller, is also added. Martin Miller's Gin,' Westbourne Strength', was recently awarded 'Spirit of the Year 2003' by the Chicago Beverage Testing Institute (BTI), the world's largest and most powerful drinks testing institute.
Tasting note:
Clear. Initially citrus focussed with moderate scents of lemon gelato, mandarine peel and later herbal notes including sweet oregano, thyme and pickled ginger. Citrussy entry is home-made lemonade-like followed by drier, rooty, herbal / mild juniper flavours concluding moderately peppery, fresh and medium long. This latest batch seems more subdued than 4-5 years back.
40% Alc./Vol
Other reviews...
Clear. Sweet, candied lemon peel, and floral aromas. A graceful entry leads to a satiny, medium-to full-bodied palate with intensely fruity, citrus peel, mild juniper, and exotic peppercorn notes. Finishes very smoothly with a long, citrus and violet perfume fade. An elegantly-styled gin with a nouveau twist on a solid, juniper-driven, London-dry gin foundation.
International Review of Spirits Award: Gold Medal
94 points (Exceptional)
  www.tastings.com