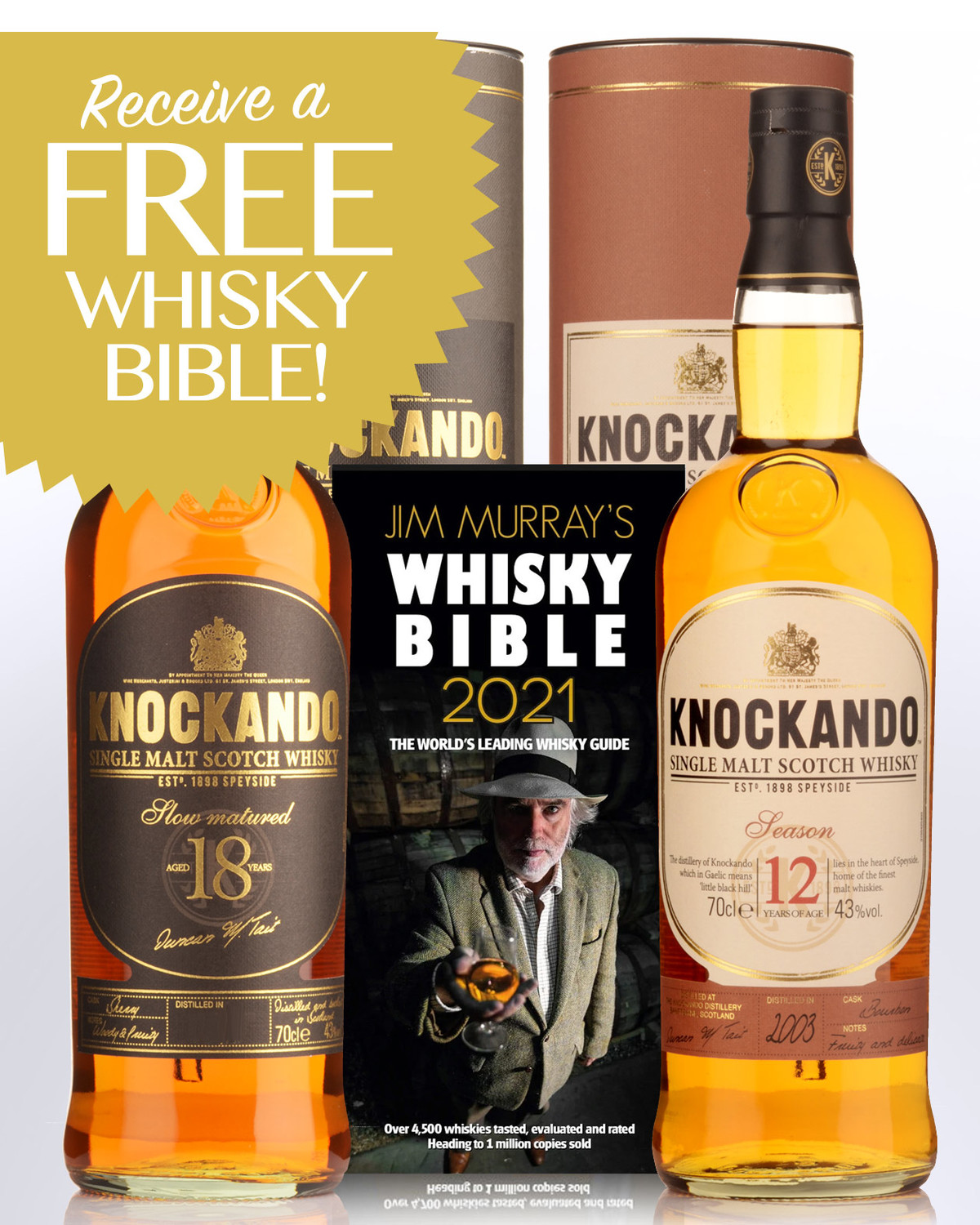 Knockando 12 Year Old & Knockando Slow Matured 18 Year Old Single Malt Scotch Whisky Bundle Buy (2x700ml) plus Bonus Whisky Bible
SCOTLAND
Grab these two high quality Speysiders together and save, plus get a complimentary 2021 Whisky Bible valued at $30!
Strictly three days only or while stocks last.

Notes on Knockando 12 Year Old: Pale straw / gold colour with a pale green blush. The soft, clean, mild aroma is attractive but needs teasing out. It offers sweet, faintly peated malt over more delicate notes of waxy green apple peel, spice and vanilla. Light, silky entry. A malty, vanilla sweetness at mid palate has a sense of lightness, building in depth, augmented by a surge of spices at the finish. Perfect balance. A mildly tangy sensation counters the malt sweetness and dries the mouth, followed by a grassy aftertaste that, while not intense, offers surprising persistence. Sometimes it's the dearth of complexity and tonnage that makes for the most satisfying 'end of the day drams'. This is one of those whiskies. 43% Alc./Vol.
Other reviews... Some lovely moments here for sure. But just too fleeting. 82 points - Jim Murray's Whisky Bible 2021
Notes on Knockando Slow Matured 18 Year Old: High quality sherry casks are considered a luxury in the world of whisky, and the spirits they mature often command top dollar. This is the second oldest age statement and reportedly the most Sherry influenced expression in the Knockando line up. Akin to a 'cleaner', toned-down and more contemporary version of Glendronach 18 or Glengoyne 21, it retains distinct notes of dried fruits in a soft, succulent delivery making it the perfect choice for anyone wanting to acquaint themselves with sherried styles - without emptying their wallet.
Tasting note: Matured in European x-sherry casks and x Bourbon. Very deep brassy gold. An appealing medley of fruity American oak and sherry sweetness on the nose, which is also mildly nutty (think walnuts / almonds). Air contact develops the dried fruit aspect with prunes, dried fig, raisin slice and honey. Later hints of 'old books' and rancio too. Beautifully rounded mouthfeel, with classic dried fruit / sherry input followed by light orange zest. Some poached orchard fruits, sweet spice and pepper notes build through the finish. Medium length. A lovely balance of mature woody / fruity aromas and flavours. 43% Alc./Vol.
Other reviews... Malt. To the power of malt... the barley boasts a malt intensity that is rare to match in pure atomic mass; Dense, intense, sharp, full...just sheer barley...concentrated... Beautiful for sure.
94 points - Jim Murray's Whisky Bible 2021