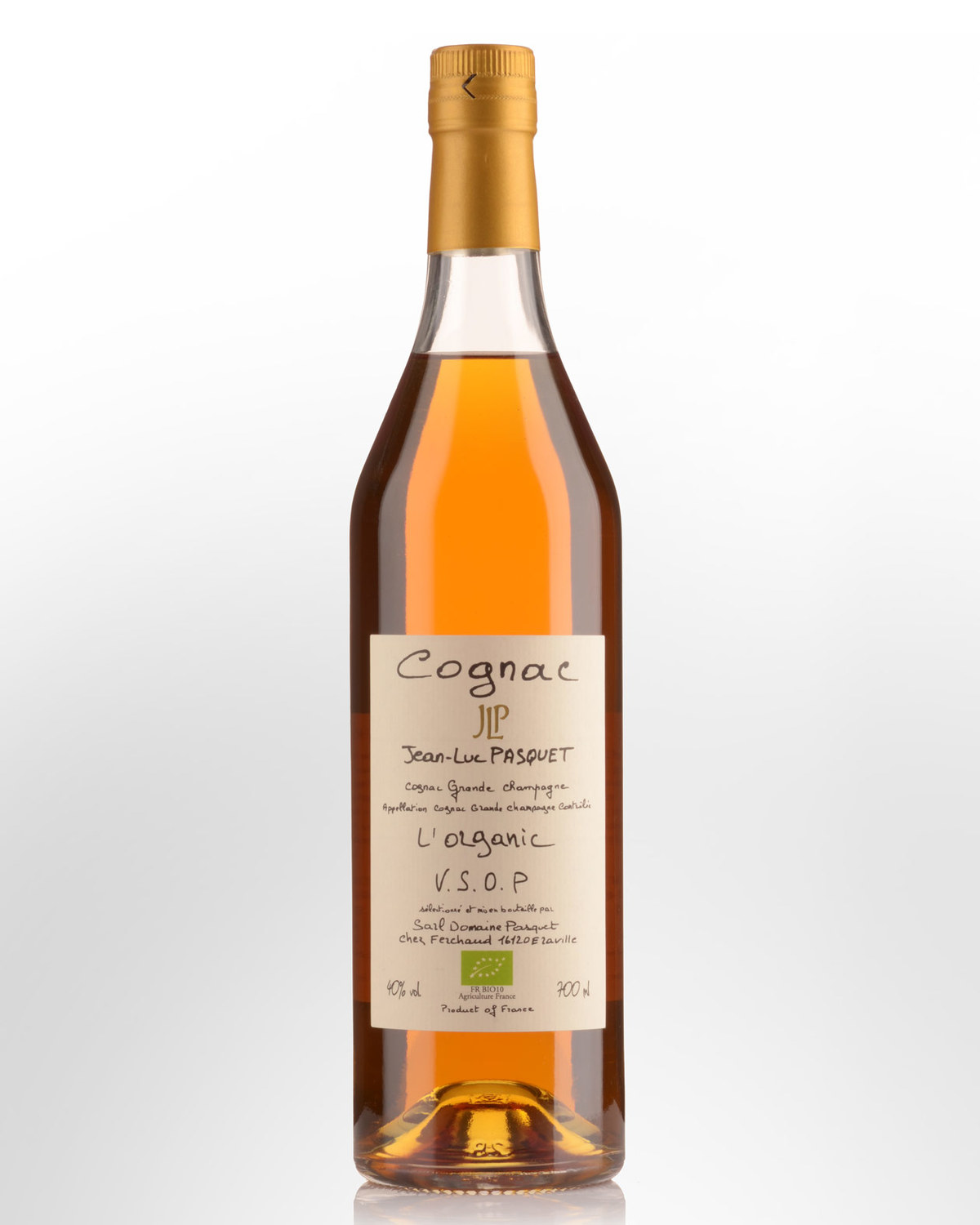 Jean Luc Pasquet Organic VSOP Cognac (700ml)
A wonderful discovery, the Cognacs of Jean-Luc Pasquet are equally a welcome relief in a market dominated by mass-marketed brands, many of which seem to be suffering from a lack of freshness, excitement and value for money. Jean Luc began working alongside his uncle Albert in 1971 on an estate from the Grande Champagne sub-region that had been in the family since 1730.
Located south of the city of Cognac, between the rivers La Charente and Le Ne, covering 13000 Ha, the soils here are made of a thin top layer of limestone with a high calcareous content and Montmorillonite clays, resting on a base of porous chalk from the Cretaceous (campanien sub-period), acting as a buffer for water supply to the vineyards. Such edaphic parameters contribute to fruit quality by avoiding vine stress in warm weather, and at the same time, allowing excellent drainage in case of excessive rains. Thus Grande Champagne holds the potential for optimum flavour profiles to develop in the grapes (which usually fall within the floral spectrum) making it Cognac's most prized terroir; its vines yielding the subtlest, most fragrant Cognacs, and the ones that need the greatest maturation.
Assuming full ownership in 1973, Jean-Luc has continued the enterprise, now selling Cognac under his own name, ranging from 4 year old to 80 year old expressions from the inherited stocks, including the now extremely rare "Oncle Albert-Tres Vieux Cognac". Jean-Luc's drive to express the most pure and distinctive expressions from Grande Champagne terroir led to the conversion of the estate to organic viticulture, winning certification in 1998. Today the vineyard consists of single 7.5 Ha plot, majority planted with Ugni Blanc (76%), Montils (8%) and Folle Blanche (16%), the latter reintroduced in recognition of its ability to produce eaux de vie of great finesse. Traditional 100% hand-harvest is the norm, in line with viticultural and cellar practices. Sulphur is nowhere to be seen on this estate. If you are a brandy enthusiast, note - the below is not a normal price - also, this is a preliminary shipment so stocks are not expected to hold out beyond Christmas.
Tasting note: With a minimum age requirement of 4 years, this VSOP has spent over 6 in oak and exhibits a bright gold colour with a pale gold hue. Moderate aromas reveal scents of ripe apricot, dried fig, cedarwood & vanilla with a trace of dark chocolate lingering beneath. Very fresh and clean. A silky, soft palate entry delivers a supple, luscious mouth feel offering semi sweet flavours of stewed apricot, vanilla and spice. Pure, smooth, gently warming spirit. Excellent balance. Finishes dry with a long, subtle cedary oak, dried fig and creme brulee fade. A delicious VSOP that rewards the more time you take with it, & one without the pepperiness (or the price tag) found with equivalent bottlings from many big houses. 40% Alc./vol.