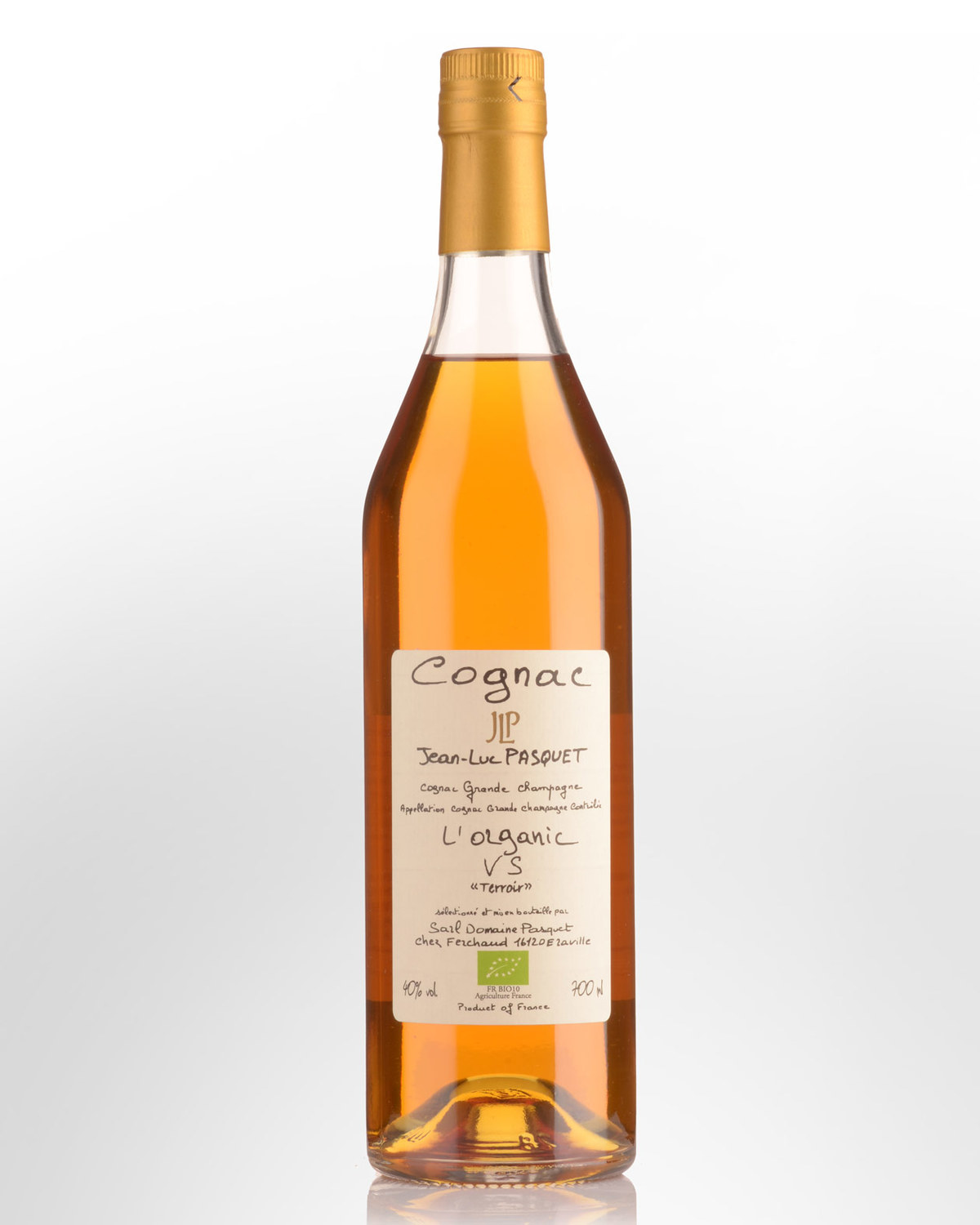 Jean Luc Pasquet Organic VS Cognac (700ml)
A wonderful discovery, the Cognacs of Jean-Luc Pasquet are equally a welcome relief in a market dominated by mass-marketed brands, many of which seem to be suffering from a lack of freshness, excitement and value for money.
In his 19th century classification of the crus of Cognac, the geologist Henry Coquand recognised the Grande Champagne area as the 1er cru of Cognac. Located south of the city of Cognac, between the rivers La Charente and Le Ne, covering 13000 Ha, the soils here are made of a thin top layer of limestone with a high calcareous content and Montmorillonite clays, resting on a base of porous chalk from the Cretaceous (campanien sub-period), acting as a buffer for water supply to the vineyards. Such edaphic parameters contribute to fruit quality by avoiding vine stress in warm weather, and at the same time, allowing excellent drainage in case of excessive rains. Thus Grande Champagne holds the potential for optimum flavour profiles to develop in the grapes (which usually fall within the floral spectrum) making it Cognac's most prized terroir; its vines yielding the subtlest, most fragrant Cognacs, and the ones that need the greatest maturation.
Jean-Luc Pasquet began working alongside his uncle Albert in 1971 on an estate from the Grande Champagne sub-region that had been in the family since 1730. Assuming full ownership in 1973, Jean-Luc has continued crafting Cognacs, now sold under his own name, ranging from 8 year old to 80 year old expressions from the inherited stocks, including the now extremely rare "Oncle Albert-Tres Vieux Cognac". Jean-Luc's drive to express the most pure and distinctive expressions from Grande Champagne terroir led to the conversion of the estate to organic viticulture, winning certification in 1998. Today the vineyard consists of single 7.5 Ha plot , majority planted with Ugni Blanc (76%), Montils (8%) and Folle Blanche (16%), the latter reintroduced in recognition of its ability to produce "eaux de vie" of great finesse.
Traditional, 100% hand-harvest is the norm, in line with viticultural and cellar practices, where indigenous yeasts take care of ferments. Sulphur is no where to be seen on this estate. Instead, base wines are treated with the utmost care and kept in full tanks to protect them from oxidisation until the distillations begin. Double distillation is then carried out on the estate in traditional "Alambic Charentais" (otherwise known as a Copper pot still), for the two months when distilling is allowed. Maturation of the young Cognac Eaux de vies take place in 400 litre Limousin casks, slowly gathering complexity until blending time. If you are a brandy enthusiast, note - the below is not a normal price.
Gorgeous stuff. For the money, if there's a better VS in Australia, we'd love to know about it.
Cognac must be aged in oak casks for at least two years before being sold to the public. The label designations (VS, VSOP, XO) are based on the youngest eau-de-vie in the blend, but the contents are usually much older. But unlike some whisky producers, Cognac blenders are primarily concerned with balance, complexity and maintaining a house style, rather than age for age's sake. 'VS' denotes a minimum 2 year old product, however this Cognac is 3 years and older.
Tasting note: Pale gold with a pale straw hue. Vibrant, fresh aromas of dried flowers, ripe pear, ripe apricot and orange zest. A very soft palate entry builds to a full, round and rich mouth feel, delivering bright, fresh flavours of ripe stone fruits, dried figs, honey, clove and cinnamon. Very gentle spirit warmth. Excellent balance. Long, drying aftertaste of dried fruits, cedar wood and cinnamon.
40% Alc./vol.