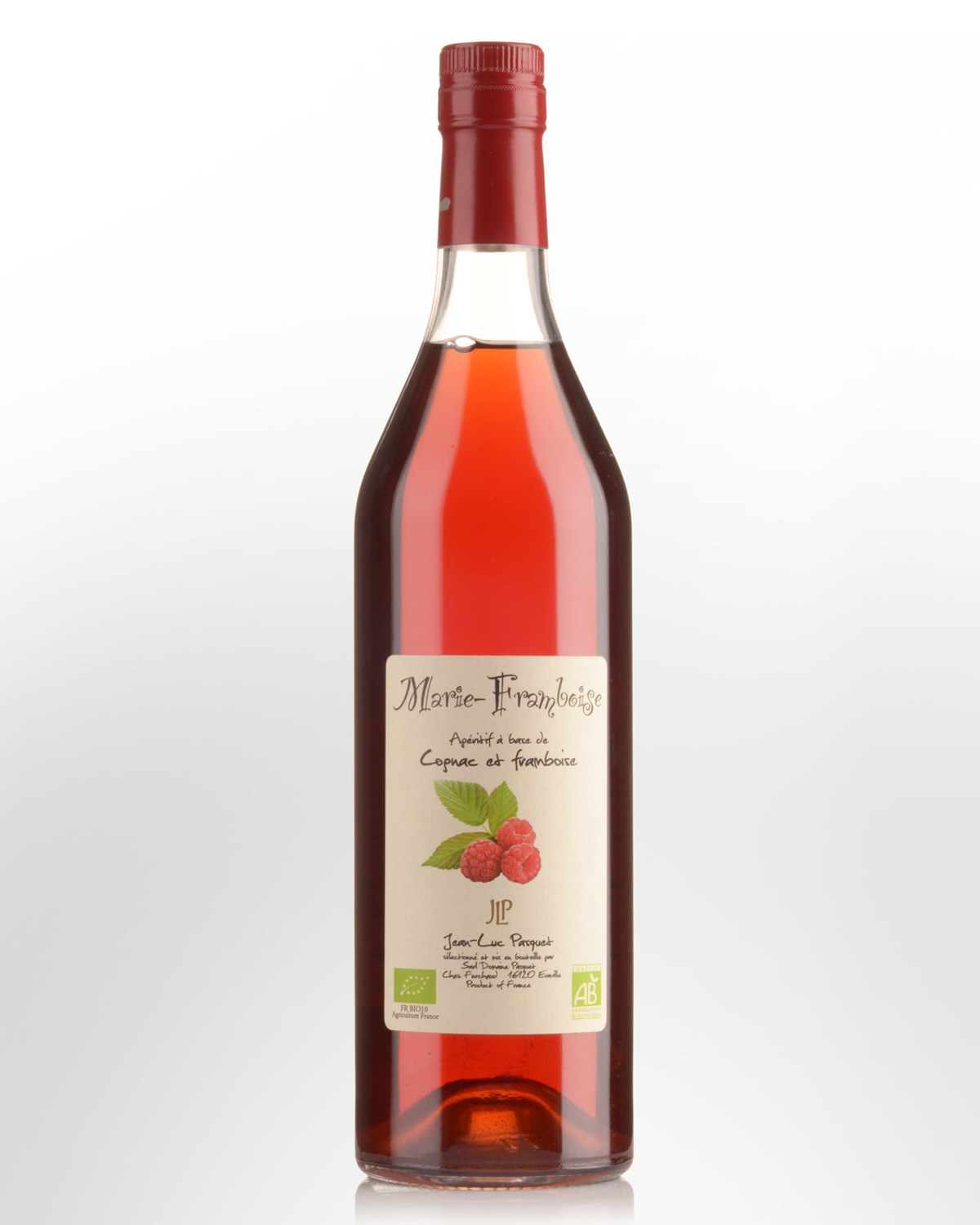 Jean Luc Pasquet Marie Framboise (Raspberry) Aperitif (750ml)
A talented and seasoned distiller of Cognac, Jean Luc Pasquet is first and foremost a true "paysan" in the noble sense of the term, who knows how to make the best use of his land when it comes to creating spirituous pleasures. The wild raspberry bushes that were quietly growing around the estate, one day proved too much to resist and it seemed obvious for him to try and capture the best expression of the fruits. He experimented at first with the simple idea of macerating fresh raspberries in his young cognacs, but on the insistence of his wife and kids , soon gave in to the idea of sweetening and reducing the spirit with his own fresh organic grape juice at harvest. The drink became so popular locally as an aperitif, that he finally decided to plant more raspberry bushes around the property and grow these organically.
Marie Framboise stands apart in the realm of aperitifs, combining the finest aromatic cognac of Grande Champagne with the fresh fruit flavours or grapes and raspberries. It is an incredibly versatile drink that can be enjoyed as an aperitif on ice, as a cocktail ingredient and even to lift the flavours of a fruit salad, a Sangria or even your favourite sparkling. If that's not enough you can always follow the advice of Jean Luc, who serves Marie-Framboise with his favourite chocolate desserts.
Tasting note: Clear. Pale pink appearance. Appealing, fresh aroma includes very ripe, fresh raspberry combined with suggestions of manuka honey and crushed grapes. Light and silky entry builds with excellent concentration. Mid palate is light to medium offering delicate flavours of ripe raspberry, grape juice and a touch of dried apricot. Exceptionally pure, soft and gently warming mouth feel. Finishes as light and fresh as a balmy Summer's evening with succulent ripe raspberry flavours persisting. A delicious and distinctive aperitif. No doubt matching this with chocolate would be considered a stroke of genius by your dinner guests! 16% Alc./Vol.
Very limited stocks.