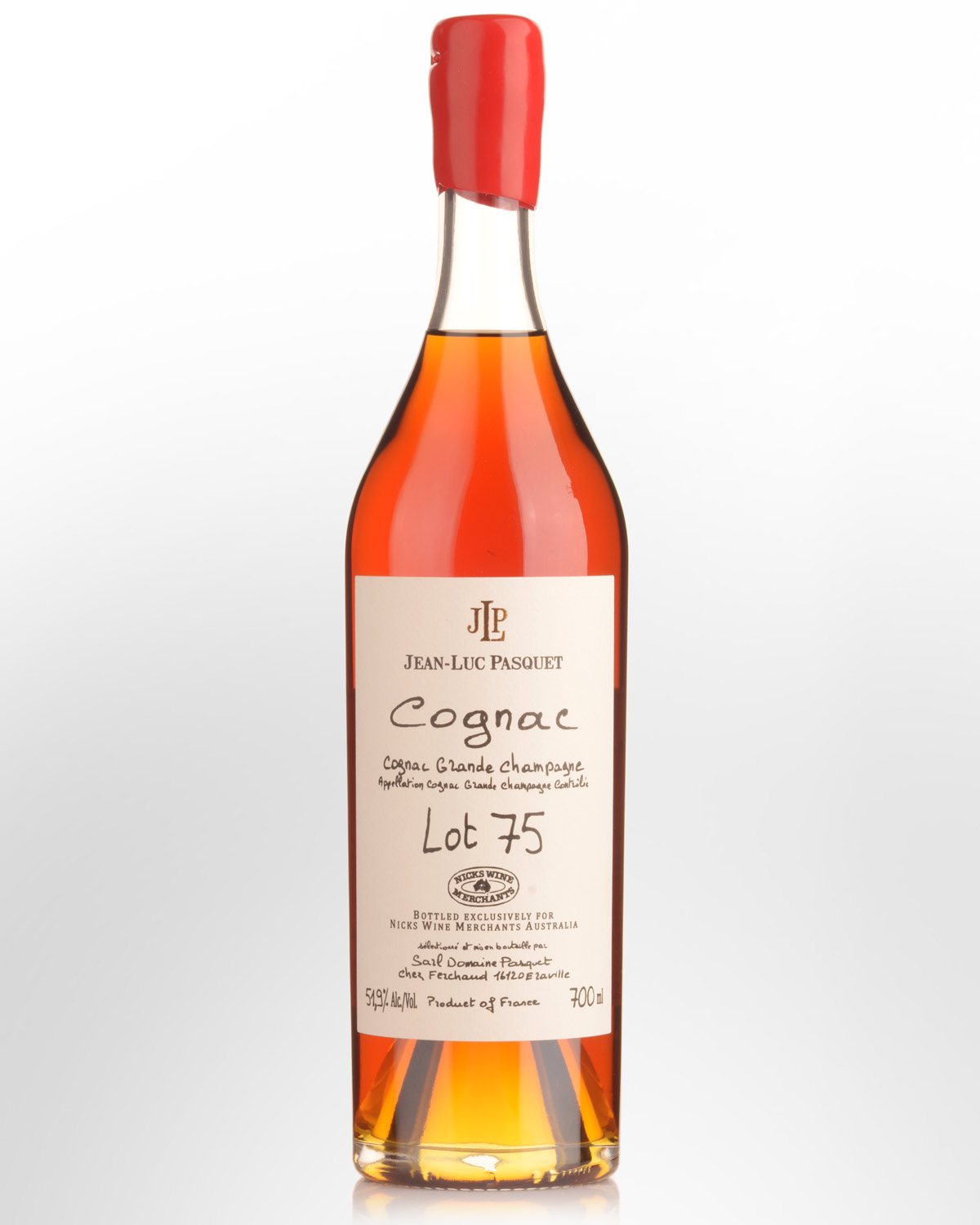 Nick's Import

Limit One per customer
Jean Luc Pasquet Lot 75 Nicks Wine Merchants Australian Exclusive Cask Strength Grande Champagne Cognac (700ml)
45 year old, cask strength, single barrel Cognac bottled at peak maturity. 114 bottles for Australia only.
There are wood-aged spirits respected not only in their own communities, but also by the spirits community at large. They transcend categories.
In Cognac, Jean Grosperrin is one protagonist. Jean Luc-Pasquet is another. Acknowledging tradition while flirting with tradition, their understanding of the current demand for singular, high-strength expressions has earned them acclaim in circles otherwise preoccupied with the world's finest single malts. Vineyards too small for Cognac's new corporate economic order have become their source of inspiration. Jean Luc Pasquet's Lot 75 stems from a nearby grower, Mr. Lagarde in Saint Preuil. Distilled some time between October 1975 and March 1976, exact records were not kept by Lagarde, however in Grande Champagne distillation must occur between the end of fermentation and March 31 of the year following the harvest - usually in October. Pasquet bottled it undiluted in 2021 equating to a minimum of 45 years of ageing in cask. To do it justice, you will need to give this 10-20+ minutes to blow off the alcohol and oak and let it pick up steam in the glass (once opened the bottle will continue to develop a sweeter aromatic range). Powerfully scented, unfolding with orange blossom, honeyed spice cake, dried fig, nectarine, sweet tobacco and whiffs of citrus zest it follows in a stunningly focussed, opulent, fruit-forward delivery that runs the gamut of figs, peaches, nectarines, dried mangoes as well as honey, sandalwood, cigar box and pepper, all wrapped up in a deep, succulent mouthfeel. While there's some mild astringency and cocoa-like bittersweetness towards the finish, the rebound adds rancio, honey and more dried fruits. It's further resolved with a splash of water. With or without water, the vitality and persistence is exceptional. Pasquet's policy is to add nothing - not even colouring. His attention to detail is further reflected in a soft wax seal that comes off with one round of a knife, unlike many hard brittle waxed tops that will flake off into the bottle. Cut carefully, your bottle will maintain its original aesthetic. Typically snapped up by Belgium and Germany, this direct import 'private edition' is guaranteed to be one of the Cognac super-stars of the year and should appeal to anyone with a penchant for cask strength single malt or rum. 114 bottles for Nicks Wine Merchants Australia only. 51.9% Alc./Vol.