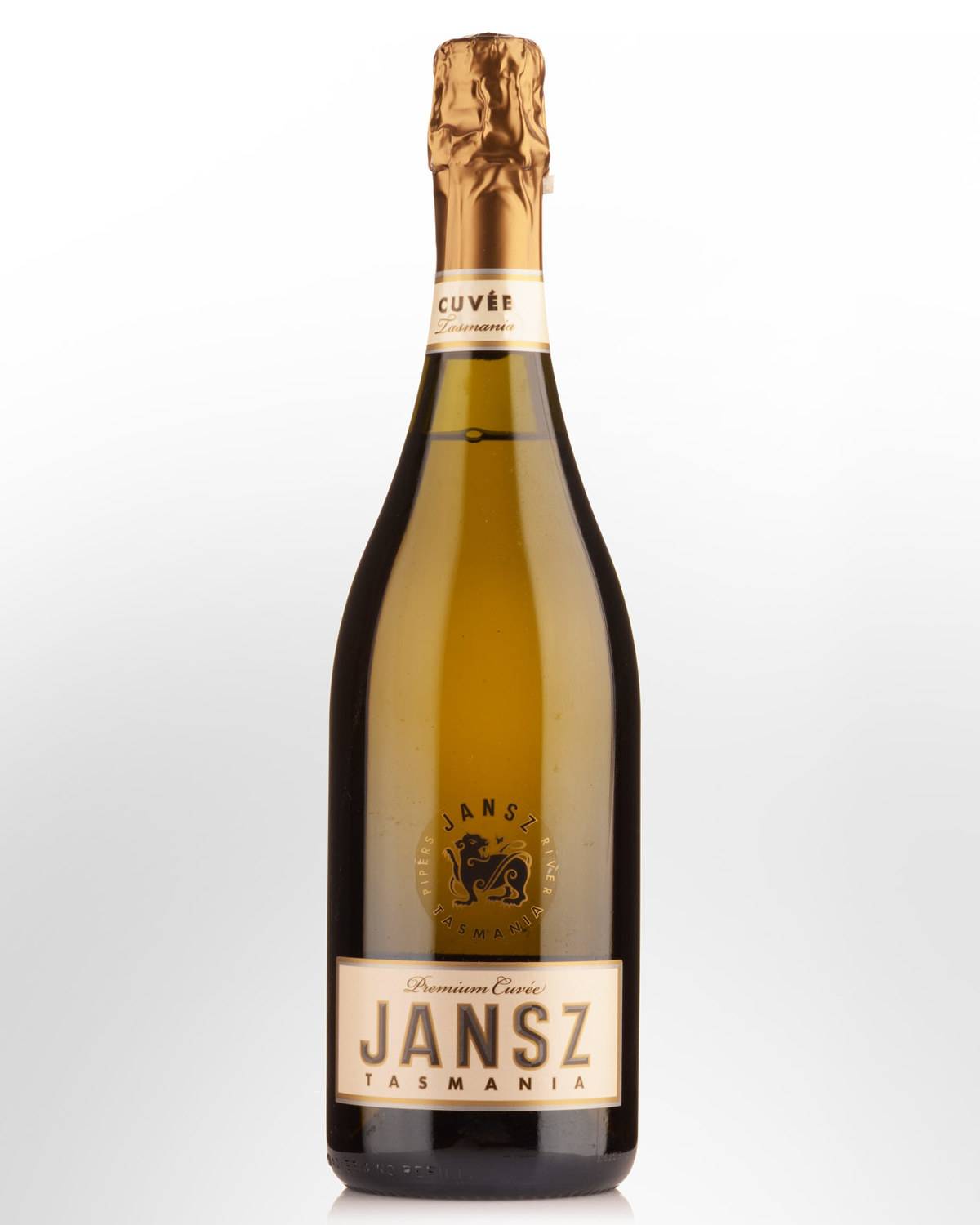 Jansz Premium Cuvee Brut
Cellar:
2 - 3 Years (2013-2014)
Retasted 19/10/2011:
Generous white creamy mousse with fine and very persistent bead. Pale straw base wine colour. The nose displays delicate notes of citrus, yeast lees, cashew and some light sherbet end notes. The palate is quite flavoursome with citrus, yeast lees, baked bread and cashew flavours present. Clean crisp acid finish with aftertaste of yeast lees, baked bread and citrus.
Drink over the next 2-3 years (2011-2014).
Alc 12.5%
Retasted: November 2006
The wine has very good mousse, fine bead with modest persistence. The base wine is straw coloured with a hint of green evident. Delicate nose of almond and lees followed by end notes of toast and fig. Creamy palate texture. There is a touch too much gas. Light flavours of toast and citrus. An elegant aperitif style.
Cellar 2-3 years (2008-2009)
Alc/Vol: 12%
Retasted: November 2003
Creamy mousse, medium persistence. Fine medium sized bead. Straw colour with delicate green hue. The nose is restrained with hints of biscuit and cashews. Creamy palate with subtle citrus and biscuit flavours. Crisp acid finish. Creamy biscuit aftertaste.
Cellar 2-3 years (2005-2006)
Alc/Vol: 12.5%
RATING: 86/100
VALUE: XXX/5
Retasted: November 2001
The Jansz is made from a blend of Chardonnay and Pinot Noir. Bright straw colour, with very fine, profuse bead. The nose shows bottle developed characteristics with notes of biscuit, yeast lees, nut, grapefruit and citrus. Very creamy texture, with flavours of yeast lees and biscuit. A sparkler, showing very good depth and persistence and a degree of elegance. Very long aftertaste of spice, yeast lees, biscuit and hazelnut.
Cellar 1-2 years. (2002-2003)
RATING: 89
VALUE: XXX
First Tasted: September 1999
This is a very creamy style of methode champenoise. Made from a blend of 58% Chardonnay, 40% Pinot Noir and 2% Pinot Meunier the wine spent 24 months on yeast lees. Pale straw colour, fine bead. Refined nose with aromas of nut and yeast dominant, followed by a hint of pear and citrus. Refined palate structure with an almost 'double cream' texture. Very fine concentrated flavour, persistent with nutty, yeast lees dominant, excellent balance followed by a long creamy yeast aftertaste.
Cellar 2-3 years.