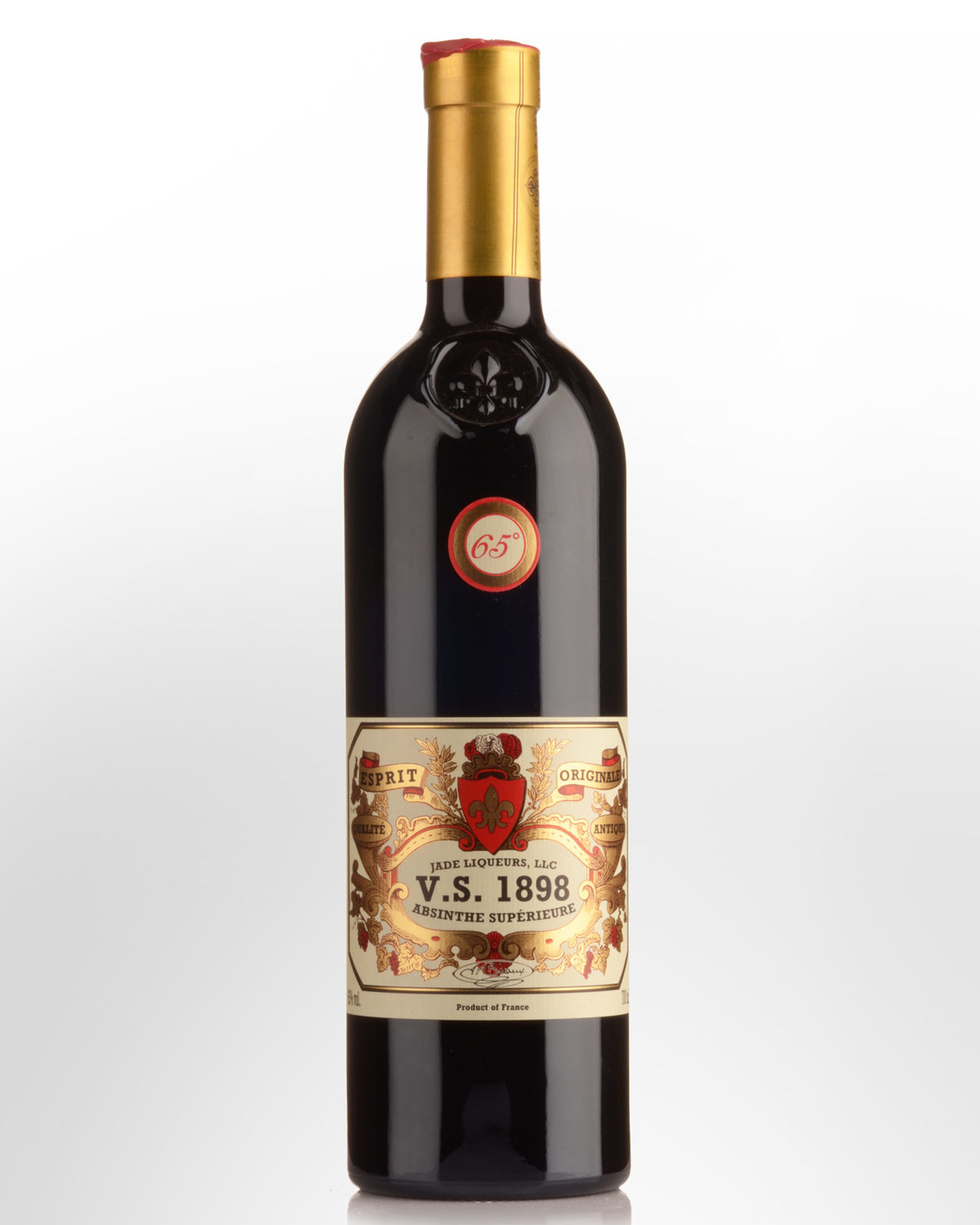 Jade C.F. Berger V.S. 1898 Absinthe (700ml)
Saumur, Loire Valley,
FRANCE
The distillery of C.F. Berger was founded in Couvet, in the canton of Neufchâtel, Switzerland in 1823. The Berger distillery crafted several Swiss style absinthes, the most famous of these being the C.F. Berger 65º degree absinthe verte, which earned its status as one of the premier absinthes of the 19th century. Unfortunately, absinthe crafting at the Berger distillery came to a halt with the Swiss ban of 1910, and the distillery ceased all activities in Switzerland shortly thereafter. Enter Jade Liqueurs. Those already in the know will be familiar with Ted Breaux, a biochemist and researcher who grew up in New Orleans. Ted rose to fame when he cracked the "Absinthe code" in the late 1990s, employing gas chromatography to analyse an old sample. Ted subsequently set up a business, 'Jade Liqueurs', with the aim of recreating several 'rediscovered' Absinthes.
This fine Swiss absinthe was almost lost forever if it had not been for the resurfacing of original, unopened bottles, which Jade Liqueurs was able to secure for preservation. Using proprietary analytical techniques, they've painstakingly resurrected this beautiful spirit from extinction. Crafted entirely by hand using select botanicals from the original regions, and carefully distilled in ancient copper absinthe alembics, this absinthe delivers an experience characteristic of the best Swiss styles.
Tasting note: Gold with a pale emerald green blush. Intense bouquet offers an opening burst of fresh liquorice root. Brief air contact accents Indian spices (fenungreek, tumeric, coriander seed) combining with fennel overtones. Second pass hints at plasticine, peppermint and crushed eucalyptus leaves. Delivery is achingly intense, piney, woody and bittersweet followed by a juicy, sweet anise / liquorice burst. Powers on at great length. Ends super fresh, beautifully balanced, deeply satisfying. Superb. 65% Alc./Vol.
Other reviews... Created by American absinthe expert, Ted Breaux and Combier Distillery, who analysed a rare original 19th century bottle of C.F. Berger absinthe verte from Couvet, Switzerland to formulate this modern replica Jade C.F. Berger (also known as Verte Suisse or V.S. 1898) absinthe. Appearance: Clear, pale golden with greeny blue tinge. With water louches milky very pale dirty green. Aroma: Vegetal, herbal nose with barky-wormwood, allspice, fennel and anise. Dried herbal and slightly musty rather than fresh. Taste: Dry herbaceous with continuing musty note. Wormwood, fennel and anise with marjoram and faint clove. Aftertaste: Herbaceous, woody influenced finish. 4.5 stars. - www.diffordsguide.com