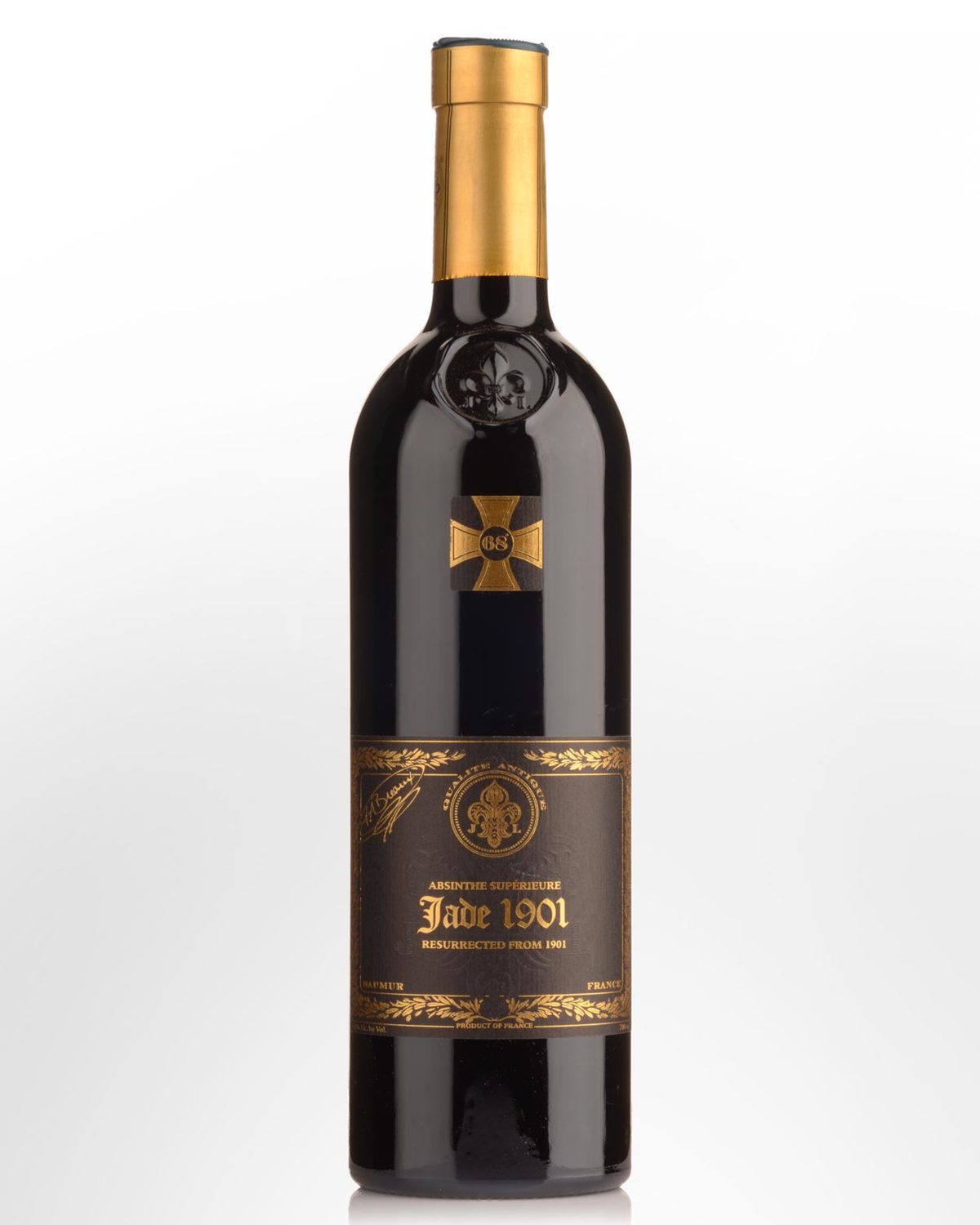 Jade 1901 Absinthe (700ml)
Saumur, Loire Valley,
FRANCE
Those already in the know will be familiar with Ted Breaux, a biochemist and researcher who grew up in New Orleans. Ted rose to fame when he cracked the "Absinthe code" in the late 1990s, employing gas chromatography to reverse engineer the spirit from sealed bottles of the 1901 original produced at the Pontarlier Pernod Fils factory several months before the facility burnt down. Ted subsequently set up a business, 'Jade Liqueurs', with the aim of recreating several 'rediscovered' Absinthes.
Jade 1901 Absinthe Supérieure represents the second release from Ted that was carefully reverse engineered from sealed antique bottles. It should be noted that when a large cache of the pre-ban original was discovered in recent times, a few bottles were found to be in a remarkable state of preservation, retaining much of their original colour and freshness. Those who have been fortunate enough to taste these were unanimous in their remarks as to the striking similarities between the vintage bottles and the Jade 1901 Absinthe Supérieure pre-ban clone.
Breaux employs a special copper pot still at the Combier Distillery and infuses the resulting eaux de vie with whole botanicals. The spirit is then rested for an average of 3 years before bottling.
Tasting note: Gold with a pretty bright jade green blush. Opening bouquet has a dry, bitter feel including hints of tarragon, curry leaf, liquorice root and black jelly bean...with air contact, shades of chamomile and peppermint tea, lemon peel, anise and lanolin. Outstanding aromatic complexity. A bittersweet , spicy entry leads into a concentrated gently bittersweet anise burst. Very clean, linear, elegant. Black jellybean fade. Excellent length. Possibly the most restrained in the collection, but by a small margin. 68% Alc./Vol.
Other reviews... Burnished gold in the glass, louching to opalescent light gold, and scented with bold notes of anise and licorice. The flavor is mild at first, but shows more anise on the long, rounded finish. 93 points - wineenthusiast.com
...Jade 1901 is the second absinthe created by American absinthe expert, Ted Breaux and Combier to replicate a sample of 19th century. Combier uses two 1,100 litre copper alembics dating from 1870 and purchased from an absinthe distiller in Pontarlier in the early 1900s. Appearance: Clear, pale golden with green tinge. With water louches milky very pale dirty green. Aroma: Delicate green earthy herbal notes with angelica, sage, tarragon and faint citrussy lime blossom. Anise aromas are well integrated with cassia warming spice. Taste: Slight woodiness to a punchy anise tong numbing palate with nutmeg spice. Aftertaste:Long, wormwood and woody green anise finish. 4.5 stars. Recommended. - diffordsguide.com