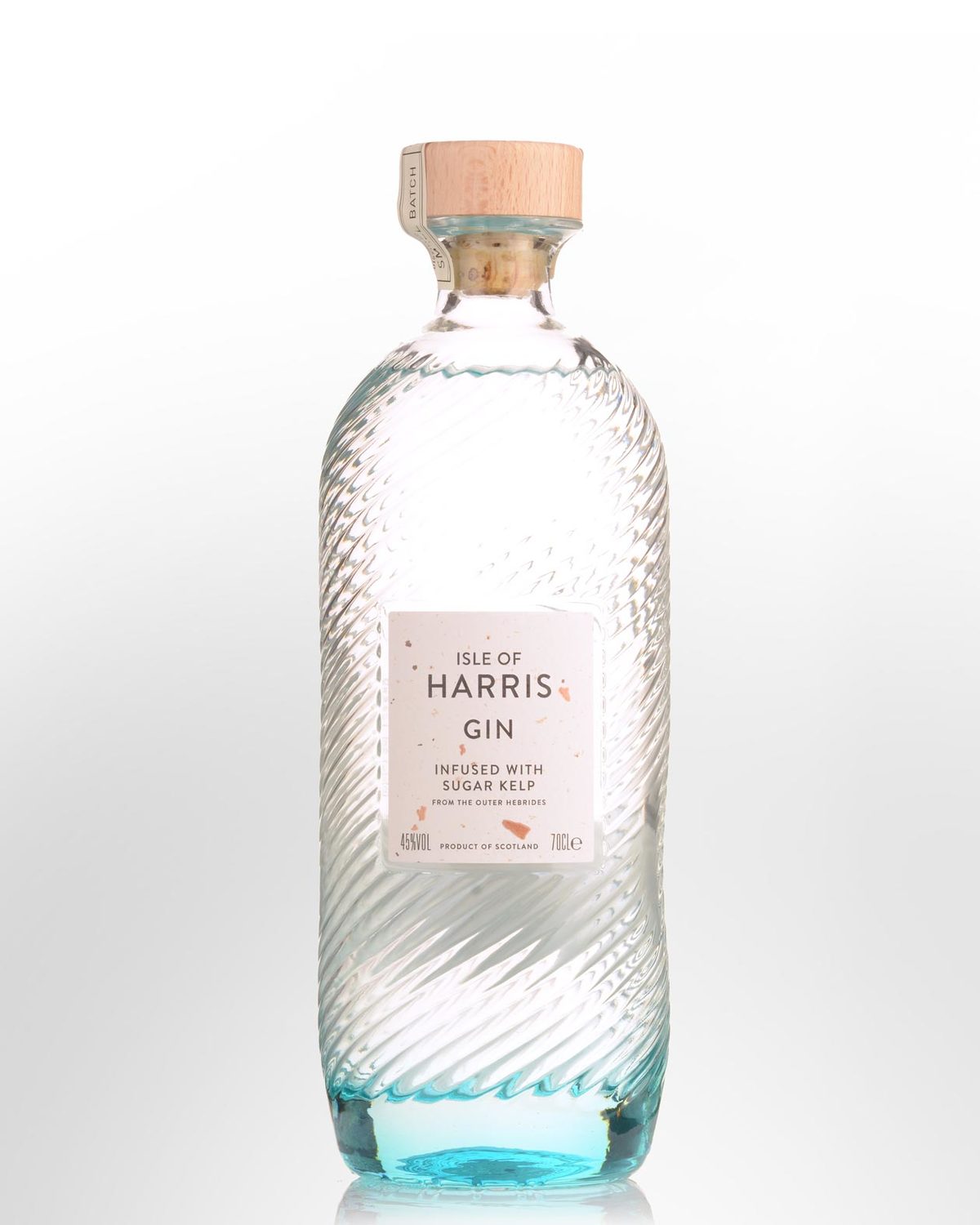 Isle of Harris Gin (700ml)
SCOTLAND
"...all the hallmarks to be the new Hendrick's." - www.ginfoundry.com


One of the most beautifully presented gins to come our way in years arrives all the way from the Hebrides in Scotland. Sugar kelp is key to the subtle coastal notes in this beauty - hand-harvested by a local diver from the deep underwater forests of the Outer Hebrides.
Managing Director, Simon Erlanger explains, "We worked with an ethnobotanist recommended to us by our Chairman's daughter, who we commissioned to explore our island's flora, to see what is sustainable to harvest and what sort of properties they might bring to our gin. After looking on land, she finally turned to the sea and that's where we found our answers."
This sustainable ingredient completes the wider aspects of the gin's flavour profile, with other botanicals being Juniper, Coriander, Angelica Root, Orris Root, Cubeb, Bitter Orange Peel, Liquorice and Cassia Bark. It's all captured in a striking glass bottle, ribbed and rippled like the seas of Luskentyre. There are subtle imperfections, dimples and dips to hold it safely while you pour. The label is simple, though no two are quite alike, each individually flecked with fragments of copper leaf and Sugar Kelp. Strong reviews all round with what reads as a premium London Dry with a maritime twist.
Tasting note: Clear. Excellent purity with juniper, light menthol, brine and vaguely sappy / resiny notes. Air contact accents orange oils and citrus cough lozenge. Follows through with vibrant, peppery flavours suggestive of lemon sherbet and juniper with a zesty mouthfeel and a warming finish. Excellent balance. 45% Alc./Vol.
Other reviews... Tasted neat the lead is a strong floral and piney juniper. This is quickly followed by dry spice almost like fresh nutmeg (this must be a combination of the citrus peel and cassia) rounding out in the linger to a full sweetness with grapefruit notes...The distiller set out to capture the elemental and maritime nature of the Isle of Harris and this gin, from the bottle to the glass, does just that. A genuine sweet-savoury gin, which is quite rare if not unique. Enjoyable on the rocks as well as making a damn fine gin and tonic which works well with grapefruit peel garnish. 45% Alc./Vol. - thelondonginclub.com
Notes from the distillery...The Isle of Harris Distillery is known as 'The Social Distillery', an ethos which embraces the generous character of our island and the people who live here. Although very much a working distillery, we open our doors six days a week, to connect with all those who want to learn more about our story and share our spirit. A peat fire burns at the heart of the building in Tarbert, symbolising the warmth of an Outer Hebridean welcome and the life we are bringing to our wider community. We have built a distillery on the Isle of Harris to be about people and to benefit the people of Harris. In the face of local population decline, we are a creator of sustainable employment and a catalyst for commercial growth. We strive to be symbol of optimism and change and a new voice for the islands, a nourishing source of pride and belonging for the Hearach in all of us.
Nose: A well-defined juniper note with pine needles, immediately followed by the fresh citrus notes of bitter orange, lime and grapefruit. Develops a complex floral note of rose and wallflowers with crushed green herbs, coriander and gooseberry all underpinned by mixed spice. Sugar kelp adds to the complexity and richness and gives a dry maritime note.
Palate: Refreshing gin with good balance between the bitter juniper and pine and the sweet fruit flavours of mango, grapefruit and orange. A green herb flavour has developed of crushed coriander. Distinctive and smooth with a dry, flinty taste.
Finish: Overall a long, clean finish. As the juniper and citrus fade away, sweet vanilla and black pepper remain with a gentle reminder of the sea.