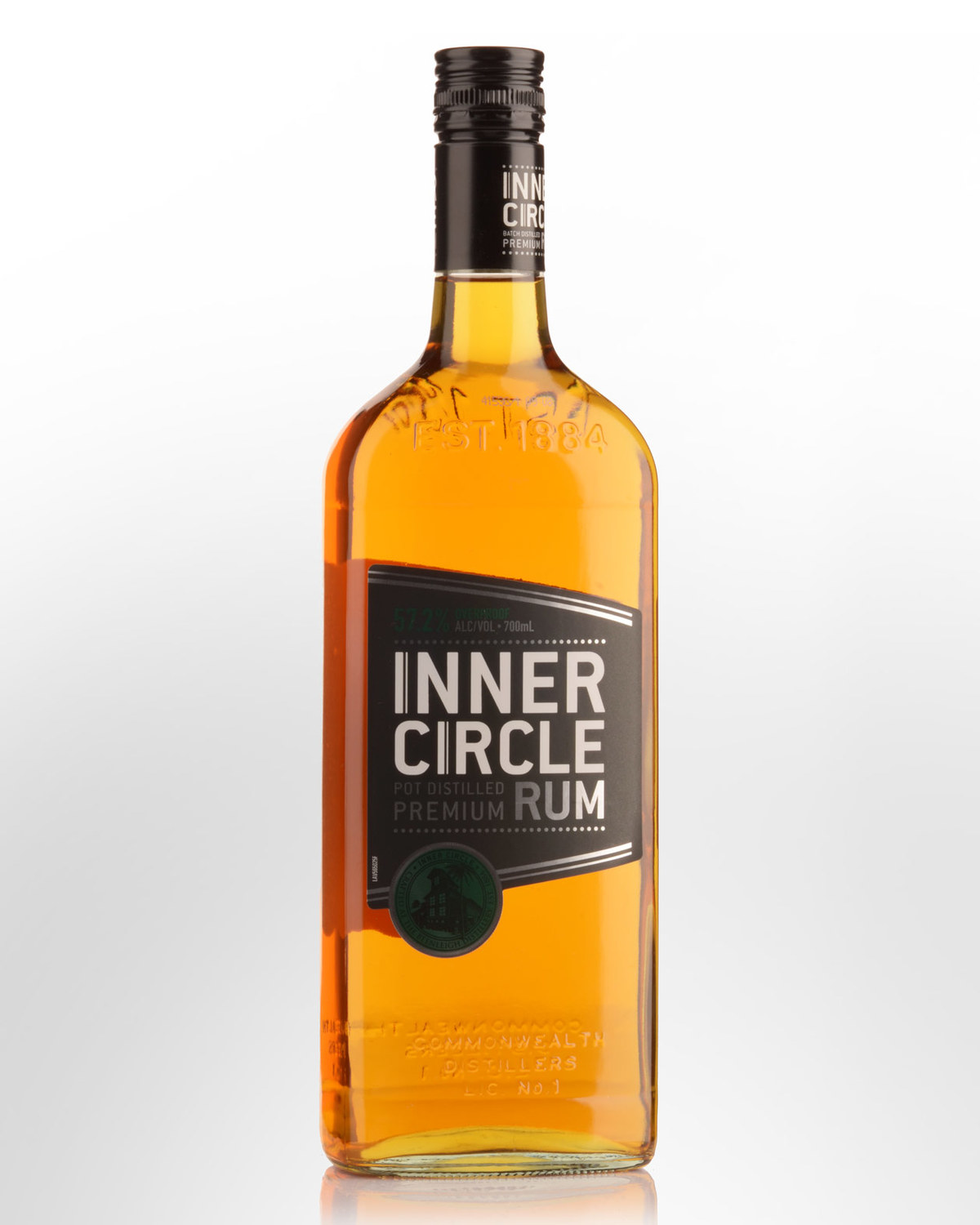 Inner Circle Green Dot Overproof Rum 57.2% ABV (700ml)
AUSTRALIA
Inner Circle Rum was first produced by the CSR (Colonial Sugar Refinery) Company last century for the pleasure of its employees and very special clients - hence the name. From its first distillation, the objective was to make the best rum possible. In 1970, Inner Circle Rum was released into the Australian market and immediately created a cult like following. Those who found the Brand, ''only spoke of it in whispers but sung it's praises loudly!' It was originally available in three strengths, Underproof, Overproof and 33% Overproof. The label was instantly recognisable by it's coloured circle and became identified as red, green or black dot. However, in 1986, CSR sold their rum distillery interests and Inner Circle was removed from the market. A great Aussie icon disappeared. In 2000 Stuart Gilbert, an Australian Olympic Yachtsman still lamenting the loss of his favourite rum, sought out and became acquainted with Malcolm Campbell who had been responsible for the distillation and quality control of Inner Circle from 1972 to 1986 when he supervised the very last bottling. To Stuart's delight, Malcolm was only too willing to apply his many years of experience to the task of producing a rum deserving of the Inner Circle name. Inspired by this revelation, Stuart acquired the rights to the Brand name and now offers his product to the rum lovers of the world! In 2004, Inner Circle Rum purchased the Beenleigh Rum Distillery which, after some re-engineering, has begun producing the highest quality pot still rums. The Company has also purchased Offices in the old CSR Cooperage building at Pyrmont.
Presently the Rum is produced using the labour intensive pot still method, rather than the continuous distillation method used by most other commercial rums. The pot-still method is generally agreed to produce rums of a higher quality. Inner Circle Rum is made to the same blend and by the same blender as it was when it was last commercially available. The same quality that made it an icon brand has become the standard for the future of this 100% Australian owned company.
Inner Circle Green Dot 57.2% Dark Rum recently won the Jim Murray Trophy for the Best Rum at the prestigious 2004 International Wine and Spirit Competition held annually in London. Often referred to as "the Olympics of the beverage industry", this competition is arguably one of the premier competitions of its type in the world and attracts the world's best producers who showcase their products against their global competitors (www.iwsc.net ). As well as winning the Trophy for the Best Rum, Inner Circle Rums were also awarded 2 Gold Medals, 3 Silver Medals and 2 Bronze Medals. Considering there were many major global Corporations entering their branded Rums in this Competition, this small Australian Company has taken all before it, beating the best Rums from all over the world!
Other reviews... Rich copper hue. Robust toffee, floral, and brown spice aromas. A round, soft entry leads to a big, full-bodied palate with lush dried tropical fruits, burnt caramel, buttered roasted nuts, and lavish brown spices. Finishes with a huge wave of peppercorns, hot spice and a minerally, slightly rubbery edge. A dry powerhouse style in the vein of fine alembic Armagnac. Opens up tremendously with a little spring water. 57.2% Alc./Vol.
International Review of Spirits Award: Gold Medal
94 points (Exceptional) - tastings.com size>