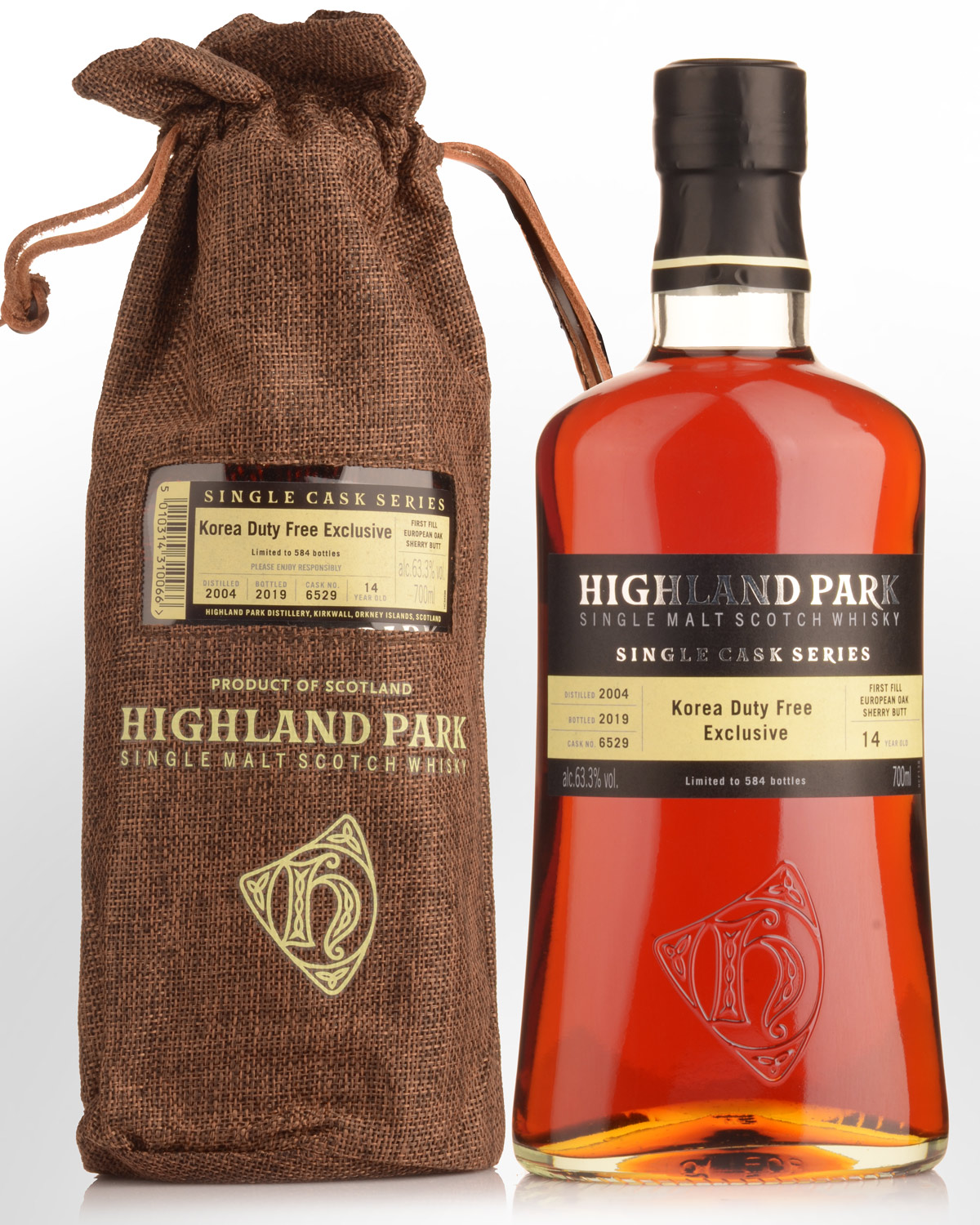 Limit One per customer

Nick's Import
2004 Highland Park Single Cask Series 14 Year Old Cask Strength Single Malt Scotch Whisky (700ml) - Korea Duty Free Exclusive
Brawny, rustic and intense. One of the most challenging HPs we've tasted to date.
Regardless of what you think of Highland Park's recent marketing makeover, it remains one of Scotland's great distillates. Owners, Edrington Group continue an ongoing project that exports 'ambassador' casks around the globe. Aimed at connoisseurs and collectors, most are bottled as deeply coloured, middle-aged expressions from active sherry casks. They've established Highland Park's reputation as a top-class malt for a new generation. Whiskyfun conducted several verticals, and the scores have been consistently high. Says Scottish correspondent, Angus MacRaild, "Even the most boisterous and assertive of sherry casks can't quite mask [Highland Park's] idiosyncrasies and that is something that will eternally gladden my heart."
We have secured a small volume of this spectacular Korean Duty Free Exclusive, distilled in 2004 and bottled in 2019 from first-fill European oak sherry cask #6529. While there's been at least one equivalent Australian bottling, Korea clearly has more than a few thrill-seekers satisfied with nothing less than the most explosive malts Scotland has to offer. On multiple levels, this is no whisky for beginners. Blowing off the whiffs of alcohol, you'll need to get past notes of matchbox, pickled onion, brackish water and white pepper to break through to sweeter, richer sensations of oloroso, pipe tobacco, dried fruits and nut infused dark chocolate. The palate packs a punch; the entry is big on wood spice, climaxing in a spike of spirit heat, a rush of nutty malt, dark chocolate, ginger bread and trace sulphur, while the aftertaste lingers with bitter peels, Asian spices, match box and distant wood smoke. It's the kind of whisky that reveals itself gradually, picking up sherry definition with each pass. Uncut, it will take you multiple tastings to adjust to the extreme ABV and get to the bottom of what is one of the most rustic, intense and challenging HPs we've ever tasted. Experiment with ample water to tame the peppers and draw out the honeyed tones, and allow plenty of air time to show its best. Emptied from cask at a whopping 63.3%, we have a fraction of the original 584 bottles on offer. One shipment only. Limited to one per customer. Non chill filtered.