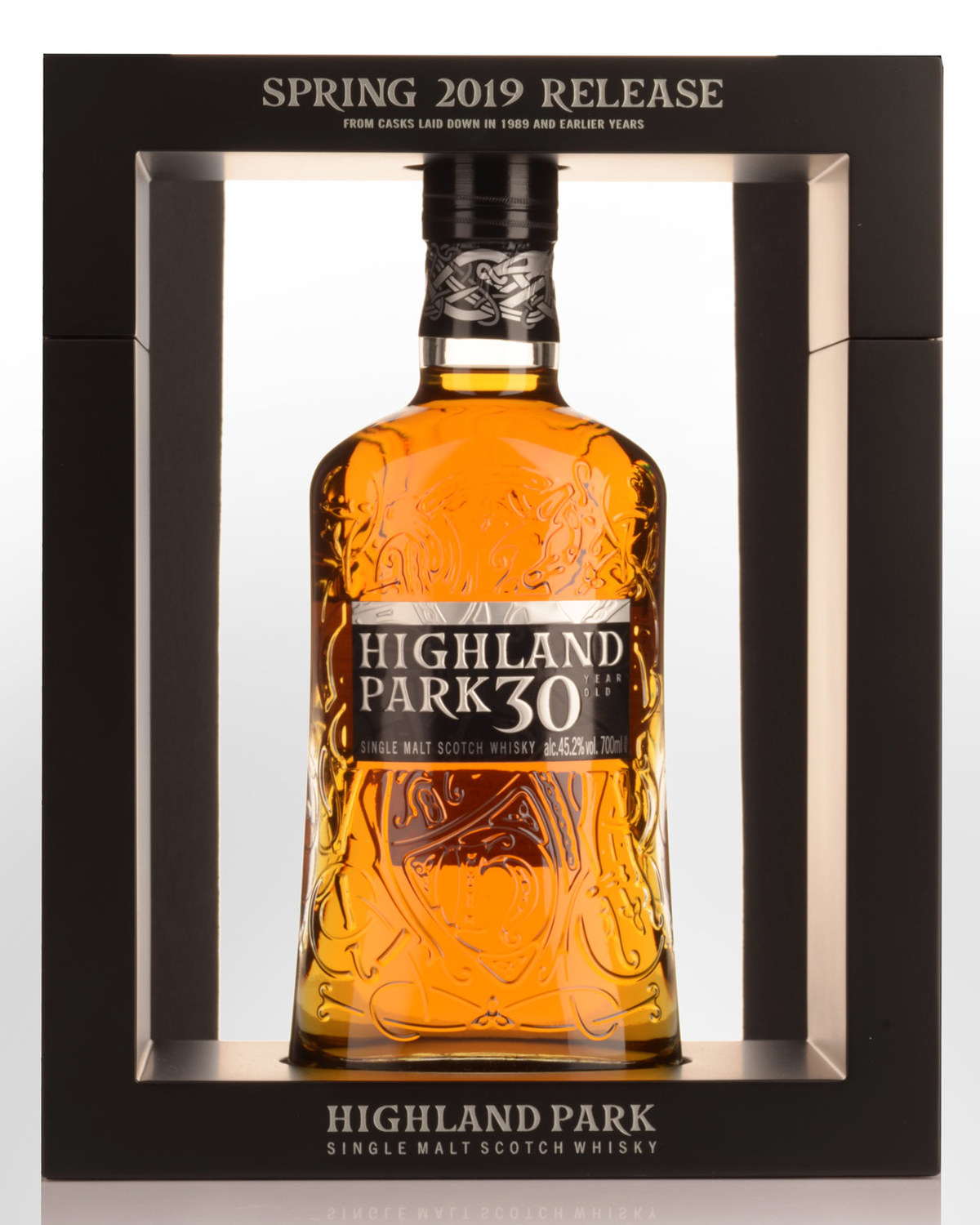 Highland Park 30 Year Old Single Malt Scotch Whisky (700ml) - Spring 2019 Release
"...a stellar whisky that is worth every penny."
- Ian Buxton, 101 Whiskies to try before you die.
Re-released back in 2011, the now newly presented HP 30 is created from fewer than twenty casks laid down in 1989 and earlier years. Master Whisky Maker, Gordon Motion, took the unusual step of bringing together 3 different cask types for this release. For sweet notes of vanilla and honey with hints of sharp citrus, he selected ex-bourbon casks; to add rich layers of stewed fruit and warm spices, first-fill sherry seasoned casks were selected; and finally, a small but vital number of refill casks were called in to round off the harmony of flavours.
Boasting 'the northernmost Scotch whisky Distillery in the World' in Kirkwall, Orkney, the Highland Park Distillery has an intriguing history of illicit distilling and smuggling. The figure foremost associated with this is Magnus Eunson, a humble beadle by day, he was thought to be utilizing his position as an inconspicuous front for illegal activities (some accounts suggesting he would hide the illicit whisky among the perished). A man of great cunning, he established himself at the Highland Park distillery site in 1798 until forced to close in 1814 where the lot was ironically taken by exciseman John Robertson who long persued Magnus.
Known as Kirkwall distillery until 1876, the name 'Highland Park' derives from the hill where the distillery stands, 'High Park'. The location was thought to be chosen for its water source and as a lookout against approaching exsicemen.
1826 was the year where the distillery gained its licence under the control of Robert Borwick; who went about building the foundations that distinguish the distillery today. For a few decades there were frequent changes in ownership until James Grant took sole control of the business in 1895, replacing the two existing stills with larger ones, and installing two more in 1897. These were known as the glory days of the Scotch whisky industry until 1898 where the closing of Pattisons Blending Co (one of the major blending companies at the time) collapsed, becoming the catalyst for a massive slow down within the Scotch whisky industry that lasted for close to 50 years.
The Grant family retained control until 1937 where it became apart of the Highland distillers portfolio (now Edrington Group). Highland Park stopped distilling for the duration of the Second World War from 1939, confining its use for soldiers of war, the mash tun being used as an enormous bath for some of the 60,000 troops stationed on Orkney. The distillery returned to production in 1945. It wasn't until 1979 that Highland distillers started to market Highland park as a Single Malt launching its twelve year old brand. Although less than 100 cases were sold, barrel stocks that sat in the warehouse continued to mature beautifully. The company released its 1967 vintage in 1991 with spectacular success. It was the stunning quality of these mature releases which would brand Highland Park in the minds of whisky afficiandos as one of the world's great spirits.
In 1997 and 1998 came a succession of new releases set to become permanent members in the distillery portfolio, Highland Park 18 year old and Highland Park 25 year old - Highland 18 notably winning numerous awards and accolades form whisky critics around the world. Highland Park whisky today is still a major contributing factor in famous blends such as Famous Grouse and Cutty Sark.
The whisky is produced from 20% of the distilleries own maltings (peated to approximately 20ppm) with the remainder being unpeated barley sourced from Tamdhu maltings (now closed) and local peat from Hobbister Hill. Water is hard pumped into the distillery from the Crantit Lagoons with maturation occuring in either ex-Bourbon or first fill sherry barrels.
Other reviews...
"A whisky for the gods...but only if they are worthy..." 95 points - Jim Murray's Whisky Bible 2011