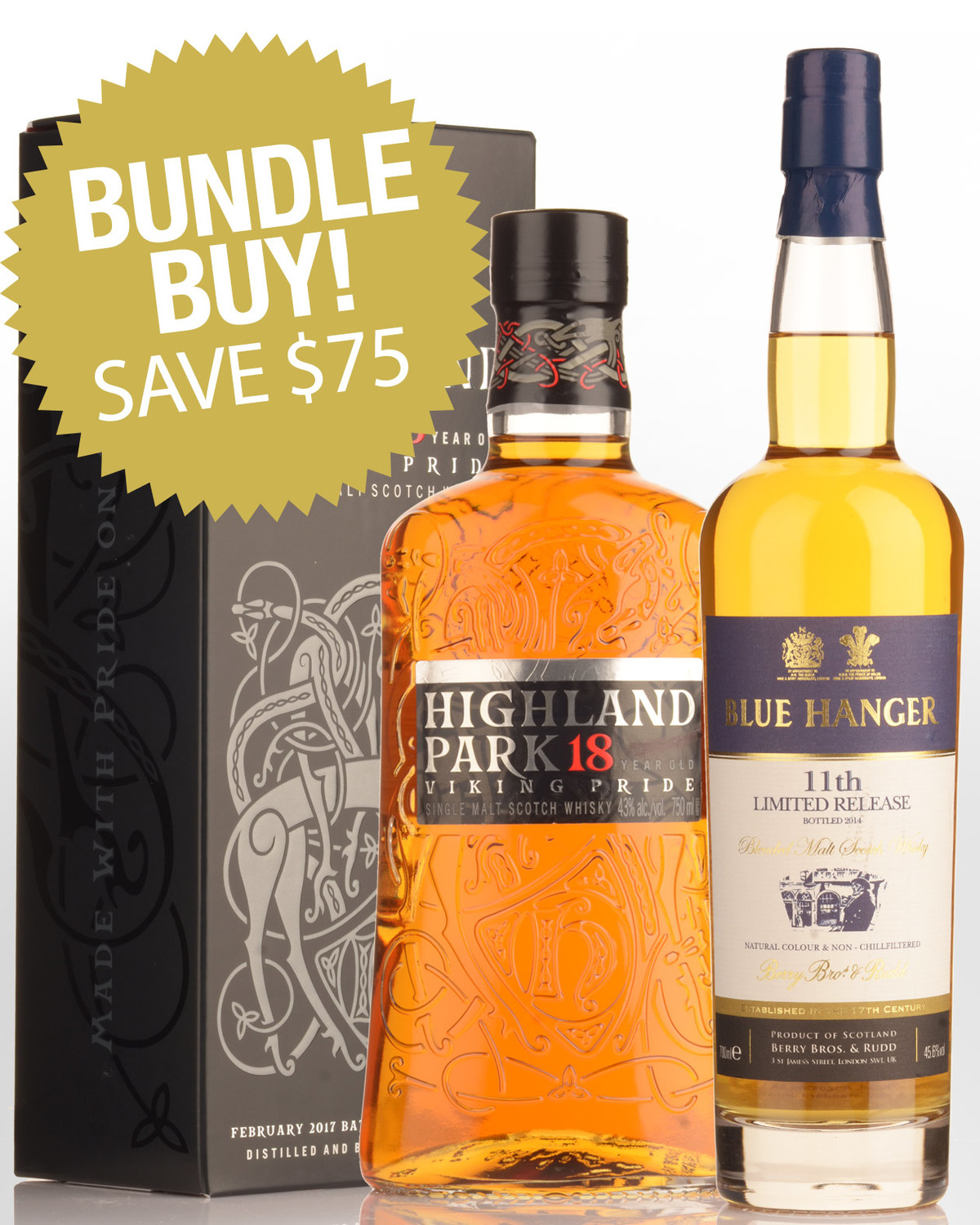 Highland Park 18 Year Old & Berry Brothers & Rudd Blue Hanger 11th Limited Release Blended Malt Scotch Whisky Bundle Buy (2x700ml)
SCOTLAND
Get Highland Park 18YO normally $250 PLUS BB&R Blue Hanger normally $150, together and save! That's $400 of value for just $325!
Notes on Highland Park 18 Year Old: Perhaps more than standing stones, Neolithic settlements, a Viking Cathedral and Norse sagas, Orkney is famous for two distillieries: Scapa and Highland Park. The latter at 18 years of age has earned a place in the Scotch Whisky pantheon as one of the 'classics'. In short, a whisky every one should experience. Or, in the words of spirits writer, F.Paul Pacault, "It fits my profile of what makes a perfect whisky. Which is to say it's totally in harmony. There are no rough edges and everything is melded together brilliantly". Slow-burning, aromatic peat from Hobbister Moor and Sherry seasoned European oak casks result in a style that was once evocatively described as "...An empty honey jar which once held peaty embers."
Tasting Note: Deep amber gold. A sophisticated sniff evoking nuances of dried fruits (fig, dates), honey, gristy malt and delicate brush strokes of sweet smoke. Later inhalations hint at waxy apple, orange spice cake, choc ripple cookie and cinnamon. After 5-10 minutes the nose drops off leaving dark chocolate and trace sulphur. Honeyed barley and sherry notes beautifully harmonise with earthy peat; the sweetness balanced by orange zest and a touch of salt...rebounds in the aftertaste. Almost full circle round the flavour wheel, and for that reason, one of the most quintessential of all Scotch single malts. Some tasters found the Sherry input slightly less than years gone by, but otherwise, about as good as it's been since the inaugural 1997. 43% Alc./Vol.
Other reviews... Gentle peat, soft toffee, floral notes, and honey on the beautifully fragrant nose. Superbly balanced on the velvety palate, with brittle toffee, stewed fruits, peat, honey, and a hint of coffee. Smoke and more toffee mingle in the long, elegant finish. 94 points - maltadvocate.com, reviewed by: Gavin Smith (Spring 2012)
… Nose: An empty honey jar which once held peaty embers. An enormous nose which seems to improve with each bottle I sample, though the characterstic salted butter is always present. Fabulous. Palate: Beautifully sweet: even sweeter than the 12 year old with peat on the back of the palate. Beautifully chewy, oily and substantial. Finish: Still peaty and now a little oaky. Cocoa and toffee cream compexity. Comment: This has to be my favourite Highland Park of them all, and each new bottle I taste (this was my sixth sample) seems to underline the overall class and consistency of this distillery. Brilliant..
95.5 points - Jim Murray's Whisky Bible.
Notes on Berry Brothers & Rudd Blue Hanger 11th Limited Release: The Blue Hanger releases were originally reserved for the diplomatic market in the 1930s but faded into history until being revived in 2003 by Doug McIvor, Master of Cask Selection at Berry Bros & Rudd. The first edition was a sublime marriage of Glenlivet and Glen Grant which produced just 723 bottles from a total of 4 hogsheads. It sold out almost immediately upon release, and its success was repeated by many subsequent expressions. Creation of a new edition only takes place when Doug feels they've secured the right casks to create a complimentary addition to the range.
Awarded 'Blended Malt of the Year' by Whisky Advocate Magazine in 2016. Final shipment.
And the name? It's a tribute to one of Berry's early customers, so called because of the shade of clothes he wore. William 'Blue' Hanger, aka 'Lord Coleraine', was a loyal regular of the Wine Shop at the end of the 18th century and considered "one of the best dressed men of his day."
Tasting note: [15ml sample] Another outstanding vatted malt from BBR. The 11th in the series is a sultry combination of eight casks – four hogsheads, three butts and a puncheon, including both peated and unpeated Bunnahabhain. Very light / pale gold. A semblance of Johnnie Walker Green to this (as it was a few decades back); the same seamless integration of fruit, vanilla-laced malt and menthol-freshness overlaid by a delicate blanket of oily peat. The smokiness is slightly more evident in the flavour but kept in check by the vibrant, salivating malt, orange spice cake and peel freshness. Spot on balance. Beautifully rounded and very moreish. Non-chill filtered. 45.6% Alc./Vol.
Other reviews... It's the intensity of flavor that just grabbed me by the lapels and spun me round. It harbors intense tangelo juiciness; that unparalleled concentration of deep citrus skillfully mingled with dark vanilla, dried apricots, and gentle smoke. This goes the distance, delivering wave after delicious wave: peach juice, mandarin, pineapple cubes, and lemon zest. A firm, unctuous finish shows a little charred wood and dark sugar cloaked in fine smoke. Tongue pleasing and very special indeed. 92 points
- maltadvocate.com (Spring 2015) Reviewed by: Jonny McCormick