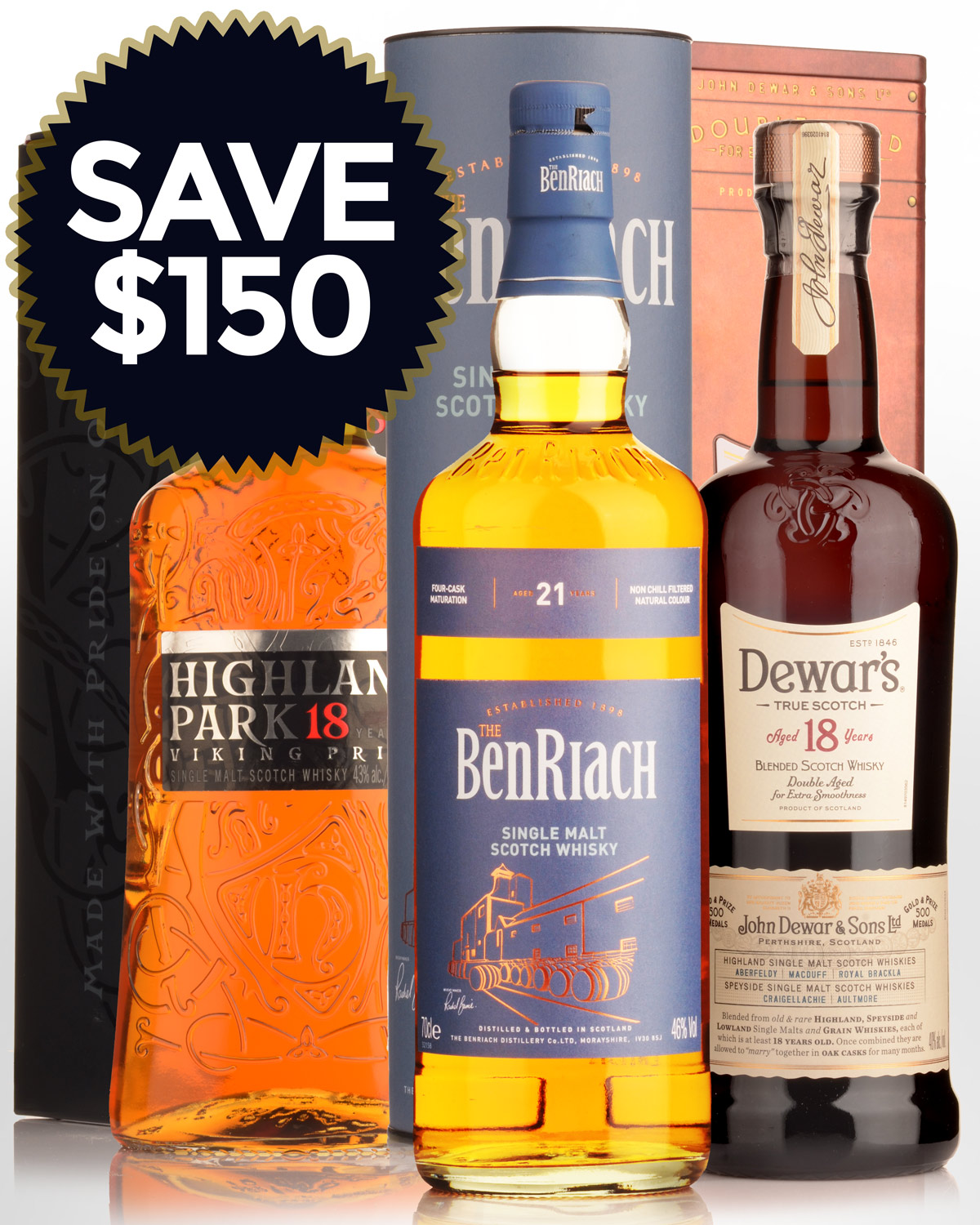 Highland Park 18 Year Old, Benriach 21 Year Old & Dewars 18 Year Old Scotch Whisky Bundle Buy (2x700ml & 1x750ml)
Take $150 OFF when you bundle Highland Park 18YO normally $250 PLUS Benriach 21YO, normally $199, PLUS Dewar's 18YO Blended, normally $99.99 together and save! Normally $549, now just $399!
Tasting notes on Highland Park 18 Year Old: Deep amber gold. A sophisticated sniff evoking nuances of dried fruits (fig, dates), honey, gristy malt and delicate brush strokes of sweet smoke. Later inhalations hint at waxy apple, orange spice cake, choc ripple cookie and cinnamon. After 5-10 minutes the nose drops off leaving dark chocolate and trace sulphur. Honeyed barley and sherry notes beautifully harmonise with earthy peat; the sweetness balanced by orange zest and a touch of salt...rebounds in the aftertaste. Almost full circle round the flavour wheel, and for that reason, one of the most quintessential of all Scotch single malts. Some tasters found the Sherry input slightly less than years gone by, but otherwise, about as good as it's been since the inaugural 1997. 43% Alc./Vol.
Other reviews... Gentle peat, soft toffee, floral notes, and honey on the beautifully fragrant nose. Superbly balanced on the velvety palate, with brittle toffee, stewed fruits, peat, honey, and a hint of coffee. Smoke and more toffee mingle in the long, elegant finish. 94 points - maltadvocate.com, reviewed by: Gavin Smith (Spring 2012)
… Nose: An empty honey jar which once held peaty embers. An enormous nose which seems to improve with each bottle I sample, though the characterstic salted butter is always present. Fabulous. Palate: Beautifully sweet: even sweeter than the 12 year old with peat on the back of the palate. Beautifully chewy, oily and substantial. Finish: Still peaty and now a little oaky. Cocoa and toffee cream compexity. Comment: This has to be my favourite Highland Park of them all, and each new bottle I taste (this was my sixth sample) seems to underline the overall class and consistency of this distillery. Brilliant.. 95.5 points - Jim Murray's Whisky Bible.
Notes on Benriach 21 Year Old: This four-cask matured, extra-aged Benriach was first offered in 2018 and now debuts in Australia. Matured in a combination of Bourbon, Virgin oak, Pedro Ximénez sherry and red wine casks, Head Distiller, Rachel Barrie describes it as full of candied peel, honeyed malt and barley sugar flavours. 46% Alc./Vol.
Other reviews... Rich, textured and complex, there is a glorious clarity to the sugars and fondant vanillas. Even the spices seem happy... without creating too many waves.
90 points - Jim Murray's Whisky Bible 2020
The nose offers tangerines, milk chocolate, and spicy vanilla. Peaches, Brazil nuts, raisins, dates, and more chocolate on the palate, with red berries in the background. The finish is medium in length, with cocoa powder and ginger. Not available in the U.S.
89 points - whiskyadvocate.com, reviewed by: Gavin Smith (Spring 2018)
Notes on Dewar's 18 Year Old: Dewar's, for one reason or another has become extremely popular amongst American whisky imbibers. Perhaps it is their preference for lighter tasting beers that extends into their tastes for Scotch? This 18 year old release from the makers of one of the best-selling scotch in the world adds to Dewar's already impressive portfolio of blends. Key malts include Aberfeldy, Macduff, Royal Brackla, Craigellachie and Aultmore. Note that this is a 750ml bottle as opposed to the 700ml format commonly found in Australia, usually selling for around the $150 mark. Comes in special gift tin presentation.
Other reviews... Here is a classic case of where great blends are not all about the malt. The grain plays in many ways the most significant role here, as it is the perfect backdrop to see the complexity of the malt at its clearest. Simply magnificent blending with the use of a flawless whisky. 93 points - Jim Murray's Whisky Bible 2019