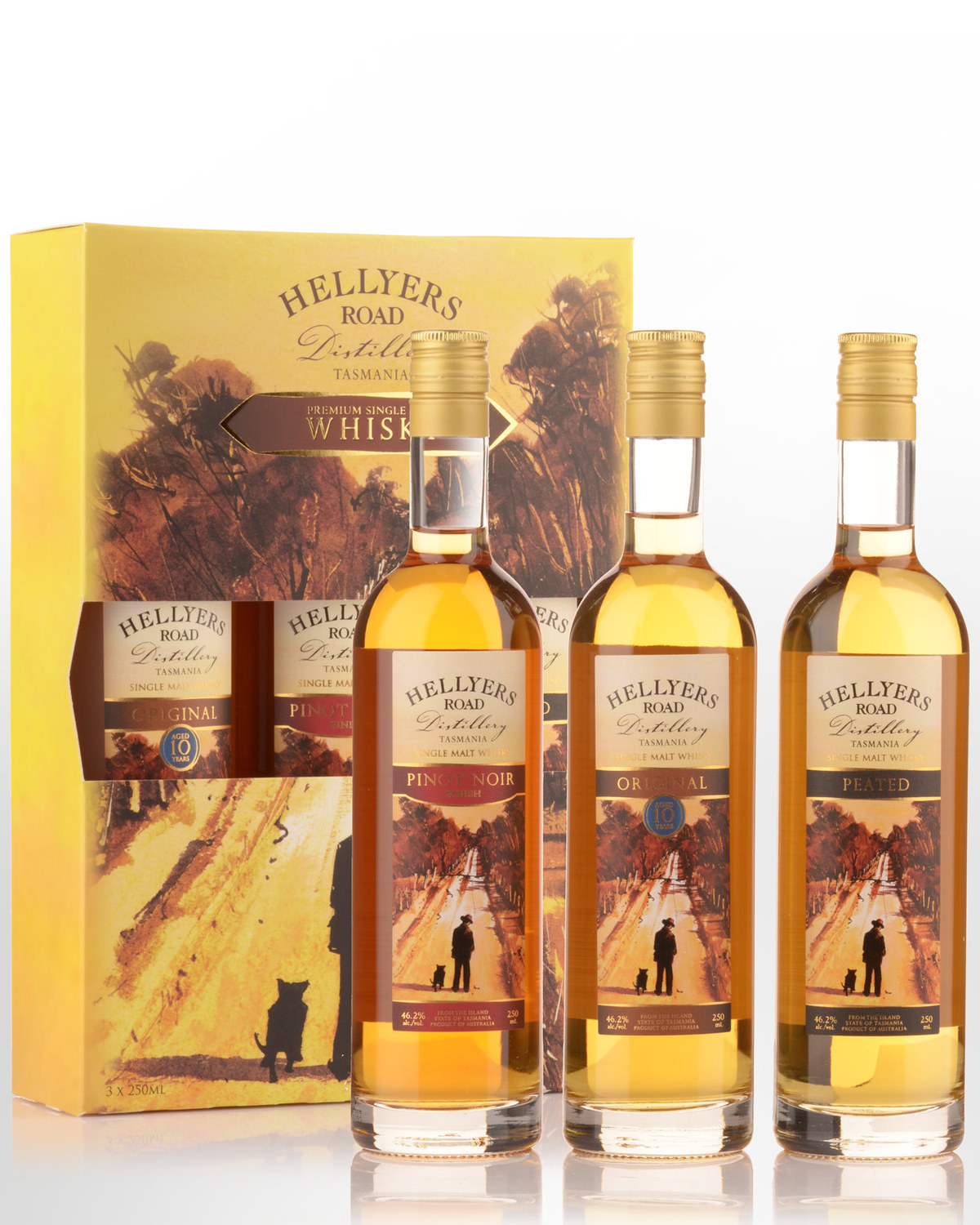 Hellyers Road Distillery Premium Single Malt Australian Whisky Gift Pack (3x250ml)
This is an updated gift pack as of Sepember 2015, now consisting of the Original 10 year old, Pinot Noir and Peated expressions.
In 1996 the Australian Dairy Industry was deregulated. Betta Milk Co-operative then identified a niche in the domestic market for the production of whisky and vodka products. Hellyer's Road Distillery, named after a local landmark and explorer of note, was established and an all new purpose built operation was established on the Betta Milk site in Burnie, Tasmania. A cursory tour of Hellyer's Road leaves no question that this is a serious business, employing state of the art equipment and capable of large scale production.
Since first released, the range of single malts produced by Hellyers Road have been nothing short of diverse. However, no better example exists that showcase the various styles and delights of Australian single malt whisky today.
Perfect for those wanting to share a personal favorite, or collectively sample other expressiosns in the range. Also a great gift for Fathers day.
A great opportunity to find out what Australian Whisky
is all about.
Tasting Notes…
Hellyers Road Original 10 year old:
Pale gold / straw colour. A curious aroma includes toasted cereals, cocoa and coffee with an odd unripe fruitiness in the background - not unattractive - something like apple peel combined with a forgivable trace of sulphur. A light entry builds into a concentrated, spicy mid palate. Sweet cereals and cocoa. Like the nose, there's an unusual undercurrent here that's similar to chewing straw or dried grass. Spicy, tingly finish. Concludes with a trace of sulphur followed by a subtle, semi sweet, dried grass, short bread and tingly spirit fade.
46.2% Alc./Vol.
Hellyers Road Pinot Noir Finish:
Gold colour with pale straw hue. Top note of cereal and biscuit with some heavier fruit scents emerging including tart cherry, raspberry jam and cocoa. Semi sweet, the palate offers mouth filling flavours of biscuity malt and cherry ripe followed by choc-chip cookie. Good length. Well balanced, with a warm spirit tingle and a spicy flourish on the back palate, finishing dry with a subtle choc-chip cookie / berry aftertaste. A wood finished whisky that really works and one of the most individual Australian whiskies currently available. Unusual, yet immensely appealing.
46.2% Alc./Vol.
Hellyers Road Peated:
Pale straw colour with water like hue. The nose is very similar to those of Islay. Fresh peat smoke, salt, kelp, liquorice, honey, vanilla butter menthol. A drop of water reveals a layer of fresh apples, very 'Ardbeggian.' The palate is again, quite rich and plush, though without the mid palate toffee sweetness one typically associates with Ardbeg. Smoky, salty flavours hover above a subtle layer of apple and cinnamon, the sweetness from the peat very evident. Long smoky apple and spice aftertaste. A big, fat Hellyer's expression and an astonishingly good tribute to Islay.
46.2% Alc./Vol.