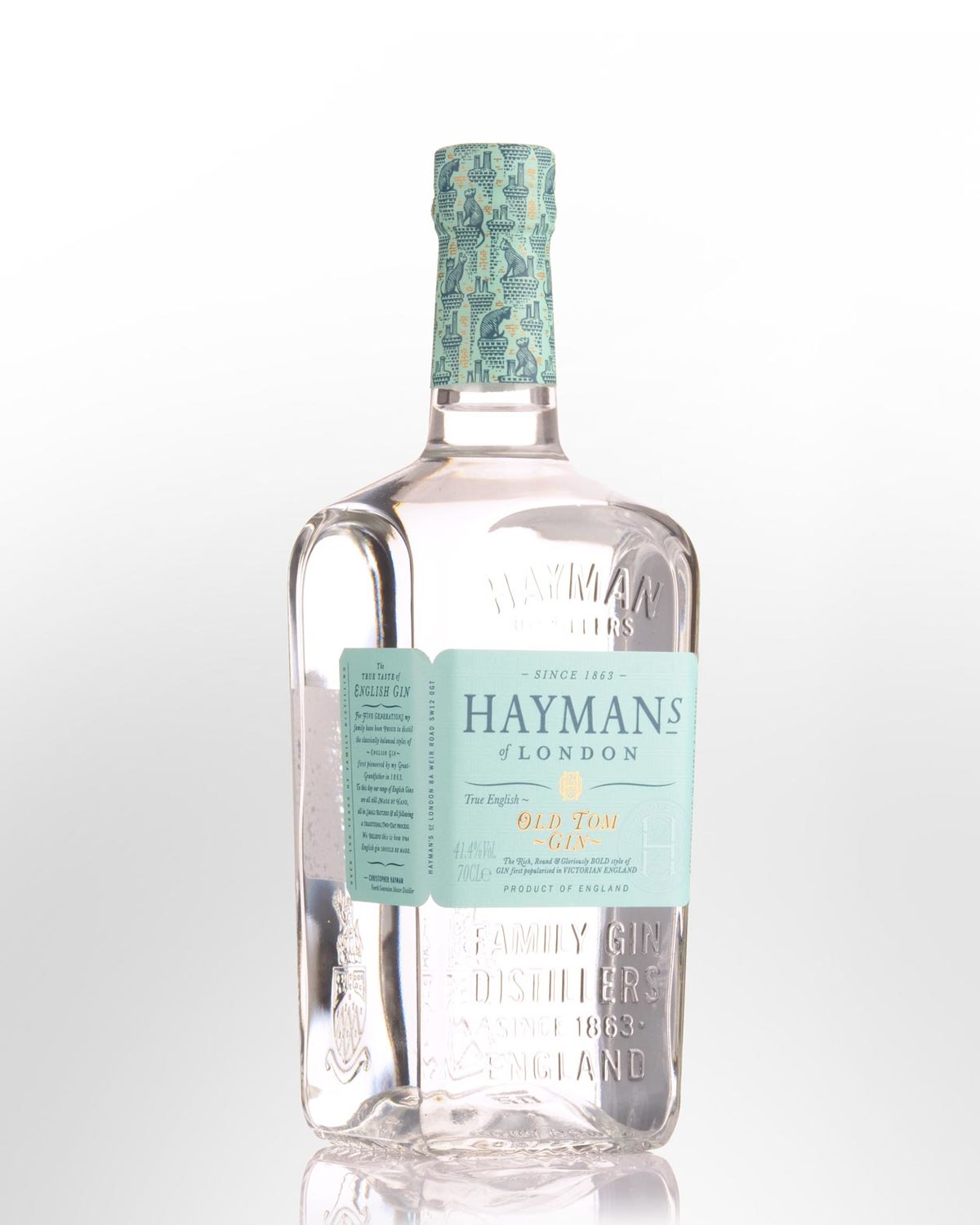 Hayman's Old Tom Gin (700ml)
Old Tom Gin is the last remaining example of the original lightly sweetened Gins that were so popular in 18th and 19th century England. The name comes from what may be the first example of a beverage vending machine. In the 1700's some pubs in England would have a wooden plaque shaped like a black cat (an 'Old Tom') mounted on the outside wall. Thirsty passersby would deposit a penny in the cat's mouth and place their lips around a small tube between the cat's paws. The bartender inside would then pour a shot of Gin through the tube and into the customer's waiting mouth. Until fairly recently limited quantities of Old Tom-style Gin were still being made by a few British distillers, but they were, at best, curiosity items. Hayman's Old Tom Gin is an exception.

The original company of Hayman Distillers was founded in the 1800's by James Burrough, the great Grandfather of the current Chairman, Christopher Hayman. James Burrough created the world renowned Beefeater Gin. Although Beefeater Gin and James Burrough Limited were sold to Whitbread in 1987, the Hayman family retained part of the business and continued the tradition of distilling and blending Gin and other white spirits.
Following the 18th Century tradition, Hayman's Old Tom Gin is a botanically-intensive and lightly sweetened style of gin distilled from 100% grain. In comparison to London Dry Gin, the Old Tom style delivers a more rounded taste experience with depth. The distinctive Old Tom Gin profile is the key ingredient in classic gin cocktails such as the Martinez, Tom Collins and Ramos Gin Fizz.
"...it is very exciting to be reviving this old
but not forgotten classic style of Gin"
- Christopher Hayman, Chairman, Hayman Distillers


Other reviews... Clear with a silvery cast. Interesting aromas of graham cracker, almond, creamy lemon frosting, sweet spices, and delicate herbal juniper follow through on a soft, round entry to a sweet medium body with candied ginger and rose water accents. Finishes with a delicate spice cake with frosting -like fade with a touch of spun honey. Very confected and brilliantly so; use for vintage cocktails and other exotica. 40% Alc./Vol.
International Review of Spirits Award: Gold Medal
91 points (Exceptional) - tastings.com