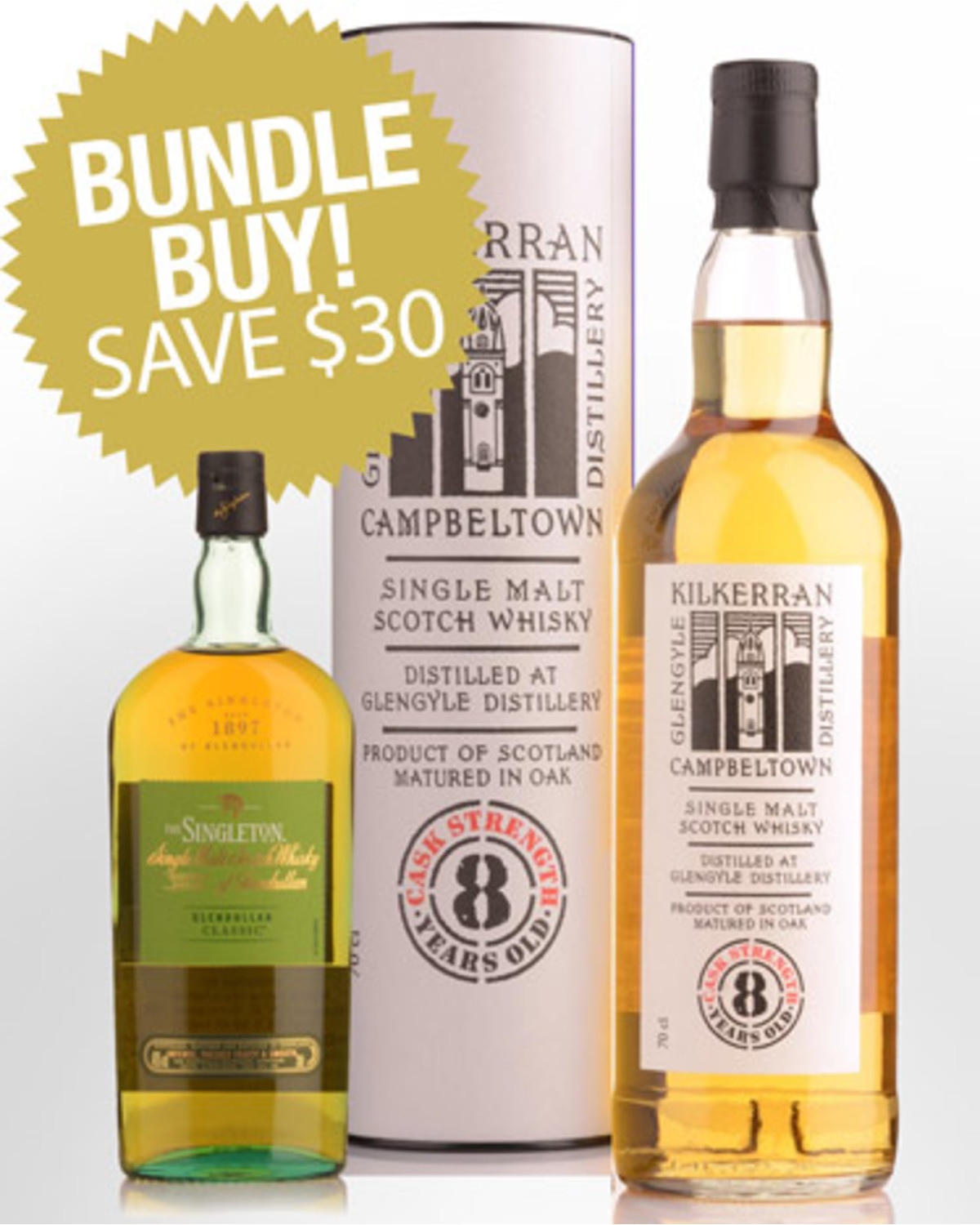 Glengyle Distillery Kilkerran 8 Year Old Cask Strength & Singleton of Glendullan Classic Single Malt Scotch Whisky Bundle Buy (1x700ml & 1x200ml)
SCOTLAND
Purchase Kilkerran 8 Year Old Cask Strength with Singleton of Glendullan 200ml and save $30.
Notes on Glengyle Distillery Kilkerran 8 Year Old Cask Strength: A lightly peated Campbeltown malt, drawn from 100% x-bourbon casks. To compensate for its youth you get to enjoy this non chill filtered and at natural strength. PLEASE NOTE: ABV may vary from batch to batch.
Tasting note: Pale straw gold. Warm, peppery openings are drier styled, initially shy, developing scents of cocoa, oak shavings and rhubarb tart. Several minutes air contact finds the sooty, biscuity malt to the fore with a whiff of maritime freshness. Slightly hollow on entry, building with sweet cereal notes and purring spices. Great balance at cask strength. Concludes vibrant, long, drying with wood shavings, sooty malt and a salty tang. The classic Campbeltown notes are here, though the whisky shows restraint. 55.7% Alc./Vol.
Notes on The Singleton of Glendullan Classic: These handsomely presented 'hip flask' style bottles of the Singleton Classic will be a perfect token gift for any malt lover. PLEASE NOTE: The Singleton of Glendullan Classic is a 200ml bottle.
Other reviews... Glendullan has an unfortunate moniker. Any whisky with 'dull' in the middle of its name will always struggle in English-speaking markets. It's a shame, because it's always delivered a gentle, sweet, lightly fruity/estery style, making it an ideal lunchtime dram. This ticks all those boxes. Green apples are there, as is cinnamon, alongside a racy acidity before water brings out more scented aromas. The finish is short, but it does its job as an easy-drinking, everyday malt. 40% Alc./Vol. (Travel Retail exclusive)
81 points - whiskyadvocate.com, reviewed by: Dave Broom (Fall 2016)