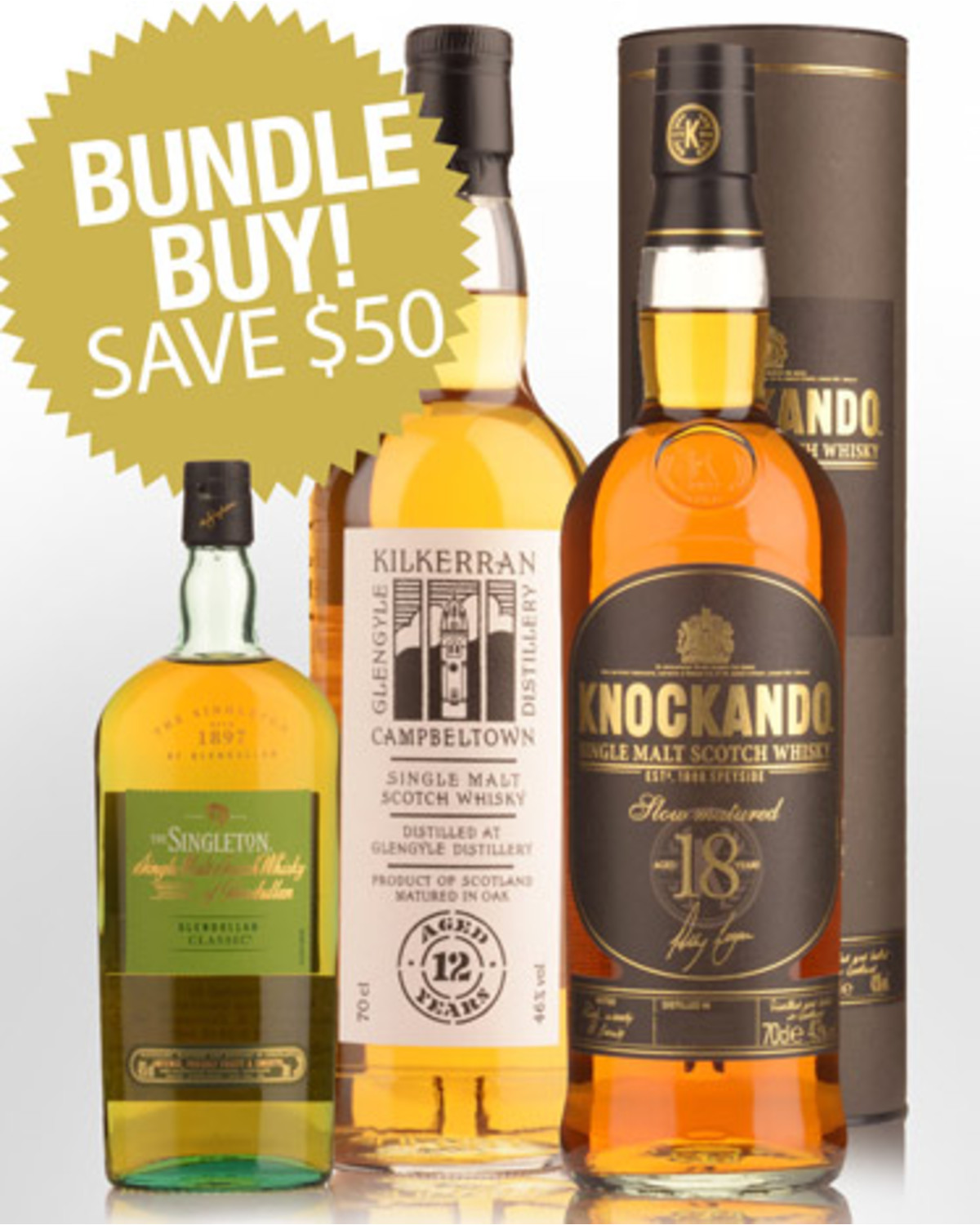 Glengyle Distillery Kilkerran 12 Year Old, Knockando Slow Matured 18 Year Old & Singleton of Glendullan Classic Single Malt Scotch Whisky Bundle Buy (2x700ml & 1x200ml)
SCOTLAND
Purchase Kilkerran 12 Year Old & Knockando 18 Year Old together with Singleton of Glendullan 200ml and save $50! Plus get Free Delivery to most of Australia.
Notes on Glengyle Distillery Kilkerran 12 Year Old: The culmination of six "Work In Progress" releases is this first core bottling from the Glengyle Distillery: a lightly peated and non-chill filtered 12 Year Old malt matured in a combination of 70% bourbon casks and 30% Sherry casks. At this stage the distillery is running one bottling production per annum. This first edition saw 5000 cases for the world market.
Tasting note: If the intention has been to create an accessible all-rounder that appeals to a wide audience, then this certainly succeeds on all levels. A beautiful integration of aroma and flavour: the rich cereals, the light sea spray freshness, a touch of lanolin – even a farmyard earthiness in the thread of peat stitching the whole together. Straddles the breadth of flavours we've enjoyed in the "Work in Progress" releases, only delivered in a softer package. 46% Alc./Vol.
Other reviews... Wafer light body...Has a fragile feel to it and the air of a malt which must be treated gently and with respect. 90.5 points - Jim Murray's Whisky Bible 2020
After six 'Work in Progress' releases, Kilkerran from Glengyle Distillery has finally come of age with this core expression. It comprises 70% whisky from first-fill bourbon casks and 30% from sherry casks. Floral on the nose, with honey and a hint of brine, then peaty fruit notes develop. The palate is confident and oily, slightly earthy, with tinned peaches, black pepper, cinnamon, smoke, and a suggestion of medicine chests. The finish is relatively long, with pepper, licorice, and drying oak. 89 points - www.maltadvocate.com (Winter 2016) Reviewed by: Gavin Smith
Notes on Knockando Slow Matured 18 Year Old: High quality sherry casks are considered a luxury in the world of whisky, and the spirits they mature often command top dollar. This is the second oldest age statement and reportedly the most Sherry influenced expression in the Knockando line up. Akin to a 'cleaner', toned-down and more contemporary version of Glendronach 18 or Glengoyne 21, it retains distinct notes of dried fruits in a soft, succulent delivery making it the perfect choice for anyone wanting to acquaint themselves with sherried styles - without emptying their wallet.
Tasting note: Matured in European x-sherry casks and x Bourbon. Very deep brassy gold. An appealing medley of fruity American oak and sherry sweetness on the nose, which is also mildly nutty (think walnuts / almonds). Air contact develops the dried fruit aspect with prunes, dried fig, raisin slice and honey. Later hints of 'old books' and rancio too. Beautifully rounded mouthfeel, with classic dried fruit / sherry input followed by light orange zest. Some poached orchard fruits, sweet spice and pepper notes build through the finish. Medium length. A lovely balance of mature woody / fruity aromas and flavours. 43% Alc./Vol.
Other reviews... Malt. To the power of malt... the barley boasts a malt intensity that is rare to match in pure atomic mass; Dense, intense, sharp, full...just sheer barley...concentrated... Beautiful for sure.
94 points - Jim Murray's Whisky Bible 2021
Notes on The Singleton of Glendullan Classic: These handsomely presented 'hip flask' style bottles of the Singleton Classic will be a perfect token gift for any malt lover. PLEASE NOTE: The Singleton of Glendullan Classic is a 200ml bottle.
Other reviews... Glendullan has an unfortunate moniker. Any whisky with 'dull' in the middle of its name will always struggle in English-speaking markets. It's a shame, because it's always delivered a gentle, sweet, lightly fruity/estery style, making it an ideal lunchtime dram. This ticks all those boxes. Green apples are there, as is cinnamon, alongside a racy acidity before water brings out more scented aromas. The finish is short, but it does its job as an easy-drinking, everyday malt. 40% Alc./Vol. (Travel Retail exclusive)
81 points - whiskyadvocate.com, reviewed by: Dave Broom (Fall 2016)