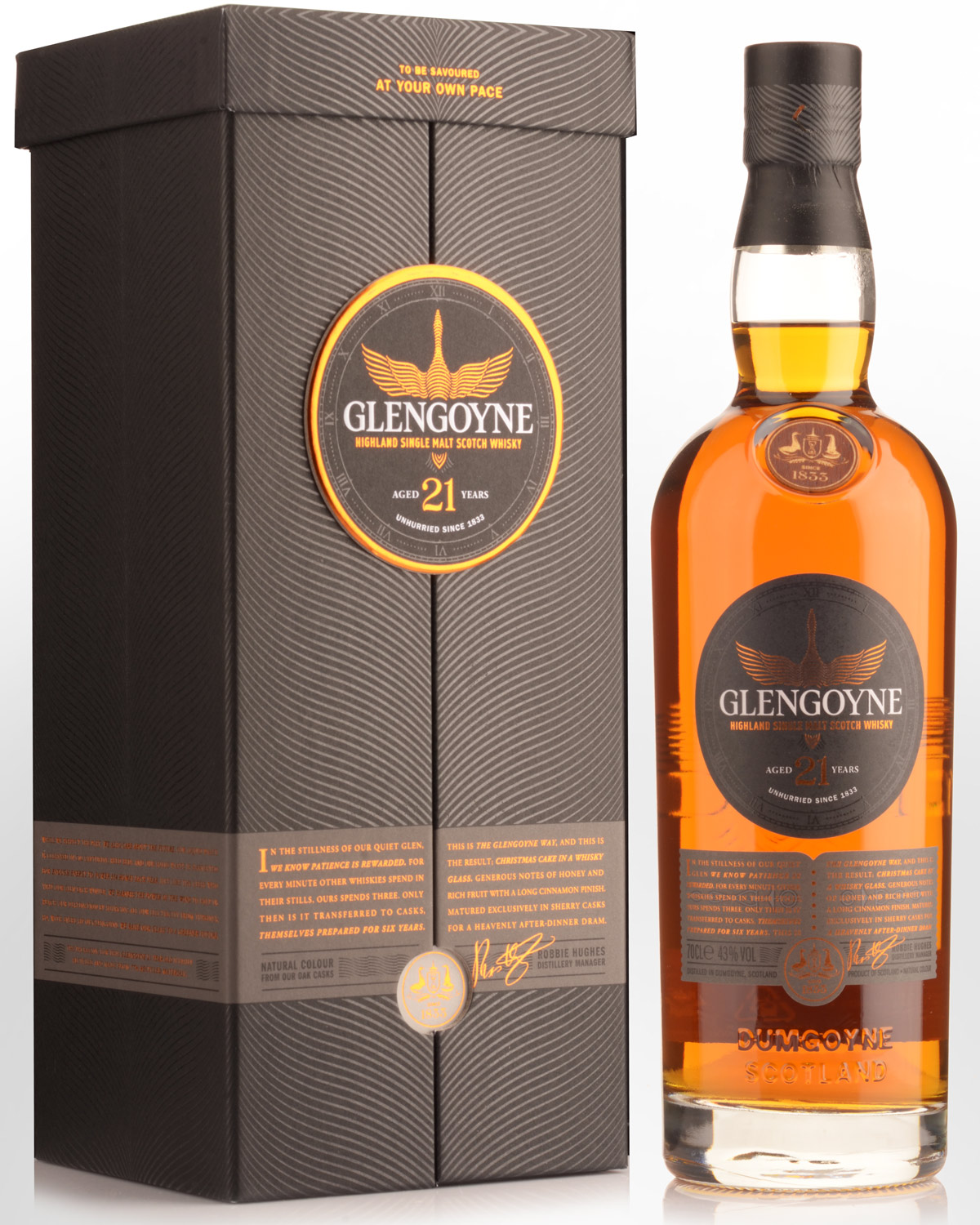 Glengoyne Sherry Matured 21 Year Old Single Malt Scotch Whisky (700ml) - New Packaging
Here's the new, very handsomely presented Glengoyne 21, matured exclusively in first fill Oloroso and Pedro Ximenez European oak casks.
Tasting note: Give this whisky 30 minutes to open up and you realise you're onto something quite special. The deep polished mahogany colour builds your expectations, then the nose lets you down. What is underwhelming at first richens and deepens over 10 then 30 minutes, then 2-3 hours revealing a sherry-saturate; dried peel / walnut slice, new leather, wood shavings and brazil nuts; further time enhances and sweetens the bouquet accenting dried apricot, thick peel marmalade, cigar box and more. Lean and gently bitter sweet on entry. Mid palate is medium dry with spicy wood tannins and warming yet balanced spirit before the sherry input and dried fruits rally. Concludes fully, still fresh, satisfying then powers on with hints of rancio, dark chocolate, muscat and crushed walnut in the trail. First impressions don't count for much in this superb example of older malt that demands extended breathing. Find a comfortable arm chair, sit back and this whisky may even teach you something. Natural colour. 43% Alc./Vol.
Other reviews… The nose is at first not overly promising, but it settles as it warms and what follows on the palate is at times glorious. Few whiskies will match this for its bitter sweet depth which is pure text book. Glengoyne as few will have seen it before. 93 points - Jim Murray's Whisky Bible 2017
I haven't tried this expression since 2013. Should be good. Colour: deep gold. Nose: really a classic, extremely well balanced, perhaps a tad conservative but that's rather an asset in this context. I absolutely adore these notes of stewed peaches and quinces, for example, as well as the Sauternes and the honey. Wonderful and rather the opposite of 'modern' whisky. Mouth: extremely good, but too easy to quaff down, really. Lovely caramel and fudge, honey, buttered popcorn, marmalade, maple syrup and just one or two roasted raisins. Finish: medium, perfectly clean, seductive, malty, and cake-y. Who does not like this doesn't like malt whisky at all. Comments: rather impressed with this little baby. I don't think all batches are this good, but there, it's typically moreish! 89 points - whiskyfun.com