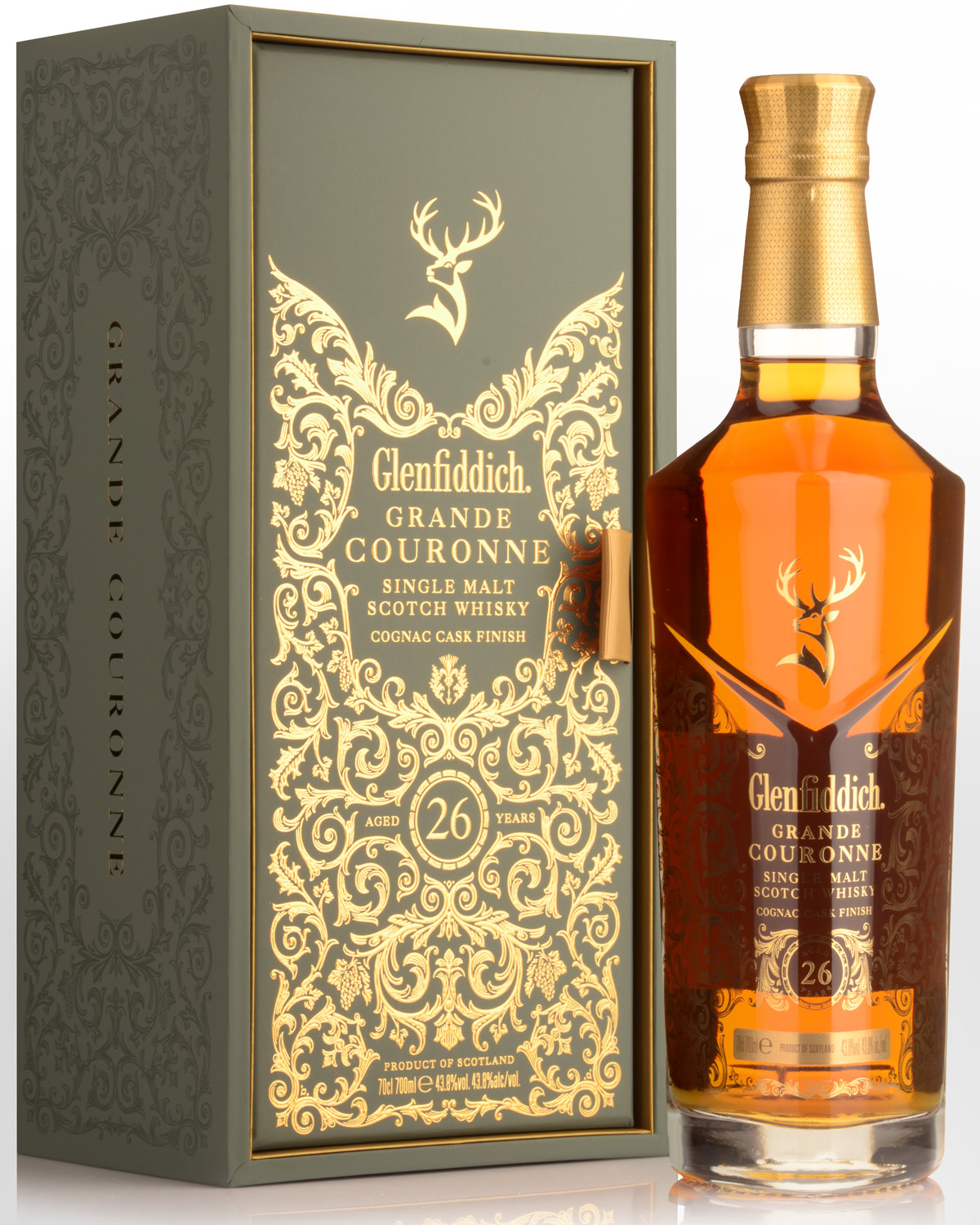 Nick's Import

Limit One per customer
Glenfiddich Grand Couronne 26 Year Old Single Malt Scotch Whisky (700ml)
Speyside, Highlands,
SCOTLAND
Described as "the crowning glory of the Grand Series", and one of the most prized Glenfiddich limited editions in recent memory. Also visually stunning. This will go fast.
Glenfiddich continues to make waves in the super premium category, most notably with the 'Grand Series' (past bottlings include Grand Cu and Gran Reserva). The newest in the line up is also one of the most limited. Aged 26 years in American and European oak and finished in Cognac casks, from its conception to its packaging 'Grande Couronne' is created with opulence in mind at every step. Meaning 'Great Crown' in French, the title is a nod not only to the noble character of the liquid, but also to the fact that it was finished in Cognac casks for its final two years. Glenfiddich Malt Master Brian Kinsman adds "The Grand Series perfectly encapsulates Glenfiddich's spirit of innovation and our ability to experiment with aged liquid and intriguing finishes. Grande Couronne is the latest to exemplify that approach. It is the only Glenfiddich single malt that has matured in American and European oak casks and finished in rare French Cognac casks. The length of the finish, two years, is highly unusual and adds extra layers of sweet, toasted oak and velvety aromas of café crème, brown sugar and soft spice."
Destined to be a high point in any collection, also one for the lucky few.
Notes from Glenfiddich... NOSE - Vibrant and lively with an abundance of toasty oak sweetness. Reminiscent of a French pâtisserie, freshly-baked Tarte Tatin and buttery choux pastry. TASTE- Grande Couronne 26 year old is an incredibly opulent dram, rich and regal with sweet warm flavour notes, such as café crème, brown sugar and spice. A delicate French patisserie in the glass. 43.8% Alc./Vol.