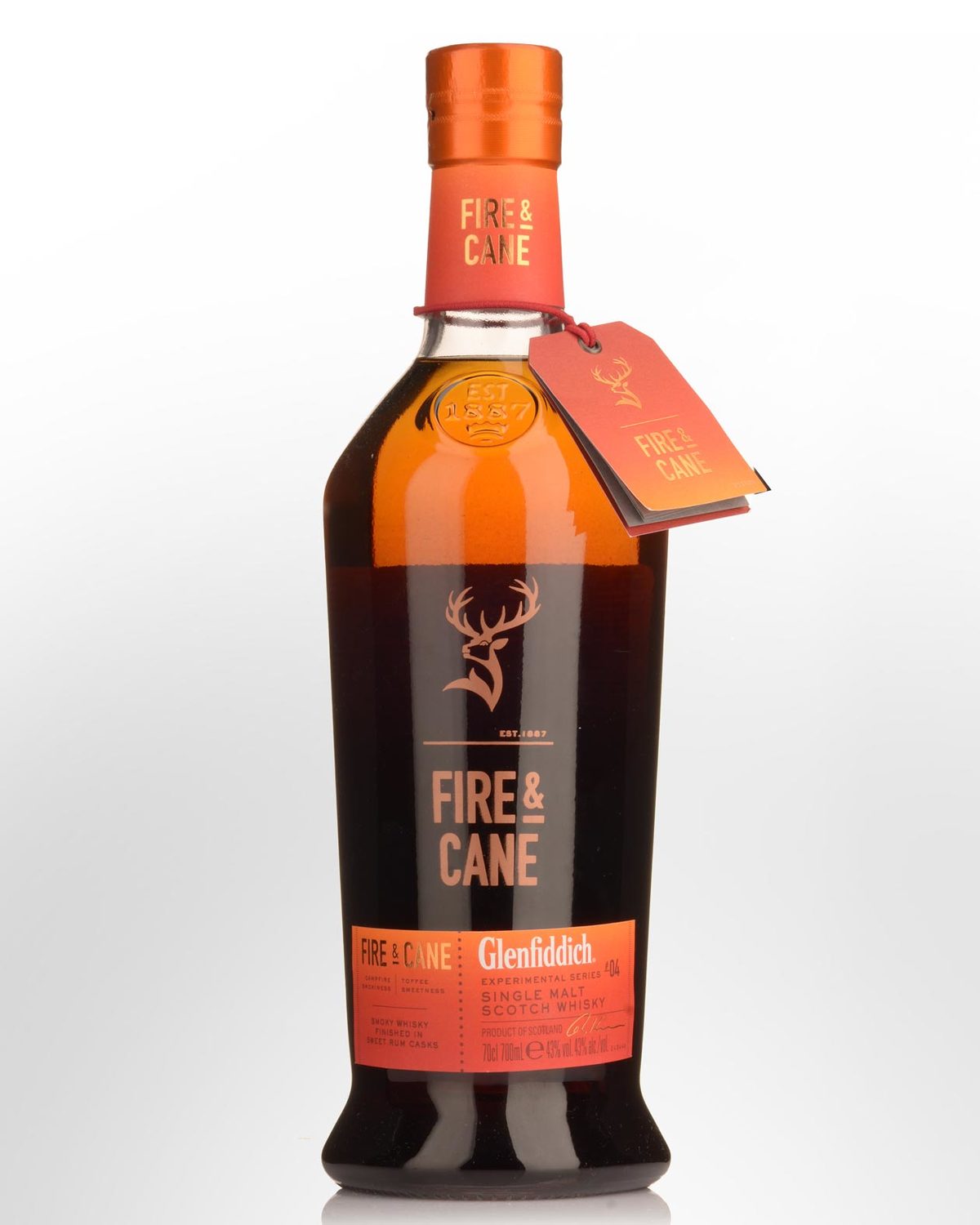 Glenfiddich Experiment 04 Fire & Cane Rum Cask Finish Single Malt Scotch Whisky (700ml)
Speyside, Highlands,
SCOTLAND
For many fans of 'Fiddich, this is the favourite of the experimental series, preceded by Glenfiddich India Pale Ale Cask Finish, Project XX and Winter Storm.
Master distiller, Brian Kinsman comments, "We started with a question: What would happen if we did something with peat that we had not done before? The answer is an unconventional and unexpected whisky, one that is truly surprising."
In the end, we get a peated malt that comes in at 5 ppm (phenol parts per million) with a finishing in South American rum casks for three months. Described as a "Highland Peat fire", it's the first partially-peated Glenfiddich to be finished in Latin rum casks.
Other reviews... n24 peat...! On a Glenfiddich...!!! But not just any old peat. Sometimes a Speysider pops up with a phenolic version which is attractive and quirky. This nose, however, is so relaxed, so happily intertwined with the layers of tannin, the islands of barley, that you feel like standing up and applauding...; not quite a giant nose...but so, so gentle...; t24 you expect the softest of landings on the palate, and that is exactly what you get: not something that adds to the is the norm so far rum casks are concerned. The phenols have a wonderfully translucent effect: thick, yet through it you can still detect the working of the barley and with increasing degrees the firmness of the cask. What sugars that are leached from the rum influence do not try to harden the arteries, but they certainly help provide an undulating effect between the softer and firmer lines; f23.5 brilliantly effective and very even spice; b24.5 I think those of us in the industry who can now be described in the "veteran" category can only smile at the prospect of tasting a full blown peaty Glenfiddich: the distillery that once stood for the cleanest, least peat influenced malt in the whole of Scotland. But when you nose and taste this, you wonder why they didn't take this route from day one, for rarely do you find a distillery that creates a peaty malt so naturally to the phenolic manor born. This is not a gimicky whisky. No, this is something to be respected and cherished for thing of beauty it actually is.
96 points - Jim Murray's Whisky Bible 2021
The fourth release in Glenfiddich's Experimental Series, this expression comprises peated and unpeated single malt, matured in bourbon barrels and then finished for 3 months in Latin American rum casks. A nose of spiced rum, vanilla, ripe pears, and pipe tobacco. Baked apple, sweet oak, and cinder toffee on the palate, with ashy smoke. Peppery sweet peat, rum, and brittle toffee in the relatively short finish. Best Value.
87 points - whiskyadvocate.com, reviewed by: Gavin Smith (Winter 2018)