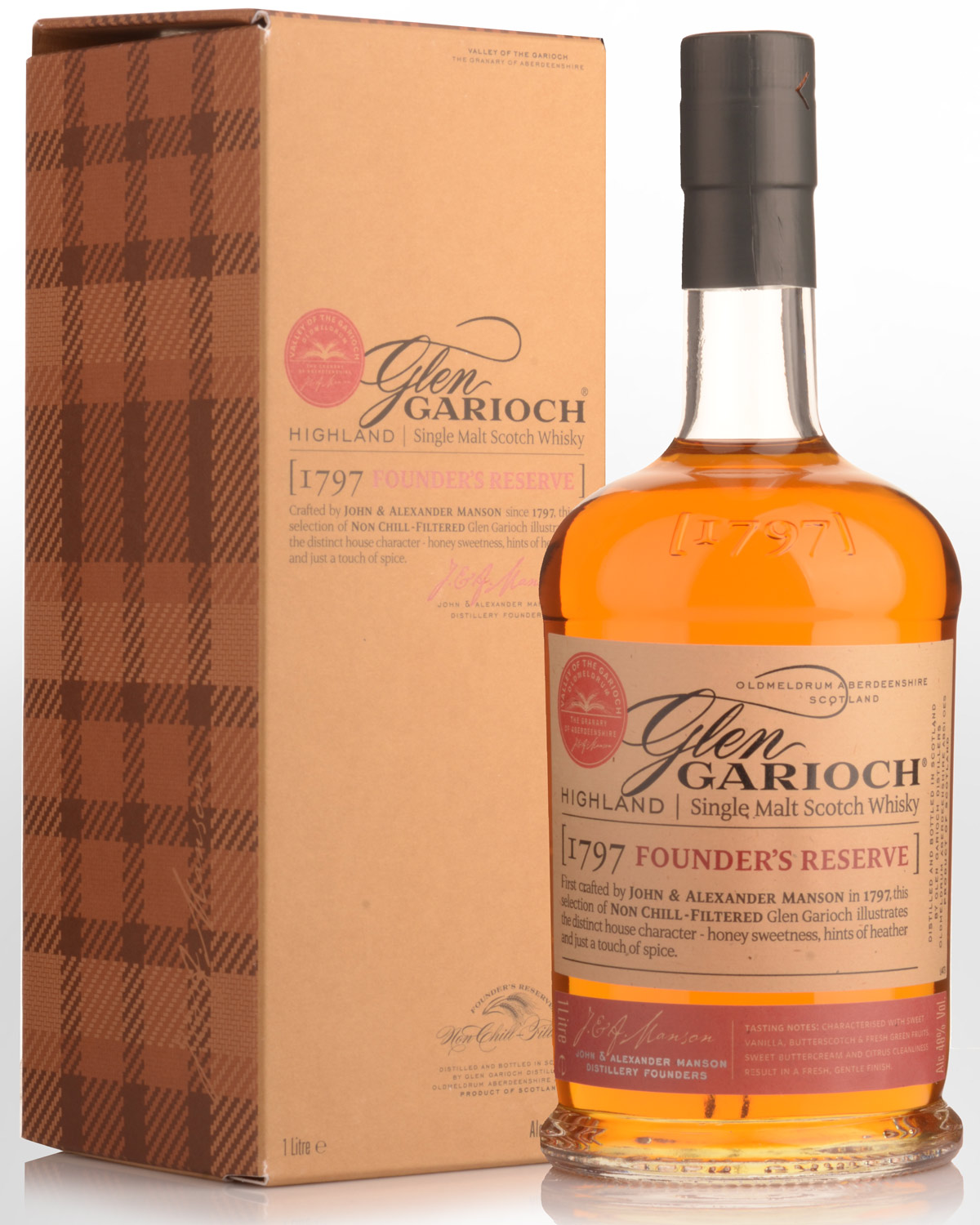 Glen Garioch 1797 Founder's Reserve Single Malt Scotch Whisky (1000ml)
A character-filled no age-statement release named in celebration of distillery's co-founders, the Manson Brothers. Consider this the everyday drinker in the current Glen Garioch stable. The nose has a slightly citrusy-acidic lift before tea-biscuits and vanilla malt come to the fore. That characteristic is repeated on the palate with a grassy-fruity-peppery overlay to the cereal and honey sweetness. It's intense and assertive and shows off the typical distillery character, finishing with hints of brandy and fruit mince pie. Proofed to 48% ABV (higher than the average 43% to 46%) and non-chill filtered - which is unusual for entry level malt - it adds up to solid buying.
Other reviews... Butterscotch, vanilla, pepper, and citrus fruit emerge on the nose. A nutty, peppery palate features orchard fruits, chile spice, and a subtle meatiness. Lemon and oak tannins in the medium-length finish. 90 points - whiskyadvocate.com, reviewed by: Gavin Smith 2020
...Impressively fruity and chewy; some serious flavour profiles there. 87.5 points - Jim Murrays Whisky Bible 2021
...We first tried this expression when it came out in 2009 (WF 80), time to revisit it. OH and it's pretty cheap for a late 18th century vintage, isn't it ;-). Colour: deep gold. Nose: it's a rather leafy and grassy one, with pretty high oak extraction, and heavy notes of porridge and raw malt, as well as a grassy smokiness. Dairy cream, a fresh loaf of wholegrain bread, and only after a good five minutes, much more vanilla and light syrups (corn). Leaven. Looks like the distillate was young, and the oak pretty active. Mouth: tastes a bit like if it was hesitating between the distillery's modern fruity style, and its smokier past, but that would be a grassy smoke once again. Quite some pepper, cut grass, leaves, apple peels, the whole remaining rather bitter and curiously unsexy given its positioning. A lot of green oak and quite some yeast too. Finish: long, peppery, sharp, leafy. Still not very sexy. Bitter and sour aftertaste. Comments: it remained a challenging dram in my book, much grassier than I remembered. 78 points - whiskyfun.com
Gold - Scotch Single Malt - Highland - 2017, International Wine & Spirit Competition
Gold - Single Malt Scotch - to 12 Yrs - 2013, San Francisco World Spirits Competition
After closing for two years in the mid-1990s, Glen Garioch reopened in 1997, switching from using its own peated, floor-malted barley to commercial unpeated malt. Doing so it maintained many of the best characteristics of the pre 1995 output, including rich cereal notes, a full, brawny mouthfeel, bolstered by a decent amount of spice. The new approach sees the entire range bottled at a surprisingly high 48% ABV (or cask strength) and even the entry level whiskies come non-chill filtered. Those who have kept Glen Garioch as their own little secret know the quality is already very good, but it's set to get even better. With a nod to the old ways, they're reintroducing floor maltings, installing direct-fired heating on the wash still, and increasing fermentation times. These developments will see Glen Garioch join the ranks of a small band of revered traditionalists, like Balvenie, Highland Park and Springbank.