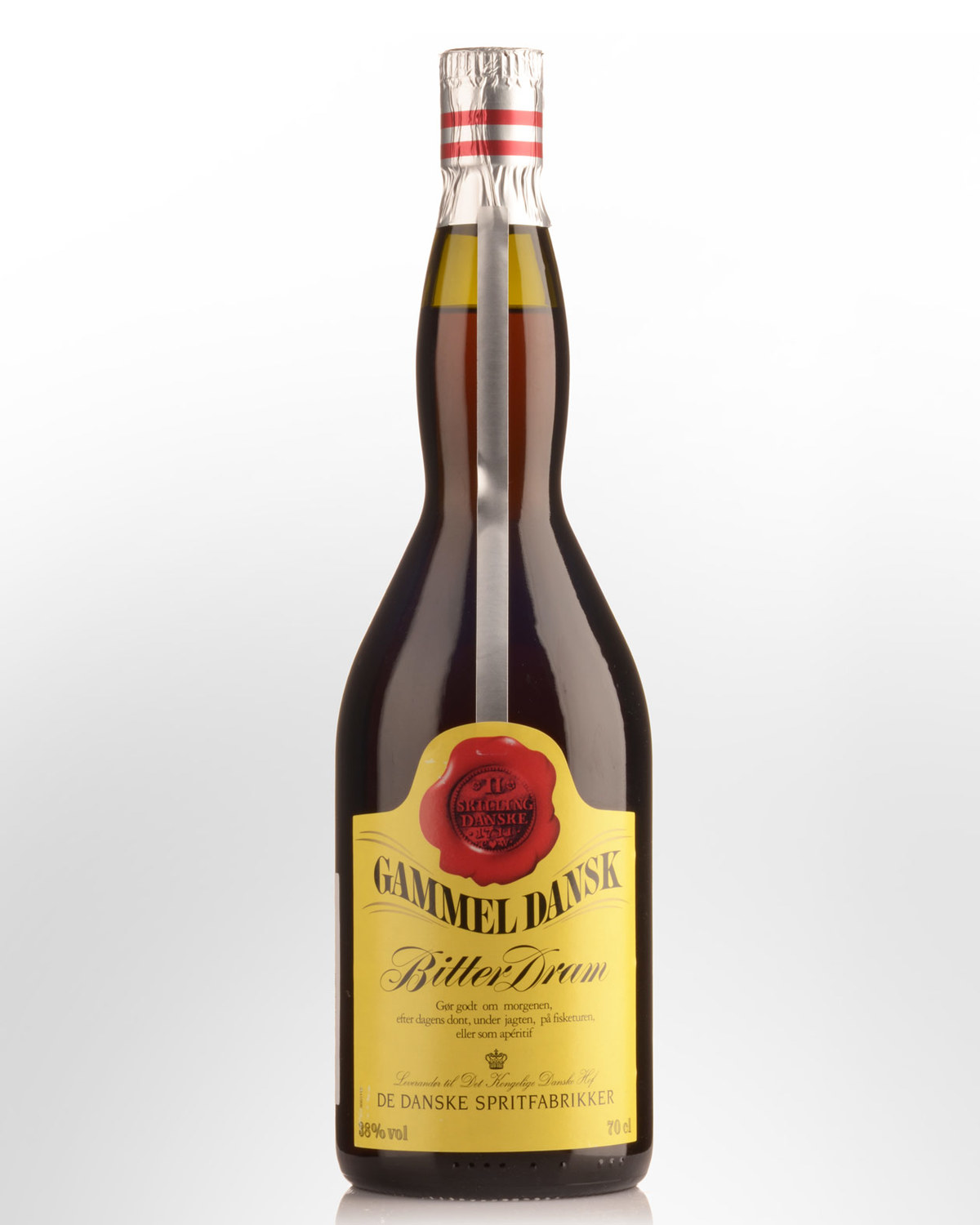 Gammel Dansk Bitter Dram Bitters (700ml)
Like other bitters classics, the recipe for Gammel Dansk remains amongst the most closely guarded secrets of the liqueur world. The reason is clear, since there have been numerous attempts to counterfeit most major bitters brands, however, few have managed to balance a recipe correctly. The original meaning of the word bitters (derived from the Gothic "bitan", to bite) was a medicine generally made of Peruvian bark or quinine, and then, more especially, alcoholic liquors impregnated with extract of gentian, quassia, wormwood, orange peel, etc. In the Netherlands, the production of bitters using corn spirit as a base began as early as the sixteenth century with companies like Lucas Bols in Amsterdam being founded in 1575. Interestingly, when Gaspare Campari first sold his classic aperitivo in Milan he identified his recipe as Bitter all'uso d'Hollanda (bitters in the Dutch fashion). Indeed, legend has it that the term "cocktail" originates from the same period when the early Dutch settlers were said to have used quills plucked from cock's tail feathers to paint infected tonsils with a form of homemade alcoholic bitters. Traditionally bitters has been used almost entirely as an adjunct to gin, though a few people still use bitters with sherry. Today bitters is indispensable in the creation of many classic cocktails.
The 30 odd herbs and fruits used in Gammel Dansk Bitters are selected for their aromatic, sharp and bitter qualities. The drink is extremely popular in Denmark, served at room temperature in small glasses, where it is has become the second best-selling spirits brand in the country.
Tasting Notes: Deep copper colour with a slightly viscous appearance. Semi-sweet, herbal aromas recreate a potpourri of lavender, clove, sarsaparilla, rosemary, anise and caraway. Entry is silky with a good concentration of rooty, herbal, woody flavours that are pleasantly astringent and bitter sweet. Gently spicy with the spirit adding just the right amount of warmth. Finishes clean, dry and appropriately bitter with an anise / spice fade. We like adding a dash of this classic to lacklustre beers. Alternatively serve at room temperature as a digestif, chilled for a schnapps style shooter or with coffee. 38% Alc./Vol.