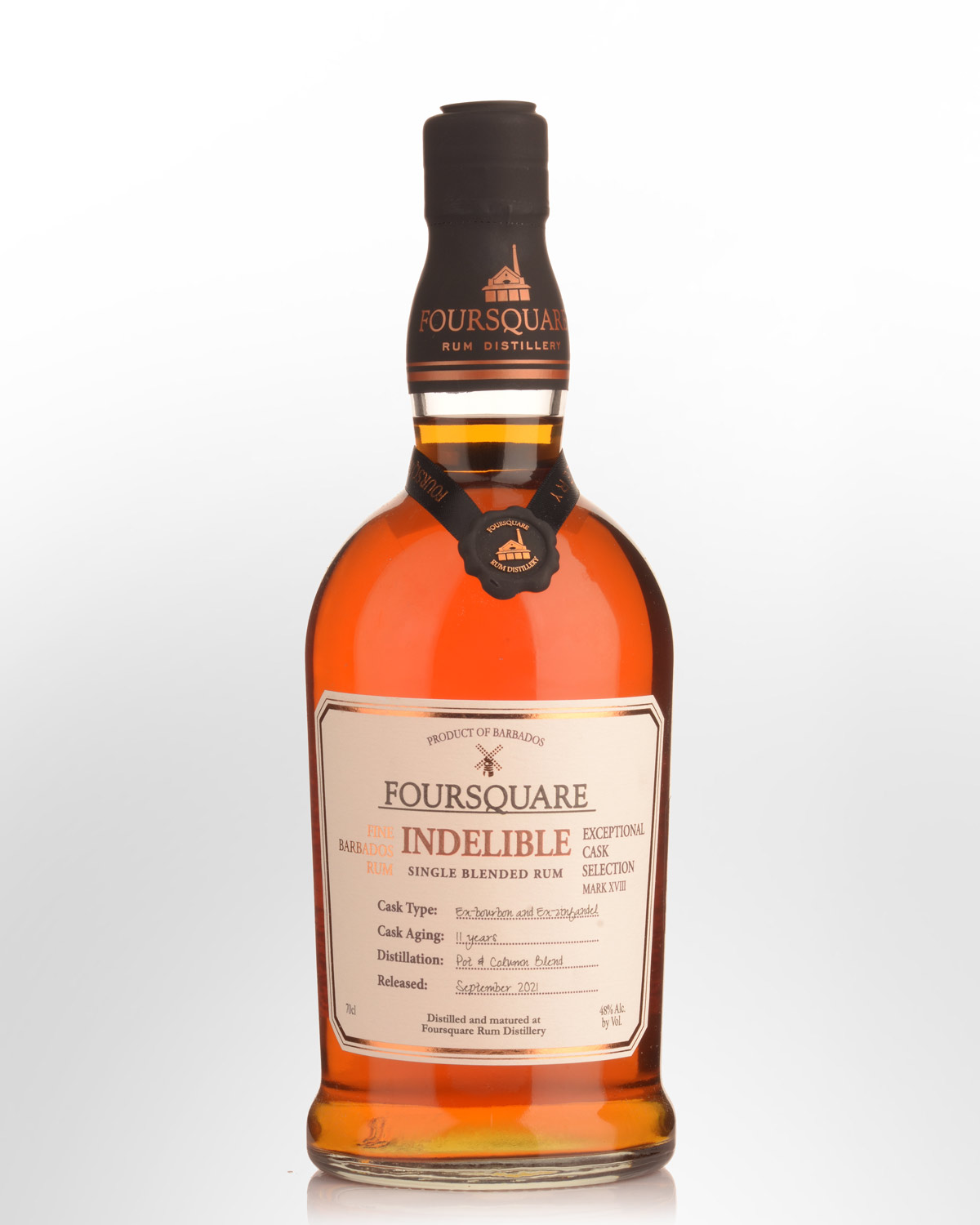 Foursquare Indelible Exceptional Cask Selection 11 Year Old Single Blended Rum (700ml)
BARBADOS
Make no mistake, Foursquare is fast becoming one of the brightest stars in the rum firmament. Globally, the Exceptional Cask series continues to garner all the right kind of attention, which means they don't last long on retailer's shelves. Most are allocated, some are now been offered via ballot only, and several are unlikely to ever make it to Australia. Number eighteen in the ECS collection is a pot & column distilled Single Blended Rum, and the second ECS release to feature rum aged in Zinfandel wine casks (the first was the now sought-after ECS Mark IV offered back in 2016 at a lower 43%). The understated appearance of these bottlings belies their generally outstanding quality. This edition was bottled in 2021 at 48% with zero additives and no chill filtration. Very limited stocks.
Other reviews... The initial sip is very fruity – lots of Strawberry, Dark Cherries and heaps of Raspberry. This move into the mid palate where more oak and spice kicks in. Warming gentle Vanilla and a touch of Cinnamon. The mid palate leads to a finish, which is long and lingering. Lots of Raspberry and Dark Plums mingle with some acidic and tart Orange Zest. There is a bit more "woody-ness" on the finish – some tobacco, cocoa and some pencil shavings. For me it drinks way beyond its ABV and has a remarkable depth and complexity. It's dangerously drinkable and all in all a pretty stunning rum. I've really enjoyed this and I hope I can find another…….sadly unlike its name its been rather easily removed from most retailers… 5 Stars - the fatrumpirate.com
Doorly's and Foursquare Rums are made at the Foursquare Rum Distillery in Barbados and fall under the banner of R.L. Seale & Co, one of Barbados' oldest trading companies. Currently owned and operated by the 4th generation of the Seale family, (who have a history of rum making in Barbados dating back to 1820), Richard Seale is the Master Distiller & Blender. He continues to operate from the south eastern quarter of the island in St. Phillip in a distillery built on the site of a former sugar factory that dates back to 1650s. The modern company dates to the 1920s, when Reginald Leon Seale set up a distribution business in the island's capital, Bridgetown. The company's success saw it acquire brands such as ESA Fields and Doorly's. In 1995 they opened the Foursquare distillery, installing a double retort pot still and a three-column continuous still. The first spirit was produced in 1996. Introduced in 2008, the Exceptional Cask Selections are exemplars of the finest rums they produce.