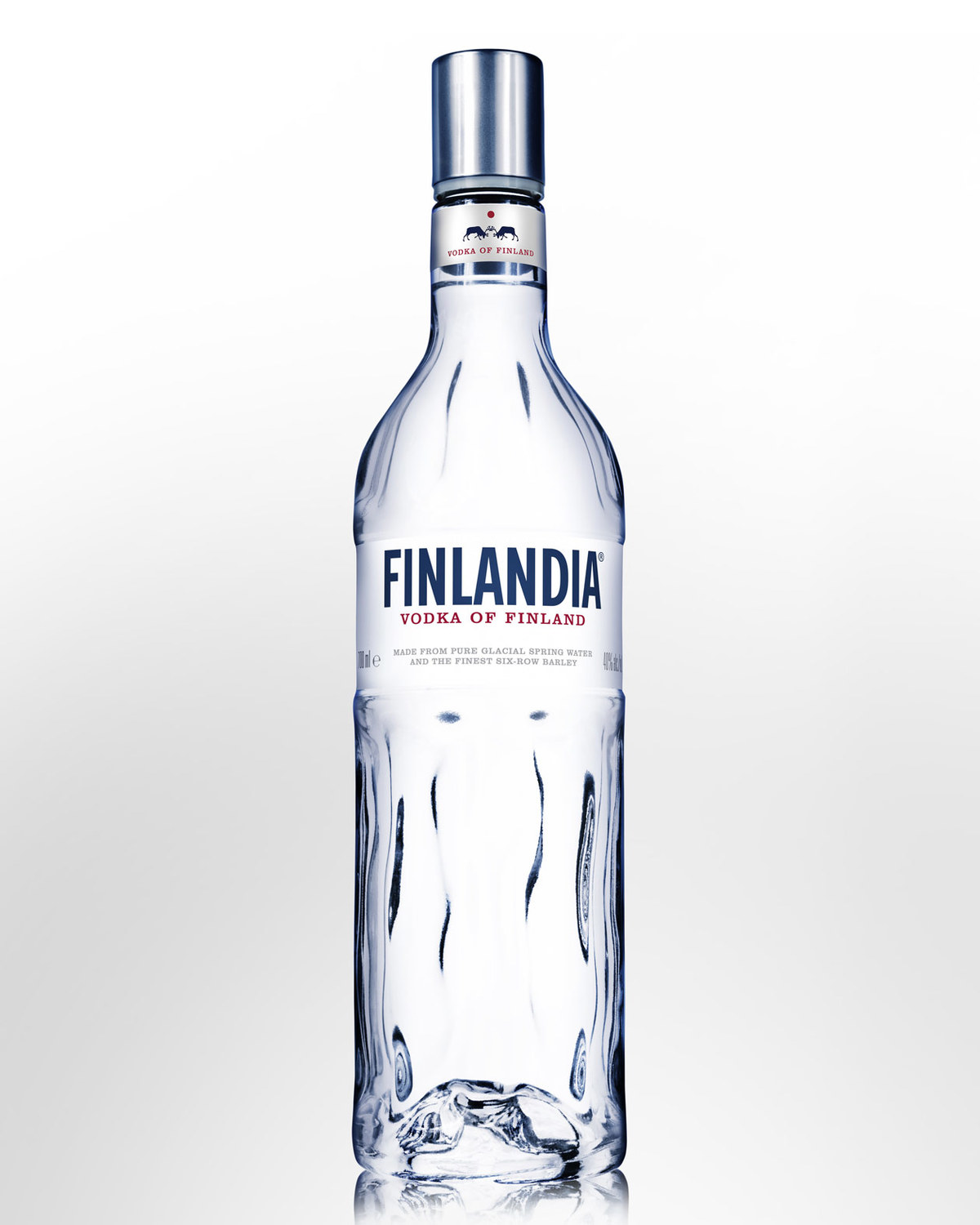 Finlandia Vodka (700ml)
Finlandia is produced using Finnish six-row barley. Distillation takes place at the state-of-the art distillery of Koskenkorva, Finland. The water used in its production is naturally filtered through glacial moraine and is considered so pure that it's used straight without any chemical filtration.
The product was first launched in Scandinavia in 1970, and in the U.S. market one year later. Originally targeted towards the American consumer, it was later introduced into the world's key markets between 1977-1983. Since the 1990's, Finlandia Vodka's popularity has steadily grown and Finlandia is today available in over 100 countries making it one of the world's leading premium vodkas.
No doubt Finlandia's packaging has had some influence on the brands international success. Through its various incarnations, the Finlandia Vodka bottle has always conveyed the impression of an ice-cold drink from the frosty North, embodying the most desirable qualities of vodka: purity, clarity, icy chill and refreshment. The original label featured two white reindeer sparring against the midnight sun low on the horizon. Finlandia's original visual identity was slightly adjusted in 1983. The twist cap colour was changed from red to blue, and a light blue tint was added to the glass to increase the perception of clarity and purity. The bottle also became slightly more broad-shouldered and the label colour altered from the original black to navy blue.From 1990 onwards, the reindeer relations were changed: three reindeers trotting ahead in unison, creating the sense of dynamic movement. The new, now familiar Finlandia Vodka bottle was first launched in 1998. The bottle is minimalist in style, slenderized and modern. The paper label has been dropped and replaced with lacquered text with the closure now being a stylish silver toned cap.
Tasting note: Clear, colourless appearance. Mild stone fruit nose. Smooth and supple on the palate with a light-to medium-body and mellow grain and fruit notes. Finishes very smoothly with just a hint of alcohol and peppery fruit. A well made, extremely easy to drink style of vodka. 37.5% Alc./Vol.
- notes partly sourced from Finlandia & www.tastings.com
 Click here to learn more about Vodka.