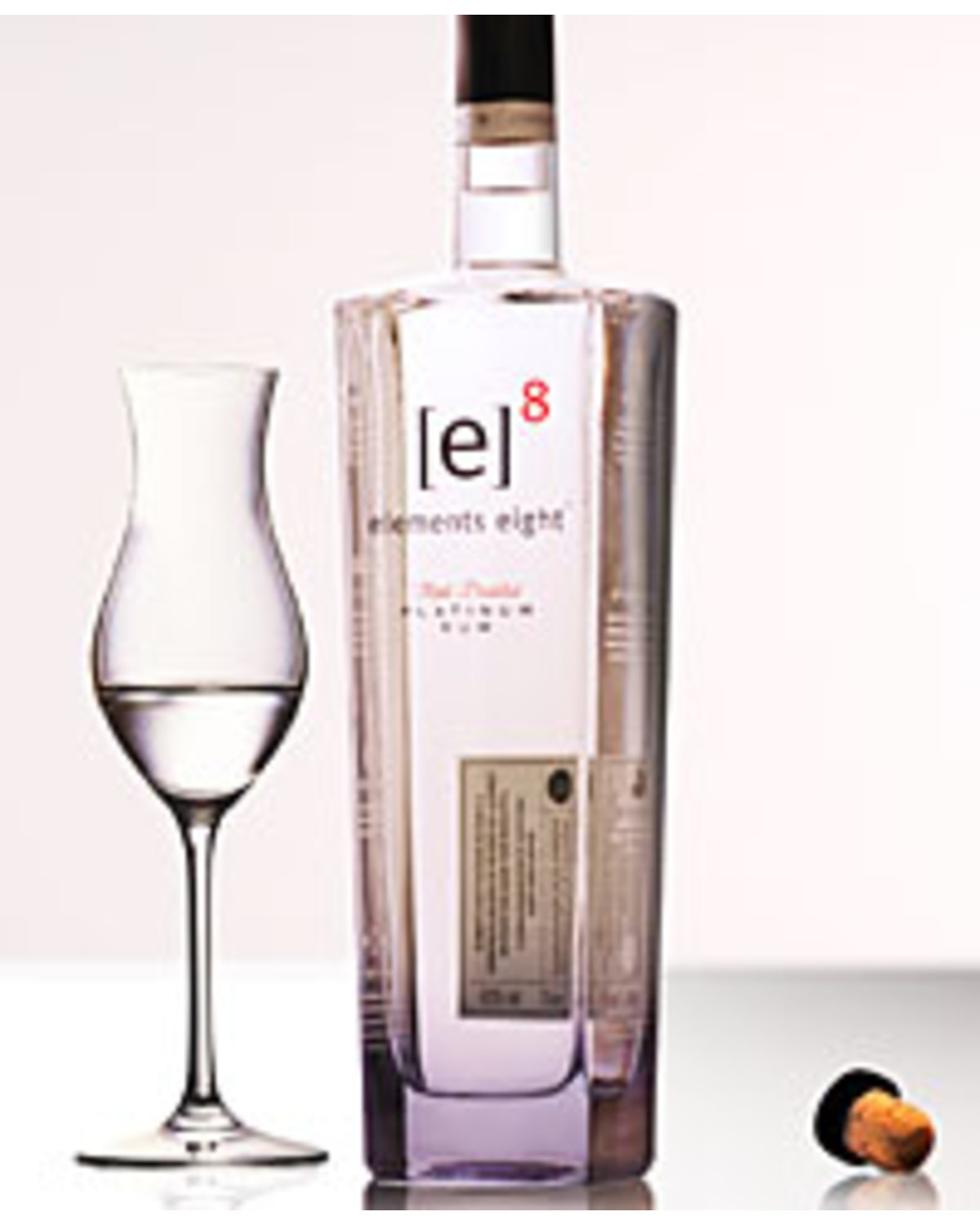 Elements Eight Platinum Triple Distilled White Rum (700ml)
'Elements Eight Rum Company' is a new venture aiming to produce a super premium rum brand to compete with the best top shelf spirits in the world. Founded by Carl Stephenson and Andreas Redlefsen, both directors possessing highly credible international experience in developing premium rum and spirits brands, working for companies such as Allied Domecq, Moet Hennessy and Wray & Nephew. "A lifetime's ambition has been fulfilled to launch a beautiful brand of rum that centers on the product's craftsmanship. The exceptional packaging is matched with super rum of ultra smoothness," says Carl. "I feel that we are doing something revolutionary for rum, pushing the boundaries and breaking outdated rules. We hope to update rum's image and allow many consumers to discover rum for the first time." supports Andreas.
The brand 'elements eight' is being launched in two types: Platinum and Gold, with the brand name alluding to the eight key elements necessary for luxury rum production: Environment, with cane sourced from St.Lucia; Premium Grade Cane, Water, unique Yeast strains, Triple Distillation incorporating an innovative Kentucky Vendome pot still, Tropical Ageing in American Oak, Blending and finally, Filtration.
Tasting notes: Crystal clear. Aromas are moderate, intermeshed and at first difficult to distinguish - subtle notes of fresh sawn pine, meringue, mineral and spice slowly emerge - quite vodka like. The palate is clean and soft with a gently warming, spicy overlay; marzipan, meringue and mineral flavours repeat followed by a warm, minerally, spice fade. Fresh, silky and super clean - a white rum for vodka lovers. 40% Alc.Vol.
 Click here to learn more about Rum